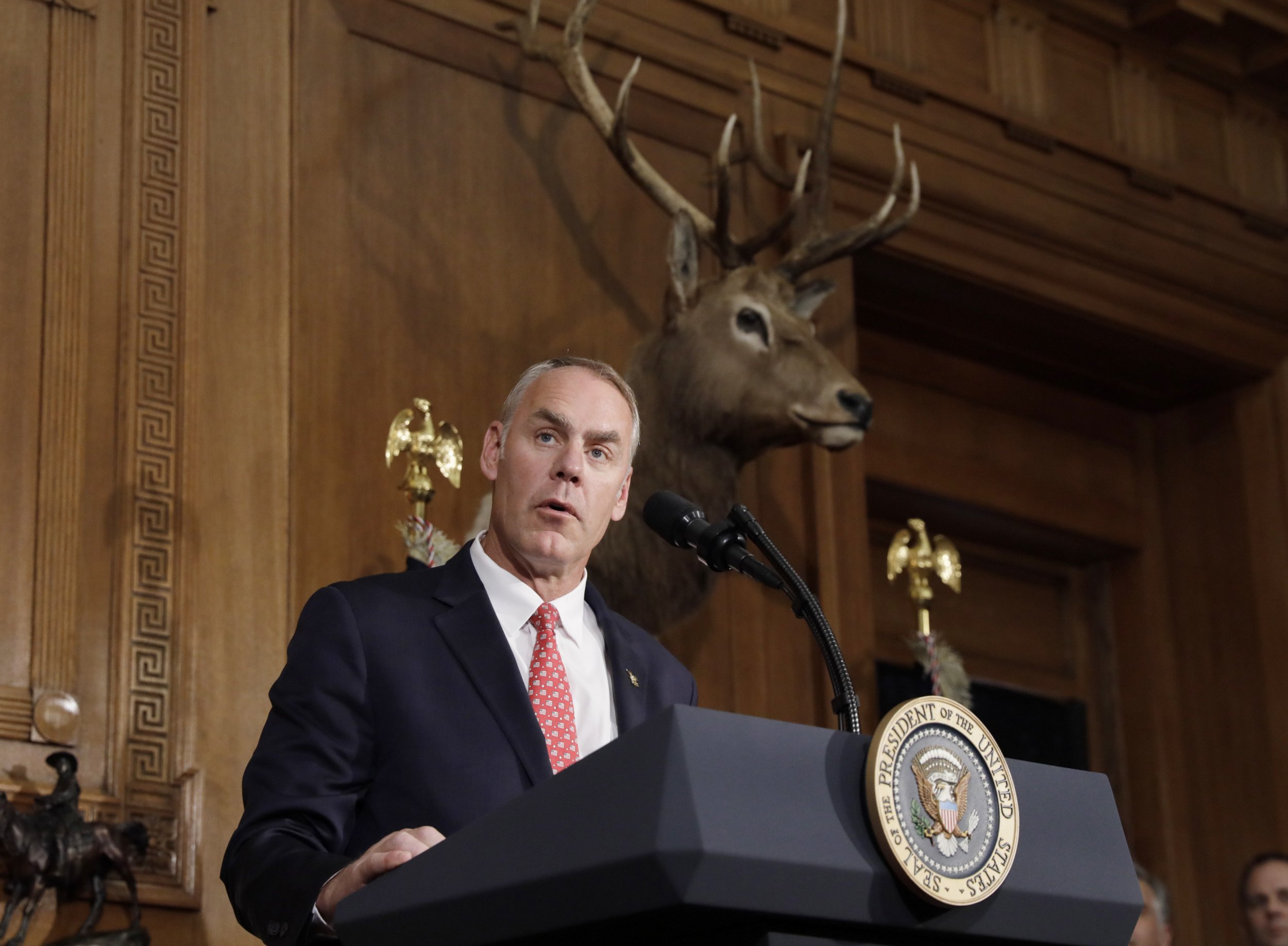 With all eyes on President Donald Trump's announcement to withdrawal from the Paris climate accord, Interior Secretary Ryan Zinke has signed an order to "jump-start Alaskan energy"—meaning, in this case, to drill for more oil.
The order pertains to two places: the National Petroleum Reserve–Alaska (NPR-A), the largest block of federally managed land in the United States, and the coastal region of the Alaskan National Wildlife Refuge (ANWR), the so-called "1002 area." It calls for a "lawful review and development of a revised Integrated Activity Plan" aimed toward increased petroleum production from these lands, Zinke said in a statement. The move will reassess the current management plan, and it calls for an update to estimates about quantities of oil beneath the ground within three weeks.
Attempts to drill in ANWR have been repeatedly defeated in Congress and face stiff opposition from Native Alaskan groups. The announcement was decried by environmental groups. Kristen Miller of the Alaska Wilderness League told the Associated Press that Zinke's order upsets a management plan that the Interior Department spent years creating with tribes, local governments, the state and others. "We and the hundreds of thousands of Americans who actively supported the current management plan will not sit idly by while this administration tries to give these public lands wholesale to the oil industry," Miller said. "ANWR is a national treasure and an amazing piece of land," echoed Nicole Whittington-Evans, the Wilderness Society's Alaska regional director, speaking to Fox News. "It is not a place where oil and gas development should be allowed."
However, not all are opposed. Before the announcement, made late May 31, Zinke met with North Slope Borough Mayor Harry Brower Jr., an Inupiat whaling captain, whose borough encompasses the NPR-A and ANWR. "I welcome Secretary Zinke's new secretarial order," he said. "In my meeting with Secretary Zinke earlier today, the secretary committed that the Interior Department will engage in meaningful consultation with our communities, tribes...and Native corporations during the Department's review of the NPR-A IAP. North Slope Borough residents recognize the importance of oil and gas to our local economy and the ability of our borough and city governments to provide public services."
The ANWR's coastal plain contains somewhere from 5 billion to 16 billion barrels of oil, and may include more than 8 trillion cubic feet of natural gas, according to the Los Angeles Times. In 2010, the U.S. Geological Survey estimated the NPR-A contained approximately 895 million barrels of economically recoverable oil and 52.8 trillion cubic feet of natural gas, according to the Department of Interior.
But it'd be expensive to develop oil fields there, and current conditions may not be favorable, with low costs for oil and gas. "It's still high cost, and I think people would expect a lot of legal delays," said Michael Lynch, president of Strategic Energy & Economic Research, an industry consulting group, told the Times. "That would become the next poster child of the climate change 'keep it in the ground' group that fought the Dakota Access pipeline and the Keystone XL pipeline."
"The National Petroleum Reserve serves a critical role in both our energy and national security," said Zinke in the statement. "This is land that was set up with the sole intention of oil and gas production. However, years of politics over policy put roughly half of the NPR-A off-limits. Using this land for its original intent will create good-paying jobs and revenue for our northern-most city and strengthen our energy and national security. Working with the Alaska Native community, Interior will identify areas in the NPR-A where responsible energy development makes the most sense and devise a plan to extract resources. We will do it in a way that both respects the environment and traditional uses of the land as well as maintains subsistence hunting and fishing access.
The order comes after Zinke nominated David Bernhardt to be the deputy interior secretary. Bernhardt has a long history of lobbying for oil, gas and mining companies, as well as large agribusiness concerns, and many expect his nomination to pass through a Republican-dominated Congress in early June, after already clearing the U.S. Committee on Energy and Natural Resources, chaired by Alaska Senator Lisa Murkowski. Incidentally, Murkowski said in the Interior statement that Zinke's pro-drilling order is "exactly the type of announcement that so many Alaskans have been asking for."