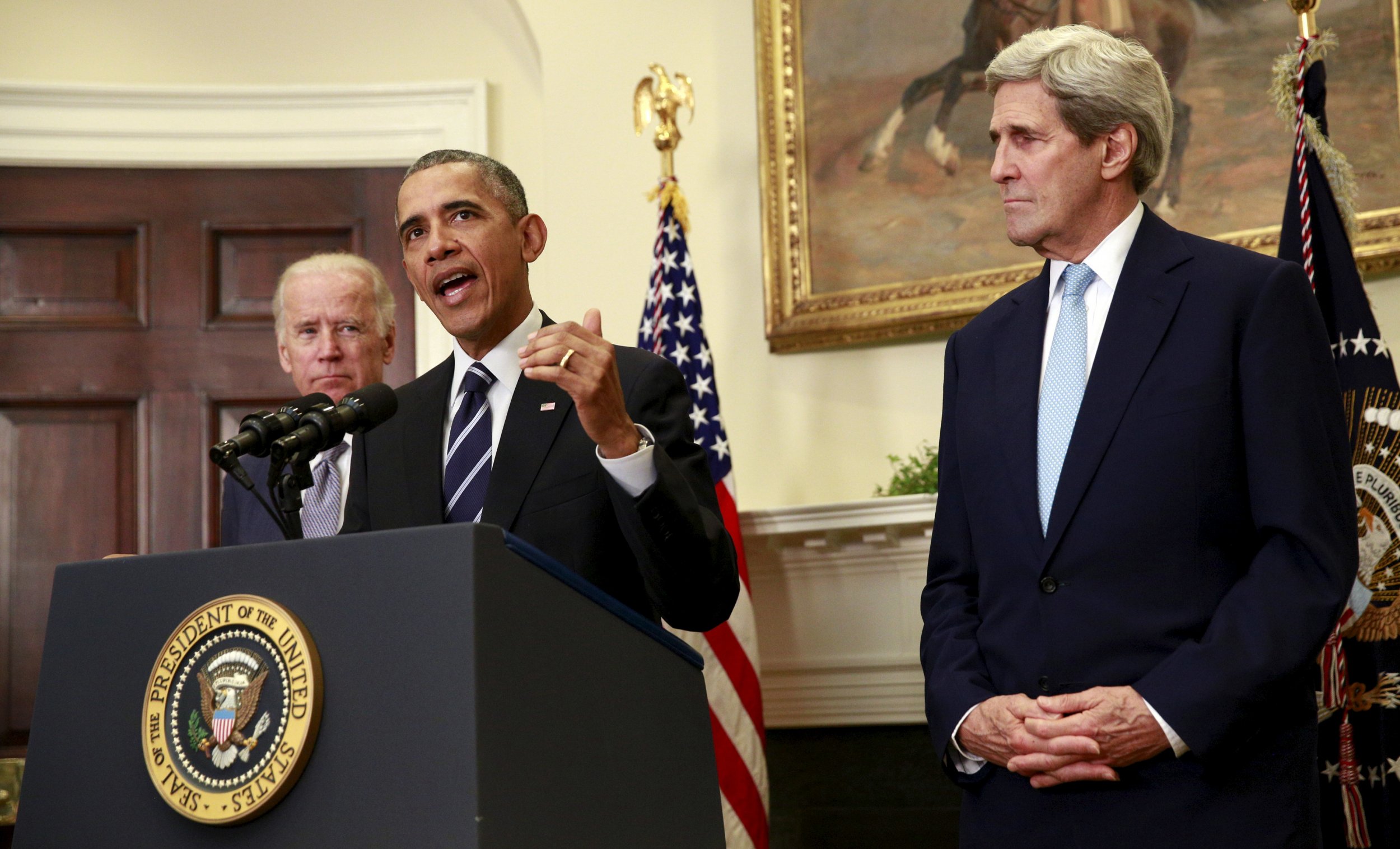 In announcing his rejection of the Keystone XL pipeline, President Barack Obama noted that the project has been "too often used as a campaign cudgel." But just because the Obama administration's seven-year review of the pipeline proposal has come to an end doesn't mean that's going to change.
In fact, presidential candidates and advocacy groups didn't even wait for Obama to speak before extolling or lambasting the proposed pipeline from the Canadian tar sands to the Gulf of Mexico. "It is insane for anyone to be supporting the excavation and transportation of some of the dirtiest fuel on earth," 2016 Democratic contender Bernie Sanders said in a release. "As someone who has led the opposition to the Keystone pipeline from Day 1, I strongly applaud the president's decision to kill this project once and for all." Surging GOP candidate Marco Rubio, however, described the announcement as "the latest reminder that this administration continues to prioritize the demands of radical environmentalists over America's energy security."
Obama's headline-making announcement and the noisy reaction it's engendered are just another sign of how heated climate politics have become, as world leaders prepare for a marquee summit in Paris in a bit less than a month and, here in the U.S., a growing number of Americans express concern about the warming planet—but have vastly different views on how to respond.
Just a few days ago, Sanders stood before the U.S. Capitol with Senate colleague Jeff Merkley, a Democrat from Oregon, to unveil a bill that would dramatically scale back drilling and mining for fossil fuel on federal land. And he didn't waste the opportunity before the television cameras to get in a few digs at the Republican presidential field. "Republicans don't argue about the science regarding cancer or diabetes or heart disease. They look at the same evidence that all of us do and support good science. But somehow, somehow, when it comes to climate change there are massive attacks on scientists who tell us the truth." Sanders suggested that's because they rely on money from the fossil fuel industry. "We are taking on the Koch brothers and some of the most powerful political forces in the world."
The Sanders-Merkley press conference was just one of a flurry of events in Washington, D.C., this past week centered on climate change and environmental policy, punctuated by Obama's Friday Keystone announcement. The Republican-controlled Senate brought up two measures going after another Obama administration environmental policy—the Environmental Protection Agency's Clean Water Rule regulating streams and wetlands across the country—though they were blocked by the chamber's Democrats. The Environmental Defense Fund launched an online ad campaign against vulnerable Republican Senator Mark Kirk of Illinois, criticizing him for opposing Obama's Clean Power Plan, an executive action setting limits on power plant pollution that is now being challenged in the courts. And another GOP senator, Mike Lee of Utah, urged his congressional colleagues to challenge any U.S. agreement on carbon emissions that comes out of the U.N. Conference on Climate Change in Paris that runs November 30 to December 11.
That conference, the latest in a series of climate summits convened by the U.N. over the past 20 years, looms large over the domestic political squabbles playing out in Washington and on the campaign trail. The aim of this particular summit is to achieve a binding global commitment to reducing greenhouse gas emissions that are contributing to global warming, after years of fits and starts in the negotiations.
There had been growing anticipation that Obama would reject Keystone XL as a diplomatic overture ahead of the talks. And the president acknowledged in his remarks Friday that the international reaction played a role in his thinking. "America is now a global leader when it comes to taking serious action to fight climate change," he said at the White House. "And, frankly, approving this project would have undercut that global leadership."
Opponents of deeper carbon reduction mandates are already bracing for a fight, however. In remarks at the conservative Heritage Foundation Wednesday, Lee complained that the president is going over the head of Congress by seeking an international agreement that will not require congressional approval. It's just one in "a flurry of unilateral administrative actions," he said, "culminated in the president's Clean Power Plan—a set of stringent, costly, and unpopular EPA regulations that will undoubtedly face opposition in the courts, in Congress, and by future presidents." And he suggested Congress should deny funding to implement any agreement Obama commits to in Paris, foreshadowing a fight next year.
The U.N. conference isn't the only thing driving politicians' heightened focus on the climate these days, though, says University of Michigan professor Barry Rabe. An expert on public policy and public opinion on the environment, Rabe suggests the president's aggressive unilateral moves have prompted a growing conservative backlash. But he also says there's been a shift in public opinion. Rabe and colleagues at Michigan's Center for Local, State and Urban Policy released a report at the beginning of November that found that Americans' belief that climate change is happening is "back at the high water mark"—70 percent now acknowledge the phenomenon is real, a rate last reached in 2008.
"Something may be happening there," says Rabe, "and in particular the two different demographic groups that jumped up quite a bit were Republicans and evangelical Christians." The University of Michigan research suggests two of the reasons behind the shift are the extreme weather the country has experienced, particularly a "very hot intense summer," and the historic drought out West. Rabe also points to findings that Pope Francis, who has been vocal about combating climate change, has shaped some Americans' beliefs.
It remains to be seen how durable these shifts in opinion are. But politicians are certainly responding, though in different ways depending on the races they're running. Republican presidential candidates, for example, are catering to a Republican base and donor class fiercely opposed to regulations on the fossil fuel industry, and are responding accordingly, even as a number of them acknowledge evidence of climate change. However, senators like Kirk and New Hampshire Republican Kelly Ayotte, who are up for re-election in swing states with strong environmental movements, are taking a more nuanced stand. Ayotte recently made headlines for coming out in support of Obama's Clean Power Plan.
Rabe is skeptical, however, that the center of gravity in the GOP on climate change is going to shift anytime soon. New Hampshire, he points out, has been trading emissions at a state level for a number of years, a very different approach from Republican-dominated energy bastions like Texas or North Dakota. "I think there's still going to be substantial cleavage in the parties on this," he says.
Exhibit A: On Wednesday, Sanders predicted that "if a Republican wins the presidential election, on Day One the Keystone people will be back pushing for that pipeline.... I think their hope is that Republicans win and that when they do the path will be open for the pipeline and other disastrous environmental legislation."
Two days later, Rubio declared in his statement: "When I'm president, Keystone will be approved, and President Obama's backward energy policies will come to an end."