Climate Change Protester Infiltrates Plane, Is Heckled By Passengers: 'You'll Be Thrown Off By Me'
A climate change protester was heckled by passengers for refusing to take his seat as a flight was due to take off at London City Airport.
Footage captured by another passenger on the Aer Lingus flight on Thursday morning showed the protester repeatedly apologizing to disgruntled passengers as he lectured them on climate change.
They are heard urging the protester, a middle-aged man in a coat, to sit down as he repeatedly refused to follow an air stewardess's request to take his seat.
In a short clip, shared on Twitter by Warren Swalbe, a passenger is heard asking the protester: "How long are you gonna be, mate?"
The protester is heard telling the cabin crew member and fellow passengers: "I don't wish to travel with you, but I don't wish to get off."
One passenger is heard telling the protester: "You'll be thrown off by me." Other passengers are heard urging the man to "sit down and make his protest."
But the protester continues to stand and adds: "I'm sorry. I'm very sorry. I'm extremely sorry for the inconvenience." His apologies didn't placate passengers, with one are heard asking cabin crew to "do us all a favor and remove him from the plane."
Continuing to stand, the protester said: "We have two generations of human civilisation left if we carry on doing what we're doing."
The man was eventually escorted off the flight by police, according to a BBC journalist who was on the plane. A Metropolitan Police spokesman confirmed a man was arrested on a flight on the runway and a number of others were arrested outside the airport.
BBC Newsnight political editor Nicholas Watt tweeted: "My flight from London City airport to Dublin has just been grounded by a climate change protester.
"On runway and about to take off when smartly dressed man in late middle age stood up with iPhone to deliver lecture on climate change up and down aisle."
"Cabin crew calmly and very politely asked protestor to resume his seat. Politely but persistently he declined and proceeded to deliver his lecture on climate change in aisle. Some passengers annoyed, others listened to lecture with humor as cabin crew alerted pilot.
"Plane was at the end of runway. So the pilot taxied back to gate where plane was met by throng of police. They came on board and escorted the protestor off the plane. No skirmish and protestor left the plane."
Watt also noted that that police had mounted a major security operation knowing Extinction Rebellion were holding protests at the airport.
Only passengers with boarding passes were allowed entry into the airport so the protester must have realized he needed to "act as a normal passenger and then seize moment and limelight once plane on the move," Watt added.
Takeoff was delayed by more than an hour as the plane taxied back to the gate. The flight to Dublin, originally scheduled for 9.40 a.m. departed at 11.16 a.m., according to The Mirror.
London City Airport tweeted its thanks to passengers for their patience as boarding pass checks are conducted at the airport due to the protests. "We continue to work closely with the Metropolitan Police to ensure the safe operation of the airport, which remains fully open and operational," a spokesman for the airport said.
Metropolitan Police spokesman Laurancee Taylor said: "Our policing plan is aimed at preventing criminal activity which poses a significant safety and security risk to the airport, and the thousands of passengers using it. We are determined to deal with protestors robustly but proportionately.
"Targeting an airport and inconveniencing travellers in this way is wholly unacceptable and irresponsible. The consequences of committing offences at airports are serious; individuals breaking the law are being, and will continue to be, arrested and prosecuted where appropriate."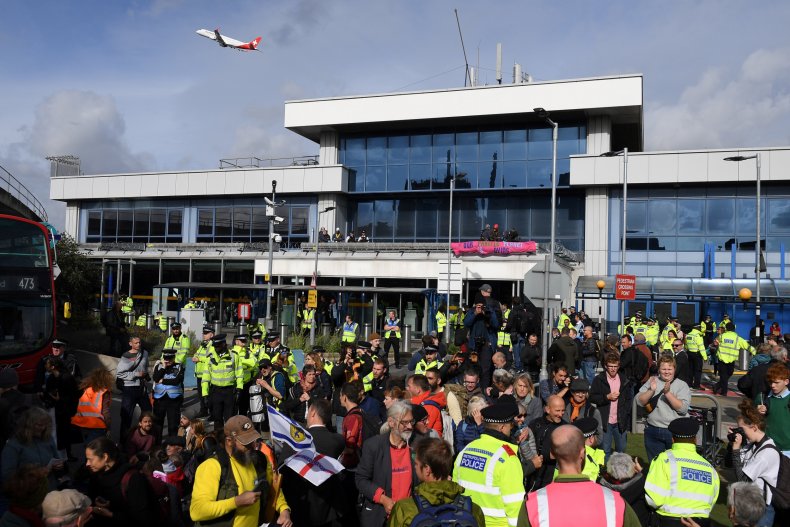 Protest organizers Extinction Rebellion vowed to occupy the airport's terminal and shut down operations for three days as part of its action in London. They said protesters would lie, sit or glue themselves to "nonviolently use their bodies to close the airport."
While some protesters got inside the terminal on Thursday, flights continued to take off, though some were delayed. One climbed over barbed wire to dance on the roof of the airport entrance as a live band played clarinet music below.
The group said they were protesting plans to expand the airport, which aims to have 6.5 million passengers a year by 2022, compared to the 4.8 million in 2018, and which has said there could be demand for as many as 11 million a year by 2035.
"Air travel is an icon of our fragile 'just-in-time' economic system. That system will break, as Climate Chaos hits," Extinction Rebellion group spokesman Rupert Read said in a statement.
"By non-violently shutting down this airport, in homage to the style of the Hong Kong democracy protesters, we are demonstrating the utter frailty of the transport systems that countries such as ours, unwisely, have come to depend upon."
The airport said it is "committed to building a more sustainable future for the airport and the aviation industry" and has said it will achieve net zero carbon emissions by 2050. British Airways owner IAG also pledged on Thursday to meet that emissions target, Reuters reported.
Police confirmed they have made 842 arrests in connection with the ongoing Extinction Rebellion protests as of Thursday morning.