Why is the Climate Change Movement so White?
Climate change campaigners from ethnic minority backgrounds have warned that the movement is too white and middle class and erases the contributions of people of color in fighting climate injustice.
It comes as global environmental movement Extinction Rebellion (XR) restarted large scale protests in the U.K., vowing to target the Houses of Parliament as well as other "key institutions of power" in a bid to raise awareness of the climate emergency.
A University of Michigan study found that the "current state of racial diversity in environmental organizations is troubling" in the U.S. with minorities employed as staff or on the boards of the organizations not exceeding 16 percent.*
In the U.S., people of color live with 66 percent more air pollution while in the U.K. ethnic minority and disadvantaged communities have also been found to be hardest hit because of differences is socio-economic prosperity.
Climate justice campaigners like Suzanne Dhaliwal, director and co-founder of the U.K. Tar Sands Network, campaigning against U.K. corporations and financial institutions invested in the Alberta Tar Sands in Canada, says the historical contributions of grassroots movements and people of color are being rewritten by groups such as XR.
"XR are a PR brand," Dhaliwal told Newsweek. "The way they have told the history of climate change and the way the media reports it, it's as though Greta Thunberg invented climate change, erasing all of those of us who did the work are pushing corporations, banks, climate literacy that's been just washed out by them."
She says that the history of the climate justice movement has a legacy with a rich history of fighting for land sovereignty, against the devastation of territory and the patriarchy and the contributions of marginalized groups are overlooked.
"Media reporting only reports on white middle-class folks, it doesn't report on those of us who have been leading on the front line of the crisis," she said.
Her strongest criticism is reserved for XR, a group she describes as "naïve", engaging in performative forms of protest seeking to remove others from the conversation.
"XR is a pretty sinister infrastructure," Dhaliwal said. "I don't mean people who come along and who care but there's a lot of in terms of the money and strategy [by XR's leaders]. For them it's being strategic to erase people like me who come from a climate justice background.
"We have histories of civil disobedience but they're nothing like the performative some of the things we see with XR."
She also criticized those who claim that XR and Greta Thunberg are responsible for "getting climate change on the agenda" when the Bishnoi community in India laid down their lives to protect trees but getting attention on the issues Dhaliwal cares about is difficult.
Despite serving as a CEO of a climate change organization, lecturing on the topic and being involved in the campaign, she says she does not receive a living wage for her work while XR continues to draw on extensive funds, a situation she describes as "abominable" and difficult to change.
"There is a climate crisis in Sudan right now, where half a million people are displaced I don't even have the funding or resources to get that on the media," Dhaliwal said.
"The two forces of XR and Greta happening at the same time have led to this complete re-writing of climate movement history, that they invented it, they popularized it, the movements that have been going, we knew it was going to reach a tipping point. [When that happens], they'll take it and it's commodified.
"What's happened is with XR and Greta, there's become a climate illiteracy and we've gone backward where people now think that because it gets good content, it's about sustainable fashion or personal waste reduction, it means that instead of the climate crisis being about humanitarian disasters, indigenous rights there's this kind of dumbing down, because everyone is trying to get that content."
The strategy of some XR members to get themselves deliberately arrested was described as naive.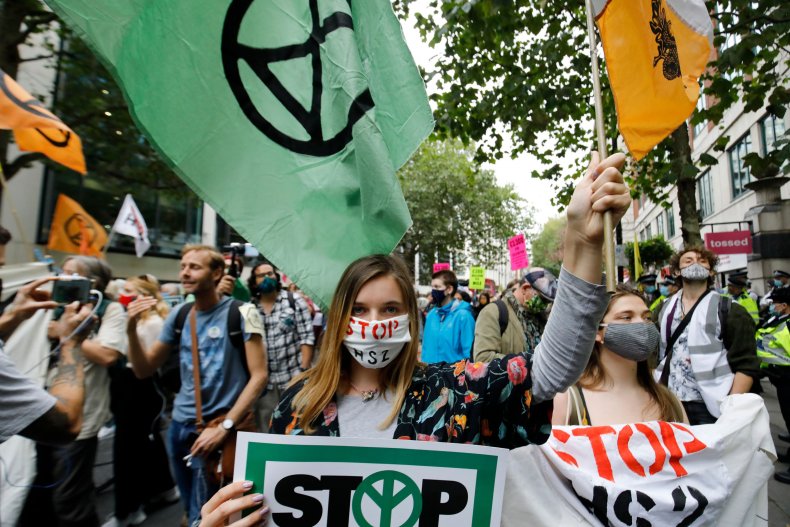 "They think that if they fill up the police beds with enough people, they have this number of 3.5 percent, they think they can bring down the state," she said.
The filling up of police beds is a reference to those members, by no means all, who deliberately choose to get themselves arrested and who view it as a form of protest to demand action on climate change. According to XR, research shows that non-violent uprisings involving 3.5 percent of the public participating in acts of civil disobedience force a political response because they cannot be ignored.*
It's a strategy that climate change journalist Akshat Rathi, who edited "United We are Unstoppable", which shares stories of young people from across the world fighting climate change, is also critical of and one which he thinks could alienate others, even if it is done willingly by people after a great deal of thought.
"One of XRs key tactics is to get arrested and we know that people from ethnic minority backgrounds are at much higher risk of suffering the consequences of these arrests," he tells Newsweek.
"But I think it's changing and one of the reasons it's changing is because they've been called out on it. It will only change through efforts of the climate movement itself, there's still a long way to go."
When XR protests took place in 2019, a number of arrests were made that eventually ended up in London's Royal Courts of Justice.
"It has been announced that all protesters arrested during the April rebellion will be prosecuted," XR tweeted. "We are asking the police and legal system to concentrate on issues such as knife crime, and not non-violent protesters who are trying to save our planet."
This was seen widely as a "dog whistle" that was "feeding into a racist narrative", that non-violent protestors should not be pardoned but the police should be spending their time on inner-city, predominantly black, neighborhoods.
"People within the climate movement... have been blind to the troubles," Rathi says. "Having a voice in there is very important because if you don't have that representation, you will not have a whole view of the difficulties that are being faced."
A second factor is down to the socio-economic condition people from ethnic minority backgrounds find themselves in.
"Environmental concerns are not as high a priority for black and brown people who are struggling to have their life be as good as it can be. They are not thinking about the long term as much as more privileged white people can.
"That has held back people from participating or at least worrying about these issues. Even once they do start worrying, they hit institutional barriers among the climate movement by being made to feel like their voice is not being heard.
XR has previously said it recognizes that its tactic of arrest has made it easier for people of privilege to participate in its activism and that its behaviors and attitudes fed into the system of white supremacy, apologizing that the recognition came so late.
It has also described previously "presenting the experience of arrest and jail time as something straightforward – rather than acknowledging the stressful, intimidating and sometimes deadly experience marginalized people face at the hands of the police" as a mistake.
In response to criticisms over a lack of diversity, a spokesperson for XR said: "There is no quick fix here. Turning around the historical white dominance in the climate movement, from which Extinction Rebellion is of course not exempt, is a huge task and one that we take seriously.
"In August, we joined in allyship with Reparations Rebellion to highlight the connection between colonization and ecocide and call for holistic reparations. We hope to continue to work with, and be led, by BIPOC climate activists. We are keen to make clear that arrest is not a prerequisite to being meaningfully engaged with Extinction Rebellion."
*Study methodology and notes
The study by the University of Michigan made its findings by looking at diversity among 293 climate NGOs, foundations and government agencies
XR claims that if 3.5% of the population become involved in their acts of rebellion, it can lead to systemic change and action