Climate Change Skeptic Bridenstine Tells NASA He Believes in Human-Caused Global Warming
Less than a month into his new job, NASA administrator Jim Bridenstine spent an hour on Thursday addressing questions from his new employees, including many that touched on concerns raised publicly during his confirmation process.
Included was a question tackling whether he believed that climate change is happening and being exacerbated by human activities, as scientific consensus states. After he addressed his background and qualifications for leading the agency, Thursday's town hall immediately turned to the issue. Bridenstine tried to assuage staffers' concerns, saying that he does believe in climate change.
"Carbon dioxide is a greenhouse gas," he said during Thursday's town hall. "That greenhouse gas is warming the planet—that is absolutely happening, and we are responsible for it."
That's a break from Bridenstine's previous comments on the topic. In 2013, as a congressman, he referred to an alleged pause in temperature increases that began 10 years prior. (On Thursday, he said that claim was based on information provided on his new agency's website, though that may represent a misunderstanding of complicated science.) During his confirmation hearings, Bridenstine said that climate change is real and caused by humans, though he waffled on precisely how much responsibility humans shouldered.
Bridenstine changed his tune on Thursday. "I also know that we human beings are contributing to it in a major way," he added.
Bridenstine pointed to NASA's new budget as proof that earth science research would not be hindered and added that the agency needed to make sure it was using science "void and free" of political influence by following guidelines set by the National Academy of Sciences, a nonpartisan group of scientists. Precisely how that will play out has yet to be seen. President Trump's head of the Environmental Protection Agency has used similar types of rhetoric to try to slash the amount of science that the agency can use in its decision-making.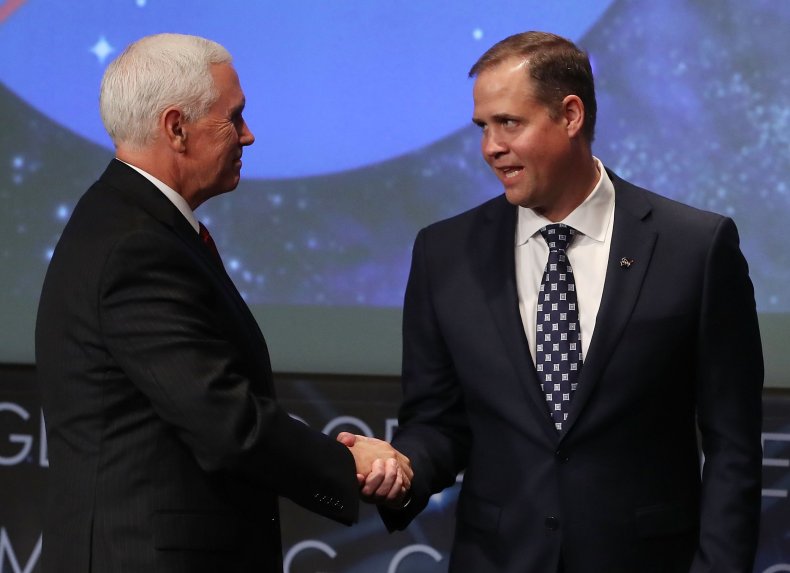 NASA employees also asked their new administrator about diversity and discrimination within the agency, prompted by previous comments in defense of "traditional marriage."
Other questions addressed the agency's programs and research. In particular, a staffer asked about the WFIRST telescope. That project is meant to be NASA's next major scientific instrument, but Trump's 2019 budget request cut all funding for it. Congress reinstated it, and Bridenstine said he is 90 percent confident the telescope will be built.
Another staffer asked if he would reconsider the risk levels considered acceptable during human spaceflight. Some people think NASA has become too cautious, nixing projects that might put astronauts at risk.
Bridenstine's response focused more on the goal under consideration, rather than the means used to achieve it. "If we lose a single astronaut, the entire world stops," he said. "If we are going to be putting even a single human at risk we have to be doing something that is monumental."
As examples of projects that qualified, he pointed to the agency's efforts to return to the moon and reach Mars. "We're doing both," he said, "and we're doing them at the same time."