The reasons migrants have for leaving their home countries and coming to the U.S. are often complex, but climate change is increasingly contributing to the social and economic pressures they already face.
Climate change was one of several topics the U.S. Office of the Director of National Intelligence (ODNI) explored in its most recent annual threat assessment, which was publicly released on Tuesday. After providing an overview of the threats posed by China, Russia, Iran and North Korea, the ODNI report examined climate change and migration as two topics of national security interest.
In the climate change section, the report pointed to record temperatures reported throughout 2020 and last year's storm season, which the ODNI wrote struck Central America "particularly hard."
"The region already was suffering from several years of alternating drought and storms, increasing the potential for large-scale migration from the region as pandemic-related restrictions on movement ease," the report said.
The report went on to say that the impact weather events like hurricanes have on countries in the Western Hemisphere—paired with economic opportunities in the U.S. and the anticipation of new immigration policies under President Joe Biden's administration—contribute to "the economic and physical conditions for a resurgence in US-bound migration."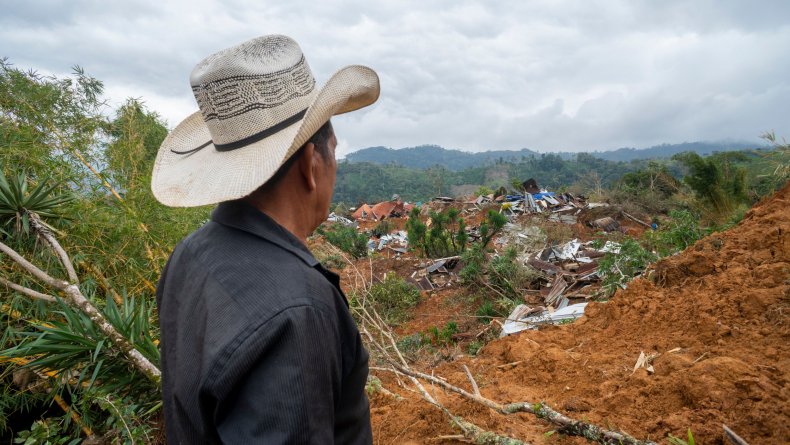 Climate change is not a new element in the wider migration conversation, but recent reports from the U.S. Customs and Border Protection cite the unrest in the Northern Triangle countries of El Salvador, Guatemala and Honduras as contributing factors to the recent uptick in border-crossings, which have continued to rise in the months since Biden took office.
Citing data from the National Intelligence Council, a U.S. Government Accountability Office (GAO) report published in early 2019 suggested climate change could contribute to poverty in Central America and an increase in migrants from that region bound for the U.S. in the years ahead.
"Drought is a particular concern in Central America, where declines in rainfall have reduced crop yields and threatened livelihoods in recent years," the GAO report said. "Some evidence shows that drought in parts of Central America has contributed to migration north, including to the United States."
Hurricanes Eta and Iota, both of which struck Central America last fall, impacted about 9.3 million people in the region, about 5.3 million of whom remained in need of resources last month, according to estimates from UNICEF. Laurent Duvillier, a spokesperson for UNICEF's Latin America and Caribbean division, recently told Vox that future storm events like those experienced last fall will likely result in continued high numbers of migrants heading north.
Carolina Herrerra, a climate change expert with the National Resources Defense Council (NRDC) whose work focuses on Latin America, acknowledged that while each migrant's reasons for making the journey to the U.S. are likely complicated, climate change serves as a "threat multiplier" for the three main causes driving migration from Central America. Those causes—food security, socio-economic conditions and security conditions—can each be exacerbated by the pressures droughts, hurricanes and other natural events introduce.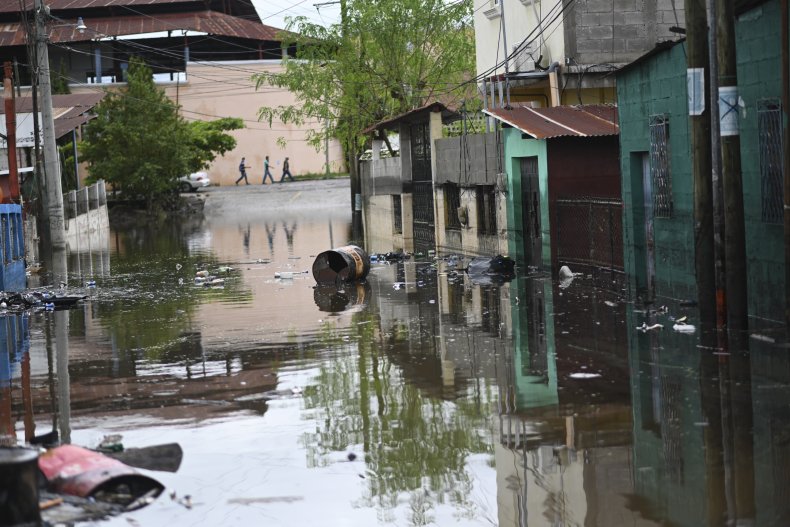 "Climate change is sort of like an underlying influencer of these three drivers, and kind of a threat multiplier," Herrerra told Newsweek. She pointed to the direct impact that rising temperatures and droughts can have on agricultural production, which in turn can heighten social and economic strains in the Northern Triangle.
Though Herrerra noted she is not a migration policy expert, she said factoring climate change into discussions on future immigration policies will likely be necessary.
"Given that climate change is this ongoing threat that will just kind of continue to have impact unless there's action taken to reduce emissions and build resilience, it's really going to be something that will influence migration trends going forward," Herrerra said. "It is certainly something that has to be planned for, has to be considered carefully, when planning for U.S. policy responses to these trends."
In addition to crafting future immigration policies with climate change in mind in the U.S., Herrerra said local responses to environmental changes in the countries migrants flee—such as building community resilience and identifying solutions for interruptions to agricultural production—could provide incentives for some individuals to stick around.
Regardless of the immediate response to the rise in U.S.-bound migrants, climate change is important to policy discussions due to its ties to the underlying variables that drive migration.
"It is part of the context of what is driving and will continue to drive migration," Herrerra told Newsweek. "I think certainly it needs to be part of what is being considered."