Jay Inslee Won the 2020 Presidential Climate Change Town Hall and Four More Takeaways
On Wednesday, the 10 top 2020 Democratic candidates took to New York City to participate in a seven hour series of CNN town halls on just one topic: climate change.
As Hurricane Dorian threatened the east coast of the U.S., the candidates answered a number of questions about their climate, environment and energy initiatives.
Below are the five main takeaways from the evening:
Jay Inslee Is the Ghost of Christmas Past
At times the town halls felt like a memorial for the Washington Governor's failed 2020 presidential campaign, where he focused the majority of his energy on bringing attention to climate change. Former Housing and Urban Development Secretary Julián Castro kicked the night off by mentioning the former candidate in his opening remarks, "I also want to give a shout out to Governor Jay Inslee who did a fantastic job bringing this issue to the forefront of this campaign," he said before any questions were even asked.
Senator Kamala Harris credited him with creating a line she now repeats, "Wind turbines don't cause cancer, they cause jobs," and Senator Amy Klobuchar also name-checked the governor. Senator Elizabeth Warren, meanwhile, said she based her climate change plan on the 200-page policy Inslee's team created.
Inslee, meanwhile, approved of all this. "We have seen, I think, an arms race now, in a good way, of candidates competing to have the most effective plans and I think that's a good thing," he said on CNN ahead of the town halls. "We offered my plan as an open source document and all the candidates are welcome to use it."
Perhaps the governor has Washington D.C. in his future after all. Climate czar has a nice ring to it.
A Whole Lot of the Same
While there are some nuances to the plans and goals presented by the 10 Democratic candidates, for the most part their plans are fairly similar showing that the future of the Democratic party has come to a general consensus on the issue—not a bad thing. Everyone agreed that climate change needs to be prioritized and said that they would work within the first 100 days of their presidency to reverse some of the president's environmental rollbacks and bring the U.S. back into the Paris climate agreement.
They all agreed that the U.S. needed to reach net-zero emissions by 2050 at the latest, and they also all agreed that a lot of money must be spent on new green infrastructure and research and development programs into clean energy. Trillions of dollars, at least.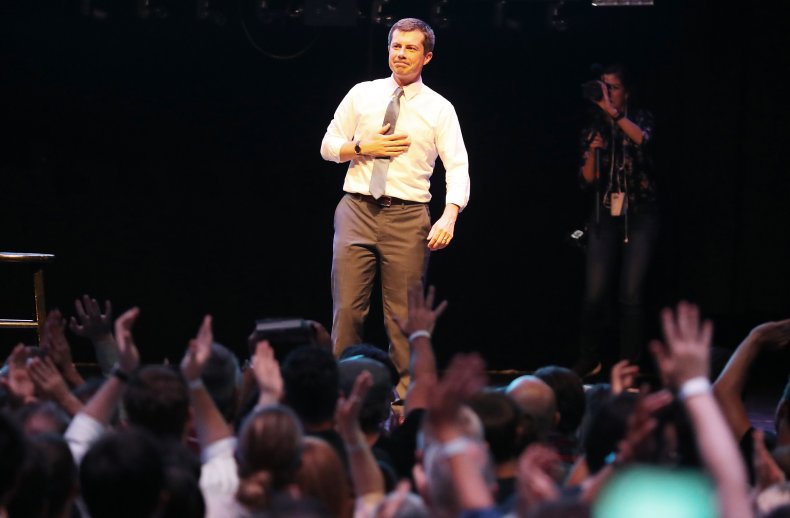 But Some Controversial Differences, Too
Tech entrepreneur Andrew Yang and Senator Cory Booker both argued that looking into nuclear energy made sense, something that set them apart from the rest of the pack. Both Harris and Klobuchar said they were worried about nuclear energy, pointing to past troubles storing waste. Sanders also opposed nuclear energy. "It doesn't make a whole lot of sense to me to add more dangerous waste to this country and the world when we don't know how to get rid of what we have now," he said.
Sanders also stood out from the crowd with his plan to ban all fracking in the U.S., point blank. Harris said she supported him but, as is her style, didn't go so far to say she'd do the same. Yang and former Congressman Beto O'Rourke would not go that far, and Castro said he would leave fracking up to local communities.
Sacrifice is Inevitable
None of the candidates suggested that fighting climate change would be easy, they recognized that the country would have to dedicate a significant amount of time, money and energy to prevent what Klobuchar described as a "Day After Tomorrow" scenario. The theme of the night appeared to be sacrificing for the future of the country. South Bend, Indiana, Mayor Pete Buttigieg framed climate change as a "sin" that Americans will now have to atone for.
The Mayor, who has spoken out about his Christianity before in relation to his policy prescriptions, said that "if you believe that God is watching as poison is being belched into the air of creation, and people are being harmed by it ⁠— countries are at risk of vanishing in low-lying areas ⁠— what do you suppose God thinks of that?" It remains to be seen if the religious right will come to agree with Buttigieg's comments, but in appealing to them, he is certainly making a smart play for at least some American voters who may be fed up with a president who has retweeted references to himself as a "Messiah."
"This is less and less about the planet as an abstract thing and more about specific people suffering specific harm because of what we're doing right now. At least one way of talking about this is that it's a kind of sin," he said. To solve the problem, "we set the goal and then we challenge Americans to live up to it."
Republicans Took it Seriously
President Donald Trump responded to the town hall with a long string of tweets complaining about Democrats, describing their policies as costly and saying the Paris agreement was bad for the U.S. Meanwhile Steve Guest, the rapid response director for the Republican National Committee was up late into the night sending reporters spin emails about what the candidates had said during their interviews.
The Trump campaign sent out an email after the town halls ended with the subject line, "10 Eye-Popping Moments from Democrats' Green New Deal Town Hall." Some of the eye-poppers included, "Bernie Sanders says his climate plan means "a lot of taxpayers out there who will be paying more in taxes" and "Elizabeth Warren says Americans need to make changes when it comes to using straws and eating cheeseburgers."
(Warren, by the way, addressed the criticism she knew she'd get for both plastic straws and cheeseburgers during the town hall. "Oh come on, give me a break," she said when asked about mandating the use of energy-efficient lightbulbs. "This is exactly what the fossil fuel industry hopes we're all talking about. They want to be able to stir up a lot of controversy around your light bulbs, around your straws and around your cheeseburgers. When 70 percent of the pollution, of the carbon that we're throwing into the air, comes from three industries.")
This is all to say that Republicans are watching, and they care.