Climate and the Need for Food Systems Change | Opinion
This summer, the reality of climate change hit home in the United States. Fires ripped through California, a heatwave throttled the Northwest and Hurricane Ida hit Louisiana, causing deadly floods and an unprecedented swath of destruction as far as New York, New Jersey and Pennsylvania.
Behind these dramatic incidents, an even larger crisis looms: the collapse of our food system. As the world focuses on the upcoming Climate Week and discusses how to limit global warming, the link to basic human rights—nutritious food, clean water and health—must be on the agenda.
It's clear that our infrastructure for housing and transportation cannot withstand changing weather patterns—and our agricultural infrastructure can't either. Our food system, built on large-scale commodity crops that account for 24 percent of carbon emissions globally, is both inadequate and unsustainable. Most urgently, the threat of climate-induced famine is spreading across the Global South.
Madagascar, an island nation off Africa's southeastern coast, presents a bleak preview of the problems ahead. Intense drought in the Grand Sud region—which has seen almost no rain for nearly two years—is decimating agricultural production, increasing food prices and spreading waterborne diseases. It is one of the world's worst humanitarian crises, with 16.5 percent of children younger than 5 acutely malnourished. In Madagascar's hardest hit district of Ambovombe, 27 percent of children are in danger of starvation. The hunger gap—the period during which food stores run out and hunger begins—usually comes to Madagascar in October, but it has begun even earlier this year.
"We have nothing to eat because of the drought," said Tsiharatie, a mother of seven in Ampanihy. She shared her story, and how her family is coping with hunger, with my colleagues in Madagascar. "Today, we crushed tamarind into a sticky paste. Then you add ash and cook it. ... It's not healthy at all, but at least we have something warm in our bellies."
My organization, Action Against Hunger, set up emergency mobile clinics across Grand Sud, handling 9,000 new cases of dangerously malnourished children in less than six months. Our ready-to-use treatments can save their lives, but emergency clinics are a short-term fix for the long-term problem of climate change.
Africans are suffering some of the worst effects of the warming planet, even though they emit less carbon dioxide per inhabitant than anywhere else.
The recent Intergovernmental Panel on Climate Change (IPCC) report has been called a "code red" for humanity. To adapt, the world needs to see food scarcity as an infrastructure failure and prepare for it the way we would handle floods or wildfires.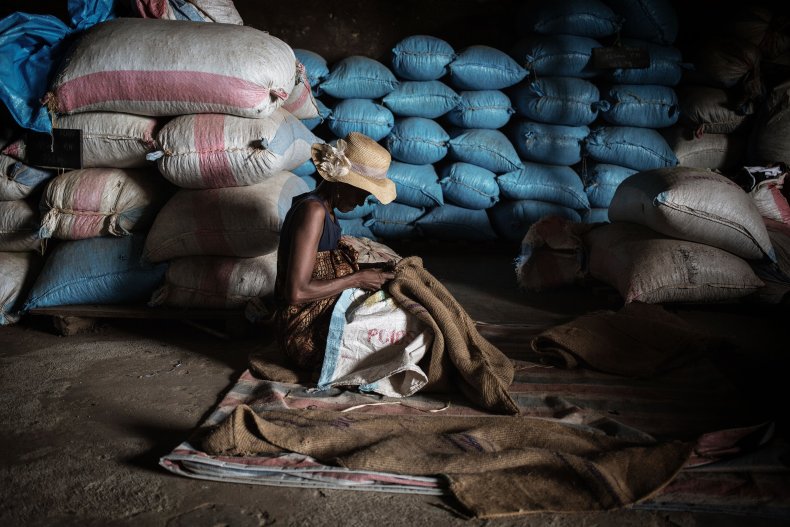 In communities that depend on rainfed agriculture and livestock farming—industries that are incredibly vulnerable to drought—we are increasingly turning to solutions such as agroecology, which incorporates sustainable farming and natural resource management. My organization provides equipment and education programs on how to prevent plant diseases and insect infestations—information on how farmers can grow their own seeds and encourage subsistence farmers to repurpose materials they can already access.
These types of solutions can extend far beyond Madagascar. In Pakistan, saltwater intrusion has become a major problem as the Arabian Sea rises and monsoon rains become increasingly intense. Last year, flooding in Sindh, Pakistan, left 300,000 people hungry, according to the World Food Programme. There, we're working with women farmers to produce hardier, saline-tolerant crops, such as sugar beets; and doing training sessions on soil nutrition in these ever-changing conditions.
In Haiti, which sits on a fault line and is incredibly vulnerable to increasingly strong hurricanes, we are providing small-scale farmers with seeds, tools and training on agroecology and teaching these principles in schools.
Overall, securing an increased supply of food is dependent on switching to farming that does not harm the natural environment, restoring fishing grounds and habitats and promoting agricultural diversity. This will also lead to a reduction in global warming emissions and increased carbon sequestration on land and in the seas.
Yes, agroecology has its limits—it's difficult to scale up to feed urban populations and is not a universal solution, but in hunger-stricken countries like Madagascar, Pakistan and Haiti it can mean the difference between life and death.
As natural disasters continue to make headlines, it's important to remember the fragile food systems that don't recover easily, or at all. We need to build local infrastructure based on resilience and self-sufficiency for communities struggling to adapt to the rapidly changing climate. Global hunger is not an unmanageable or inevitable problem—we already know many of the solutions, but we're running out of time to implement them.
Duncan Williamson is global climate change advisor at Action Against Hunger.
The views expressed in this article are the writer's own.