Climate Refugees With Legitimate Fears Cannot Be Turned Away, United Nations Says in Landmark Ruling
One asylum seeker's failed bid to flee his home country due to the effects of climate change has potentially set the course for countless more climate refugees to be granted protection around the world.
In a landmark ruling, the United Nations Human Rights Committee (HRC) sided with New Zealand courts in their decision to reject the asylum application of a Pacific Islander who cited the forces of climate change as his reason for seeking refuge in the neighboring country.
Ioane Teitiota had initially brought his case to the human rights committee in February 2016 after New Zealand courts denied his asylum request as a "climate refugee" and deported him back to Kiribati, a neighboring country in the central Pacific Ocean, in September 2015, according to Amnesty International.
Kiribati is one of the six Pacific Island nations most threatened by the climate crisis, according to the UN's Intergovernmental Panel on Climate Change, with rising sea levels posing a growing risk to the tens of thousands of people living across its 33 islands.
Teitiota had argued that the impacts of climate change were already taking effect, with overcrowding on the island of South Tarawa where he lived, leading to land disputes and difficulties accessing safe drinking water.
The Kiribati native said that he and his family had been left with no other choice but to migrate to New Zealand, where he eventually applied for refugee status after his visa had expired in 2010.
The United Nations committee did not rule in Teitiota's favor, arguing that climate change did not present an immediate danger to his safety and New Zealand was therefore not wrong to deport him.
There was still time, the committee said, for the Republic of Kiribati to intervene and protect and potentially relocate its citizens to avoid the threat of rising sea levels.
However, the HRC did effectively put countries around the world on notice by recognizing that when the effects of climate change do pose a threat to an individual's life, that individual should not be turned away if they seek asylum in another country.
"The Committee takes note of the observation of the Immigration and Protection Tribunal that climate change-induced harm can occur through sudden-onset events and slow-onset processes," the UN group said in its decision, which has been published online.
"Reports indicate that sudden-onset events are discrete occurrences that have an immediate and obvious impact over a period of hours or days, while slow-onset effects may have a gradual, adverse impact on livelihoods and resources over a period of months to years," it continues. "Both sudden-onset events (such as intense storms and flooding) and slow-onset processes (such as sea level rise, salinization, and land degradation) can propel cross-border movement of individuals seeking protection from climate change-related harm."
"Without robust national and international efforts," the committee warned, "the effects of climate change in receiving states may expose individuals to a violation of their rights under articles 6 or 7 of the Covenant, thereby triggering the non-refoulement obligations of sending states."
"Furthermore, given that the risk of an entire country becoming submerged under water is such an extreme risk, the conditions of life in such a country may become incompatible with the right to life with dignity before the risk is realized," it added.
For Kate Schuetze, a Pacific researcher at Amnesty International, "the message is clear: Pacific Island states do not need to be under water before triggering human rights obligations to protect the right to life."
"It says a state will be in breach of its human rights obligations if it returns someone to a country where—due to the climate crisis—their life is at risk, or in danger of cruel, inhuman or degrading treatment triggered," Schuetze said.
The United Nations committee's warning is a wake-up call for countries around the world to recognize the impacts that climate change will have on global migration in the years to come.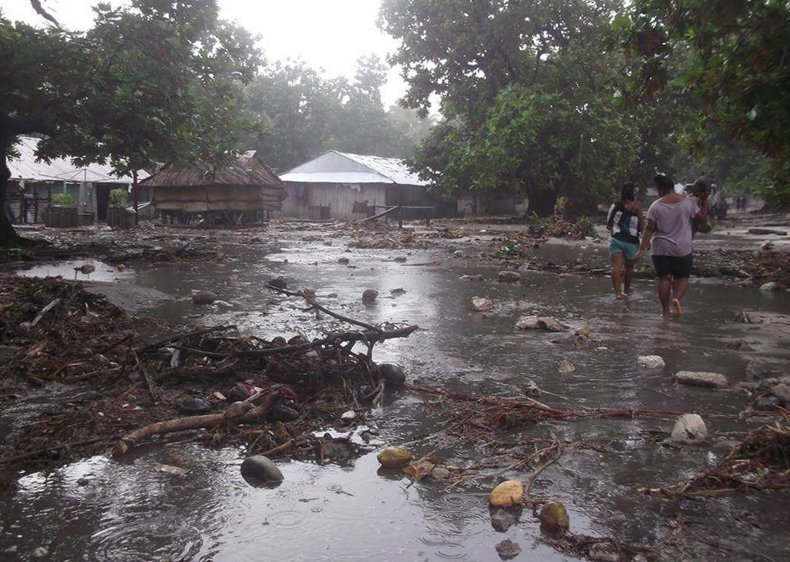 "All states have the human rights duty to protect people from the harmful effects of the climate crisis, including displacement," Amnesty International said. "It is therefore imperative that urgent action is taken to keep the temperature rise as low as possible and no higher than 1.5°C."
The Pacific Islands, Schuetze said, "are the canary in the coal mine for climate induced migrants."
"Low-lying island states such as Kiribati and Tuvalu are only one or two metres above sea level," she asserted. "The people there are exposed to severe climate impacts today, including limited access to habitable land, clean drinking water and subsistence living. Governments must consider this dangerous reality and a heating planet's imminent threat to Pacific peoples' lives and livelihoods."