The Climate War: True Believers, Power Brokers, and the Fight to Save the Earth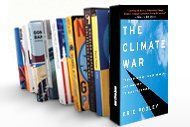 Eric Pooley
481 pages | Buy this book
Eric Pooley weaves the 15-year saga of climate-change politicking around the story of the mercurial partnership of environmentalist Fred Krupp and big-energy businessman Jim Rogers. Oh, and Al Gore, of course. At the fringes are activists chaining themselves to bulldozers, deniers spreading anti-global- warming propaganda, and immovable idealists on both the left and right. The climax comes in Copenhagen, when President Obama makes big proclamations but offers little policy. In the end, dithering seems to have become everyone's No. 1 course of action. As Pooley shows, that's at all of our peril.
What's the Big Deal?
In the early 1990s, the U.N. Framework Convention on Climate Change (UNFCCC) declared that staving off environmental disaster meant decreasing CO2 emissions. American intransigence, and that of China, India, Brazil, and South Africa (the gang of suspects known the BASIC countries), threw a wrench into the gears. So politics, in addition to the grueling effort required to make dirty energy clean, has meant that saving the planet is a slow-going process. With this history, Pooley makes a case for the cap-and-trade model. By his measure, it's feasible, it's efficient, and it's the best option on the table. And, yes, it could actually work.
Buzz Rating: Hum
Andrew Revkin, in his New York Times blog, Dot Earth, has praised the book. There's also been an Al Gore tweet to his more than 2 million followers, an Oprah Radio spot, and Bloomberg TV coverage.
One-Breath Author Bio
Pooley is the deputy editor of Bloomberg BusinessWeek, and he's written about climate politics for Time and Slate.
The Book, in His Words
"[This book] is an epic without an ending. It is the story of a group of people who set out to save the planet . . . Their battleground was the American political system . . . so distorted by special interest dollars and partisan bile that it now seemed to block progress of any kind, no matter how urgent" (page IX).
Don't Miss These Bits
1. The "denialosphere" is devious, and smart. Though much of the world has cut CO2 emissions, amazingly, many Americans still doubt that humans are even responsible for climate change. Well, it's no hoax. Despite its lack of scientific street cred, the denial camp has swayed public opinion through fake "he said, she said" journalism (page 35). Quick slogans work, too: cap-and-trade quickly became cap-and-tax. Just look at Congress for further examples . . .
2. . . . because the path of progress has been littered with defeats. Pooley exposes the painstaking efforts it took just to get Congress to debate the Lieberman-Warner bill in 2008. The process was filled with "economic doomsaying and scientific denial" (page 187). What happened to the bill? Dead. In 2009, the Waxman-Markey bill made headway—at least it wasn't shot down as soon as it reached the Senate floor—but now it's stalled behind threats of a Senate filibuster. Then there's the Kerry-Lieberman bill, rolled out last month. But where's the real progress?
3. It's cap-and-trade all the way. Unlike command-and-control (the other running option), C&T would cut the costs of what Pooley calls the great energy transition. The "cap" limits CO2 emissions and brings them down over time. "Trade" essentially allows companies to buy the right to pollute (in measurable quantities, that is). It would put power in the hands of industry, rather than erecting more government bureaucracy (the likely result of C&C). It's a middle ground between the environmentalists and big industry. Too bad it's still too middle-ground for even the "centrists" in Congress.
Swipe This Critique
Pooley may want to save the world, but he sure spends a disheartening amount of time chronicling the intricate details of struggle and failure. That's really a shame, because there's definitely a vein of action and progress beating throughout the book—and ultimately, motivation for action on climate-change policy needs a little less lament and a little more on how to move forward.
Gradebook

Prose: Pooley's journalistic precision keeps the pages turning.
Construction: The linear plot is interrupted by thriller-esque scene cuts—we're in the Roosevelt Room! No! Wait! We're at a protest in North Carolina!
Bottom line: An enjoyable, sharp recent history of the climate-change debate.