Climbing Documentary 'Meru' Depicts Peak Human Achievement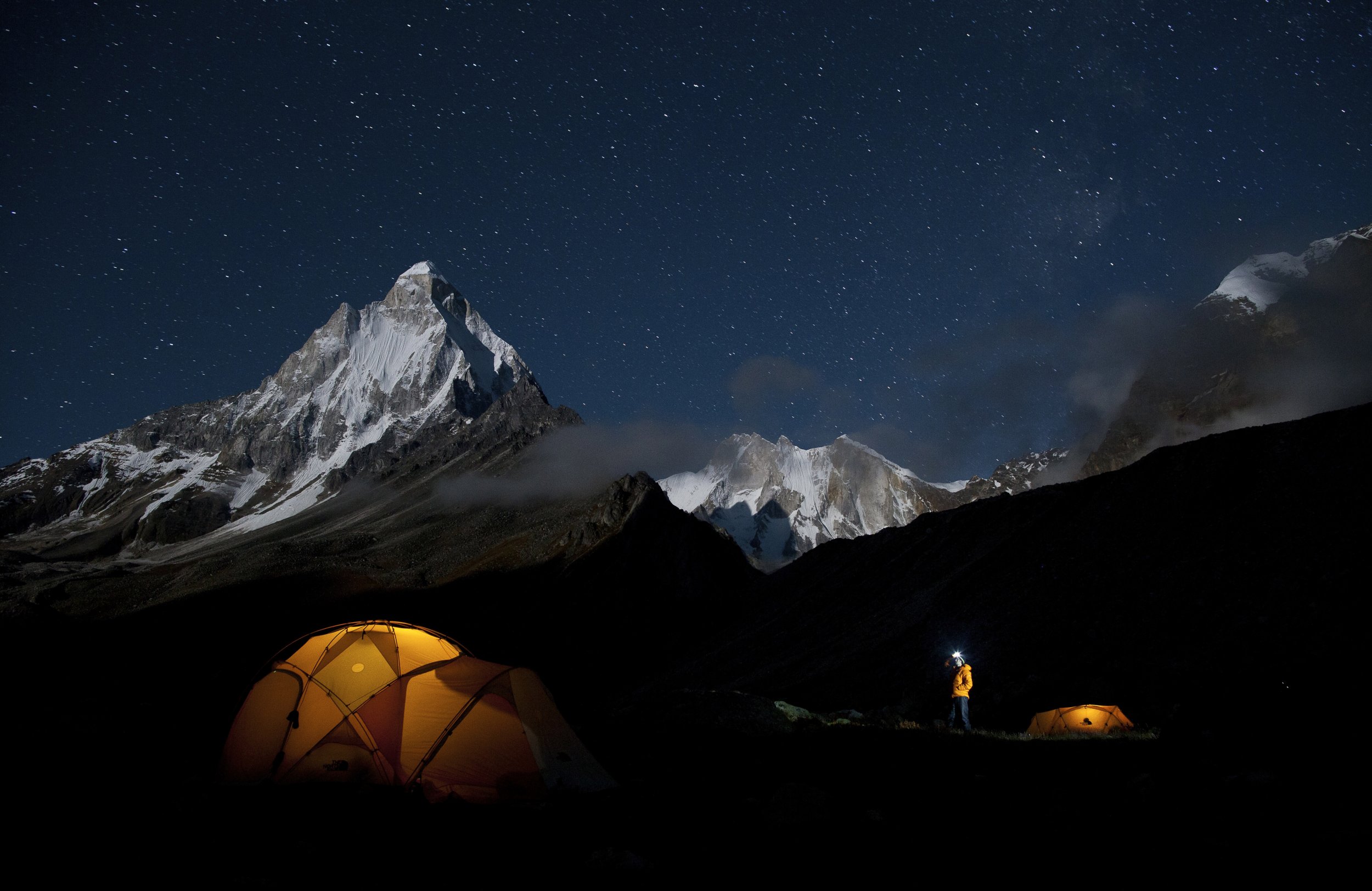 Here's a quiz. Say you've managed to locate the center of the universe. (Congratulations!) The catch is, it might kill you. Would you:
a) gape at it in awe
b) shrink in fear
c) run away
d) attempt to understand it
Choose carefully, as for some this not a metaphor. The mythic Mount Meru in the Himalayas is thought to be the center of the universe, in that it "govern[s] the courses of heavenly bodies," writes scholar I.W. Mabbett in his History of Religions. An integral part of the creation stories present in Hindu cosmology, the mountain sits at the foot of the sacred Ganges river in India.
One treacherous peak at Meru is nicknamed the Shark's Fin, on the northwest face of the mountain. It's a pristine granite surface where "heaven, earth and hell converge," in the words of climber and formidable writer Jon Krakauer. He's not kidding: Meru long thwarted even the world's best climbers, as attempts launched from every nation imaginable to reach the summit culminated in failure. This isn't Everest; no sherpas will help you carry the 200-plus pounds of mixed climbing gear and supplies on your back. There's no charted path, either. So maybe us humans weren't meant to understand it after all.
That changed in 2011, when three seasoned climbers, Conrad Anker, Jimmy Chin and Renan Ozturk, became the first to reach the summit in a feat best described as herculean--and even that word seems to do their fraught journey a major disservice. The trio's tale of triumph, tragedy and sheer terror is now immortalized in a new documentary, Meru, which won the Audience Award at this year's Sundance Film Festival. Meru, which opens this weekend in select theaters, was directed by Chin and his wife, the award-winning documentarian Elizabeth Chai Vasarhelyi.
This isn't your stereotypical tale of climbing bums. Chin, who's been shooting expeditions for the likes of National Geographic since 2002, took on the roles of filmmaker and photographer in addition to casually climbing the most treacherous peak in the world. "The real filmmaking achievement is what they did on the mountain because that footage...you have never ever seen that before," Vasarhelyi tells Newsweek. While Meru doesn't technically fall into the thriller genre, seeing the adversities at thousands of feet will leave even the most blase audiences with bitten nails, white knuckles and shortness of breath. According to Chin, "Chai really brought it, made that leap for us. It's hard to be objective when you're in the film and so closely tied to an activity like mountain climbing, that's hard to translate."
The resulting Meru is a picture that appeals to novices and masters of the sport alike, a harrowing look at the dangers, motivations, stakes and spirituality involved in the craft of climbing. "People come up to you and ask, 'Wow, do you have those bolt guns if your harness falls apart? Are you built like Sylvester Stallone?'" Anker says. "And you're, like, no, it's this spiritual thing you do." Climbing is difficult to describe in layman's terms, but Anker's statement recalls an observation made by the naturalist John Muir years ago of the Sierras: "We are now in the mountains and they are in us, kindling enthusiasm, making every nerve quiver, filling every pore and cell of us."
The 2011 trip wasn't the guys' first attempt. The journey stems back more than 20 years, when Conrad Anker was a mentee of the veteran climber Mugs Stump. Anker is a legend in his own right, having been on dozens of trailblazing expeditions, and having first made headlines for finding English Everest pioneer George Mallory's body in 1999. Stump, who long dreamed of ascending the near-impossible Meru, attempted it in 1988 but didn't succeed, due to a snowstorm. He left that dream unfulfilled upon his death in 1992, and Anker's connection to Stump drove his desire to try to scale Meru himself.
Anker, Ozturk and Chin attempted to climb Meru in 2008, but they were defeated just like Stump was 20 years earlier: by a snowstorm that wiped out practically all their food, supplies and energy. "This thing was an asskicker," Chin says into the camera, upon the trio's decision to go down. But Anker was "possessed," as he explains in Meru. "I wasn't even down and I was like, OK, do I come back pre-monsoon, post-monsoon? What do we have to do better this time?"
Chin wasn't as convinced they'd return. He retreated inward after a near-death experience, and after being present when Ozturk was critically injured, almost paralyzed, on a Wyoming skiing trip just days earlier. But he placed his trust in Anker, his climbing partner of years past, and the thought of not climbing again was enough to make him concede. "They say the best alpinists are the ones with the worst memory," Chin quips in the film.
While mountain climbing certainly tests the limits of human achievement, it also toes the line of mortality. All three well know that death can be part of their calling; Ozturk's perseverance and progress following his accident were practically "inhuman," as Chin puts it. These men do not move mountains, but rather sculpt them. What Meru lays bare is the sheer craftsmanship that accompanies the tough physical labor: especially on this slab of smooth granite, climbers must chisel away as a sculptor might, picking and prodding. "You're sailors on the sea of gravity," as Anker describes it.
But circling back to cosmology, the three were aware that they were stepping into sacred territory when attempting to top Meru. Heavy lifting aside, climbing culture is built on respect and the idea of not treading on cultural territories. "We had the blessings of the heavy holy dudes," says Anker. "When we went [in 2008], we said we want to go climb this. And they said, 'Great, tell us what you see.' Then the second time we went they said, 'You have a calling, a mission to do this. You have it.' And they would see it in our eyes and said, 'Go do it.'"
The alpinists briefly ditched their ice picks and parkas for suits at Meru's New York City premiere at the Museum of Modern Art on a recent balmy evening. In the museum's packed basement theater, the film roared on as, serendipitously, the subway trains at the Rockefeller Center stop occasionally rumbled by in tune with the thunder of the avalanches so far away. And if the applause and sniffles are any indication, this helped bring the audience and filmmakers even closer together, perhaps to some cosmic level.