Climbing Instructor Dies After Falling 60 Feet in "Freak Accident"
English climbing instructor Sam Pilcher died in the hospital on May 30 after suffering what his employer characterized as a "tragic freak accident" on social media.
In the early afternoon on May 27, Pilcher was in the process of ascending Quayfoot Buttress in the parish of Borrowdale with a friend when he apparently lost his footing and plummeted approximately 60 feet from a "sheer crag," according to The Yorkshire Post. While Pilcher was wearing a helmet at the time, he still managed to sustain a "very serious" injury. Had he landed a mere 20 millimeters lower, his boss, Lou Osborn, told the Post, he would have survived the fall.
"He was so unlucky," she said. "He did everything right but was really unfortunate."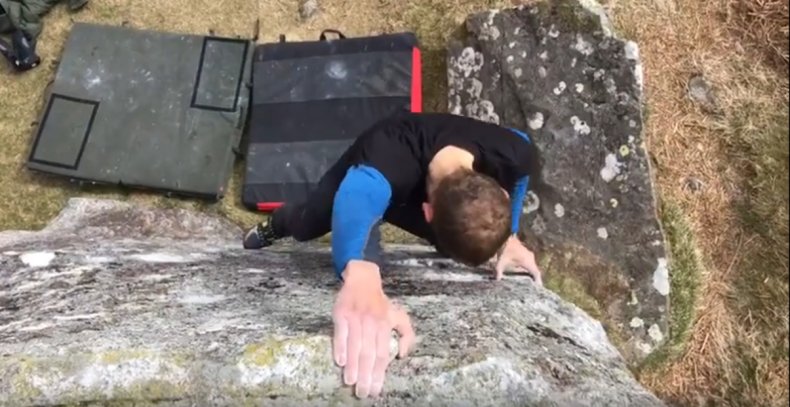 From a nearby car park, a member of the public saw Pilcher fall and immediately called 999, the U.K. version of 911. Members of the Keswick Mountain Rescue team responded, according to the Post. Using ropes, they lowered a paramedic down to Pilcher to make an initial assessment of Pilcher's condition before lowering both to the base of the mountain. Pilcher received some preliminary treatment from team members and paramedics before being carried on a stretcher down to the car park. There, he was flown by air ambulance to Newcastle Hospital, where he apparently succumbed to his injuries three days later, according to Lancs Live.
The Post reported Pilcher, 31, worked as a climbing instructor for the company Kong Adventures, which posted a tribute to Pilcher, an employee since February 2020, on Facebook earlier this week. In the post, the company described Pilcher as "exceptionally hard working" and "extremely popular with all of our staff and customers," adding that he "quickly bonded with all of those he taught." His colleagues were stricken by the news.
"We were all stunned. We couldn't believe it. Everyone was really distressed. It couldn't have happened to a nicer person," Osborn said, describing Sam as happy, positive and passionate about his job. His recent climbing achievements included completing 18 of the oldest routes in the area in antiquated footwear, a project known as "Old Routes in Old Boots."
The Keswick Mountain Rescue Team posted its own tribute the same day.
He "sounded like an amazing guy with such a promising future. Our thoughts and condolences to his family and friends," the team wrote.
Ironically, Pilcher had just joined a mountain rescue team himself. In the Facebook post, Kong Adventure described Pilcher as "excited and looking forward to helping out."