Clinton Campaign Wants to Humanize Hillary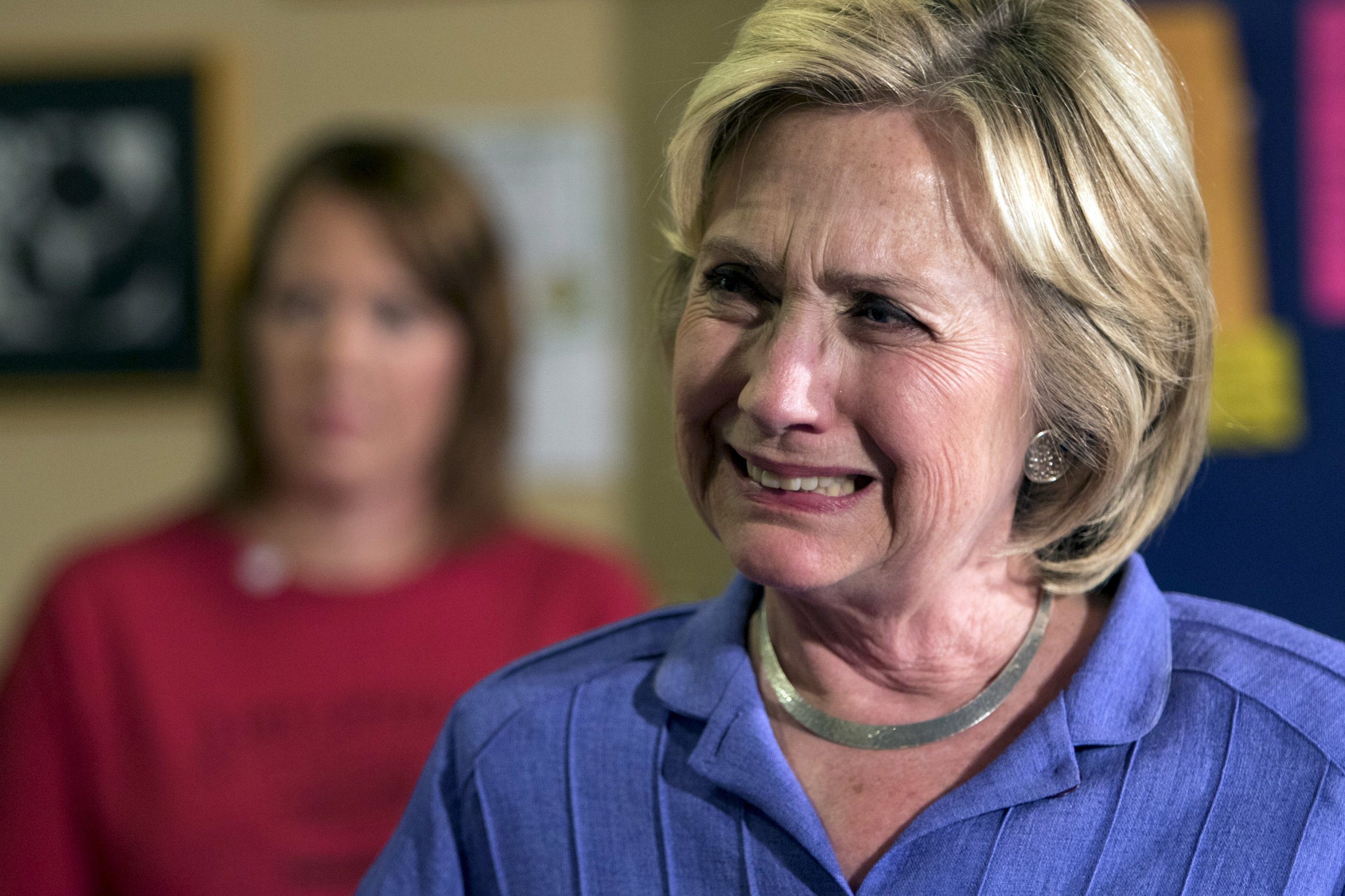 Americans crave politicians who are verifiable humans beings. It's why Barack Obama dabbles in humor. It's why David Foster Wallace joked in 2000 that Al Gore was "amazingly lifelike." It's probably why Mitt Romney lost. In this spirit, Hillary Clinton may be approaching a tonal shift in her presidential campaign, according to The New York Times .
The article, under the headline "Hillary Clinton to Show More Heart and Humor, Aides Say," reported that Clinton's top campaign aides want her to show a lighter side, while continuing to strongly contrast herself with Republicans. The interviews referenced in the story, conducted by telephone and at Clinton campaign headquarters in Brooklyn, apparently revealed that the campaign intends to revitalize Clinton's image with greater shows of spontaneity, humor and other human emotions.
After a summer of negative press stemming from trust issues over her email scandal and declining favorability ratings in national polls, Clinton's campaign aides told the Times that they remain confident in their candidate's favorability and polling numbers. Clinton remains the Democratic front-runner over Bernie Sanders and non-candidate Joe Biden in national polls .
Top aide Jennifer Palmieri told the Times that the campaign wants Clinton to be perceived as a politician "who addresses the problems in the headlines and the ones that keep you up at night." However, the story did not report any direct quotes clarifying what specific steps the campaign might take to initiate an overall tonal shift.
Clinton will appear on The Tonight Show Starring Jimmy Fallon September 16, six days after an appearance by Biden. Tours of the late-night comedy circuit have become a staple of this campaign: Stephen Colbert will interview Jeb Bush for the debut of his Late Show Tuesday and will host Sanders on the 18th.
Clinton campaign staffers did not respond to Newsweek 's request for comment.
This kind of shift in media strategy isn't new for the Clintons. In 1992, when then Arkansas Governor Bill Clinton was dogged by questions about his trustworthiness over his Vietnam draft record and an alleged affair, he took to what was then considered an unconventional forum for a candidate—morning talk shows and playing saxophone on the popular Arsenio Hall Show. Mrs. Clinton's pivot isn't much different, although it comes after some previous attempts to change the campaign's tone. For example, Clinton held a low-key dinner for reporters earlier this year in Washington, D.C., during which her prominent supporter, former White House Chief of Staff John Podesta, made pasta. A visit to a Chipotle offered another she's-a-regular-person moment. But these humanizing attempts seemed to falter: The campaign did relatively few interviews with the press, and the questions about her emails grew louder. The hope at Clinton campaign headquarters, reported the Times , is that now the rest of the country will see the fun, warm, Hillary they know.
The new approach comes at a time when independent senator Bernie Sanders has raced ahead of her in one New Hampshire poll. In an interview with the Associated Press on Monday, Clinton—currently campaigning in New Hampshire—said that she is "very confident about the organization and the message that my campaign is putting out" when asked a question about the email scandal.
In the past, some political commentators have suggested that Clinton benefits from emotional displays. After her famous "crying" incident during the 2008 primaries, she rebounded from a third-place finish in Iowa and won New Hampshire.
This year, she has made some missteps in tone, particularly in giving a glib response to a question about whether she wiped her email server ("What? With a cloth?"). The new tone—for example, saying "I'm sorry" for the confusion created by the emails—is a concession to a problem that's not going away. Whether it's enough to boost her campaign is less than certain.
Matthew Cooper contributed to this article.