Clinton Reveals College Tuition Plan, Courts the Indebted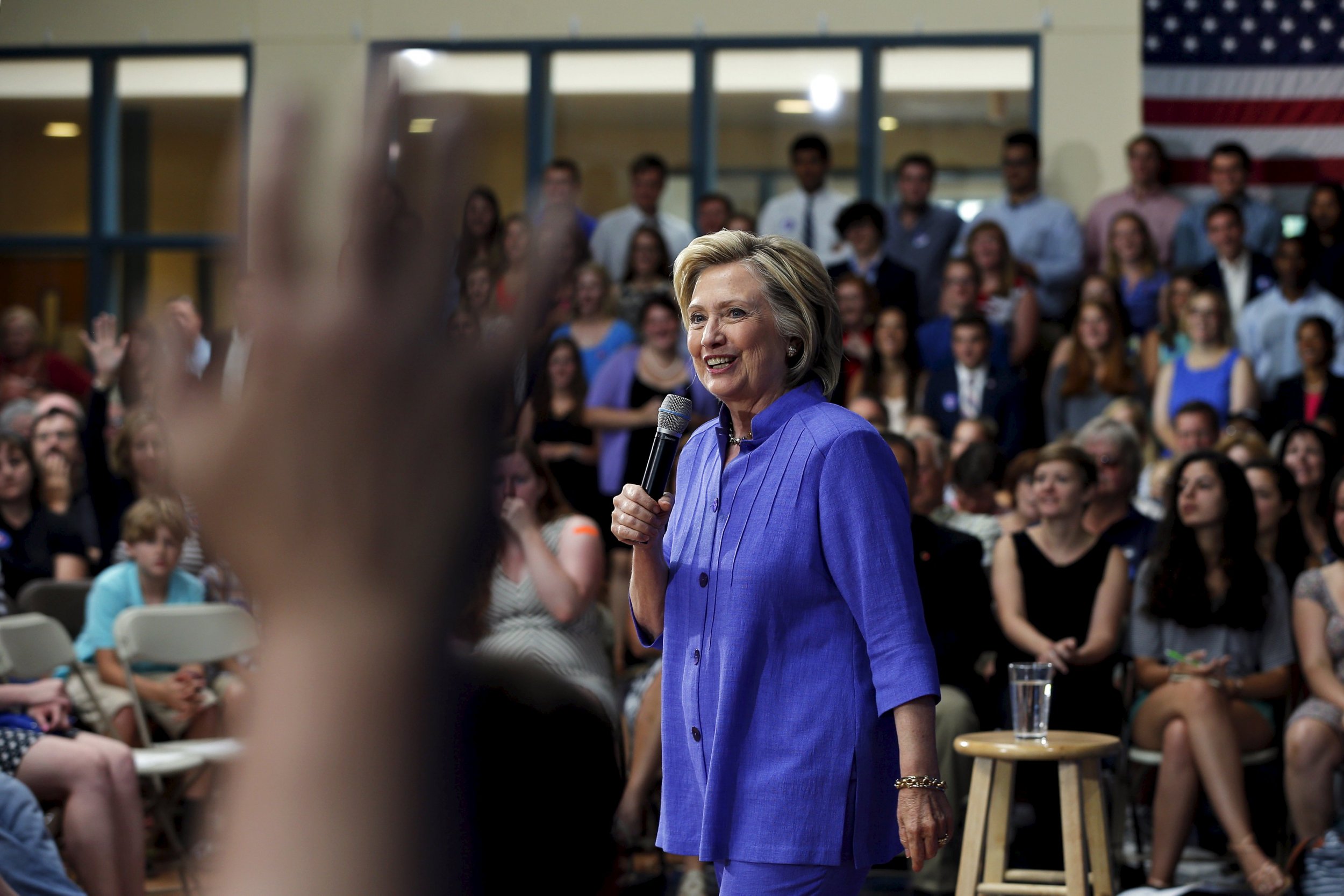 At last week's GOP presidential debate, Florida Sen. Marco Rubio threw down a generational challenge to Democratic primary front-runner Hillary Rodham Clinton. "How is she gonna lecture me about student loans?" he asked. "I owed over $100,000 just four years ago. If I'm our nominee, we will be the party of the future."
It could be the back-to-school mood looming across the land. Or it could be the specter of a fresh-faced, 44-year-old Republican presidential candidate resonating with millions of millennials whose futures are being crushed under student loans. Or maybe the millions more Gen-Xers who still haven't paid off their loans, but something spurred the Democratic candidate to take on student debt this week, before her expected August vacation.
Clinton chose today in Exeter, New Hampshire, (home to one of America's toniest private prep schools) to unveil an ambitious plan to take $350 million from rich Americans by closing off some tax deductions, and forking it over to the poor and middle class via grants to state colleges and universities for debt-free college financing.
College graduates in America today carry a whopping $1.2 trillion in student loan debt, and 8 million are in default. The class of 2015 was the most indebted class in history, and if current trends continue, they will be surpassed in debt by 2016 grads. The average indebted graduate this year left college owing more than $35,000, twice what graduates owed 20 years ago, according to Mark Kantrowitz, publisher a group of websites about college financing.
The Clinton plan, which her campaign calls "The College Compact," would provide grants to states that guarantee students could cover tuition at four-year public colleges and universities without taking out loans. In return for that money, states would have to stop trimming their budgets by cutting higher education, and show progress in slowing tuition increases, which have risen 40 percent at public colleges since 2004. The plan doesn't include tuition caps. Grant sizes would be calculated based in part on the number of low- and middle-income students enrolled. The proposal would also impose penalties on colleges whose graduates cannot repay their loans.
Families would still have to pay what they could, and students would pitch in by working 10 hours a week. The plan also cuts the interest rate on student loans "so the government never profits" when students borrow to pay for living costs or for private college. The Clinton campaign says that change alone would reduce loan payments by tens of billions of dollars, saving individual college graduates thousands of dollars over the life of the loans.
The plan also allows for refinancing of private loans at lower interest rates; lets students use Pell Grants fully for living expenses; expands the AmeriCorps national service program, which provides an education benefit to 250,000 workers from 75,000 workers. It would also impose penalties on colleges whose graduates cannot repay their loans.
Clinton comes to the college debt–crisis party later than her two Democratic rivals, who have both already proposed to help college students. Sen. Bernie Sanders would create free public colleges–paid for with $47 billion in federal money and $23 billion from the states. Former Maryland Gov. Martin O'Malley has also proposed a debt-free plan, but has not yet released specifics.
Experts say Clinton's proposal could go down better with conservatives since it isn't all about spending and requires families and students chip in for their educations. But Republican presidential hopeful Marco Rubio was on Fox this morning painting the Clinton plan as just another tax increase.
"This is the thing they always do on the left," Rubio said. "She has to figure out who to raise taxes on—so this is about making doing business in America even more expensive—raising taxes, and then taking all that money and pouring it into an outdated higher education system."
Rubio called traditional colleges "20th century" and "outdated" and suggested money would be better spent on online degrees and alternative forms of higher education that provide "competition" to traditional universities.
"The market for Roman philosophers has tightened significantly over the last 2,000 years. And yet people are still majoring in things that aren't going to lead to a job," he said, taking a swipe at the humanities.
The college debt issue is a major skirmish point in the war for young voters. They came out for Obama twice, but evaporated in 2014. Their participation and support could turn out to be the Democrats' soft underbelly, meaning boyish Rubio's challenge to grandmotherly Clinton is particularly threatening.
Polls show student loan relief and debt-free college plans address an ever more pressing concern for young voters. In an April survey by Hart Research, 58 percent of college students said they worry "often" about having too much student loan debt, up 14 percent over a year ago. How this translates in elections is uncertain, but the Democrats need young voters to re-create the coalition that put Obama in the White House and they can't take them for granted. Voters ages 18 to 29 in 2014 made up 13 percent of the midterm electorate, down from 19 percent in 2012. In 2014, Democrats carried 18-to-29-year-olds by 54 percent to 43 percent, but that 11-point margin was the Democrats' lowest among younger voters since 2002, according to The Wall Street Journal.
Republicans were quick to deride the proposal as a tax increase. "Americans deserve a real leader, not someone like Hillary Clinton who will simply call for a tax hike to check a political box after pocketing millions in speaking fees from struggling universities for her own personal benefit," said Allison Moore, Republican National Committee national press secretary.
In their new book, The Real College Debt Crisis: How Student Borrowing Threatens Financial Well-Being and Erodes the American Dream, University of Kansas professors William Elliott III and Melinda Lewis write that the student loan debt crisis can only be solved by a paradigm shift away from the general acceptability of debt as part of college education. "Mrs. Clinton is to be applauded for taking serious the problems of rising college costs and growing indebtedness," Elliott told Newsweek. But he added that it didn't go far enough in terms of investing money in preparing students for college. He also worried that Clinton's proposed programs might not "instill confidence" in post-college, young and indebted adults who don't invest in their own futures, and for whom lower monthly payments, under the Clinton plan, merely extend the life of the debt.
Mark Huelsman, an analyst with the progressive public policy think tank Demos, has written extensively on debt and college. He says three in four graduates have taken on debt for a degree, and 40 percent of those earning two-year degrees also have debt, giving the lie to the notion that associates' degrees constitute an "affordable" alternative path through college. In a recent paper called The Case for College Free Debt, he concluded: "Our public higher education system now solidifies privilege rather than overcoming it."