Debate Helps Clinton Gain Among Key Voting Blocs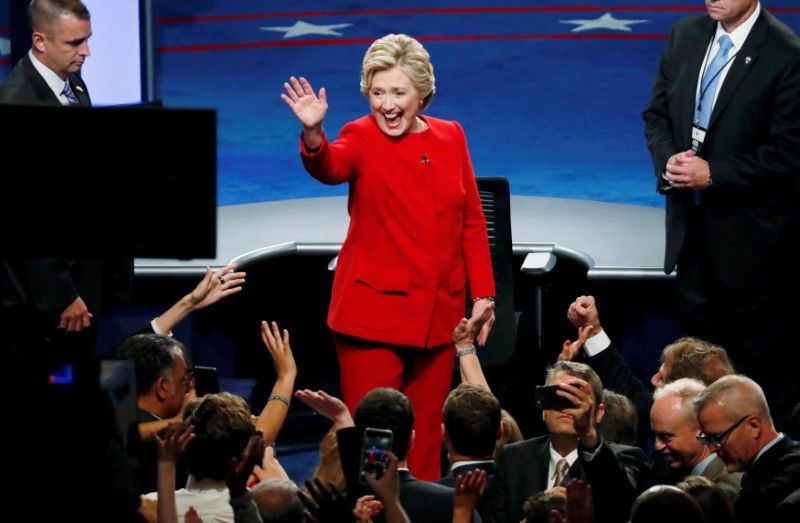 Hillary Clinton and Donald Trump were both eager to claim victory after Monday night's debate. While Clinton was declared the winner by most major media outlets, including a CNN post-debate poll, the Trump campaign circulated a list of (unscientific) online reader surveys from news sites such as The Hill, the Drudge Report and CNBC in which respondents said he won. The more important question, however, is whether either candidate won over voters, particularly among the voting blocs most likely to decide the November election.
On that front, one survey released Tuesday offered some good news for Clinton. The Democratic polling firm Democracy Corps conducted live dial meter testing that found she made significant leaps with unmarried white women and white working-class voters in terms of both favorability and voter preference. The Democratic nominee did not, however, make any gains with millennials in the 100-person focus group, although the survey offered some hints for how she might break through with younger voters in the final weeks of the race.
"Probably the biggest impact came on the economy, where you see a very powerful response to her overall position where she talks about an economy that works for everyone," said Democracy Corps co-founder Stan Greenberg, who conducted the survey on behalf of the advocacy group Women's Voices, Women's Vote Action Fund. Unmarried women, in particular, had "a dramatic reaction" to Clinton's opening remarks on the economy, turning their dials nearly to the maximum when she advocated for paid family leave, affordable child care and making the wealthy pay more taxes, Greenberg said.
During a conference call with reporters, he said the debate helped consolidate the support of these Democratic-leaning voters, a segment of whom had been undecided. According to Greenberg, after the debate they were "more favorable to her, much more intense in their support." Clinton desperately needs that kind of enthusiasm going into Election Day, amid worries about lower turnout within the Democratic base.
Among the focus group's white, working-class voters, a demographic group both candidates are battling for, Clinton gained 16 percentage points on Trump over the course of the debate. But it was a draw when it came to millennials—four total in the focus group switched their support, two to Clinton and two to Trump. "The jury is still out on where they go," said Greenberg. It was notable, however, that Clinton rated highest among young voters in the debate when she defended President Barack Obama and attacked Trump's history of feeding into the "birther conspiracy." When Clinton, who served as Obama's first secretary of state, declared that "Barack Obama is a man of great dignity," millennials in the focus group cranked their dials way up. They also responded very positively to Clinton's defense of the U.S.'s global alliances and to her call for the top income earners and corporations to pay more in taxes.
Another poll, conducted by the University of Missouri, showed Clinton performed better among the 18- to 35-year-old set. The survey of 400 college students around the country found that their likelihood of voting for the former first lady and New York senator jumped to 54 percent from 43 percent before the debate. Support for Trump was steady, meaning he didn't win over any voters, at least in that demographic.
Overall, both candidates had improved their favorability ratings among the focus group in the Democracy Corps survey when the night was over, but Clinton's leap was more dramatic—up 26 percentage points to 15 for Trump. And more voters switched their support to Clinton—nine—than to Trump—four. The Republican nominee's one clear messaging advantage came on trade: His complaint that China is stealing American jobs earned him a positive response across the board, and his promise to "reduce taxes tremendously" got high marks with undecided voters and the college educated.
The worst fallout from the debate may be for the candidates who weren't there—Libertarian Party nominee Gary Johnson and Green Party nominee Jill Stein. In the Democracy Corps dial testing, support for those third-party candidates among persuadable voters dropped by 12 percentage points. Johnson and Stein combined have been drawing anywhere from 10 percent to 12 percent in recent polls, including more than a third of millennials. If their supporters start moving toward Clinton, it could be the edge she needs to defeat Trump in November. There are, however, two more debates still to come.