No, Hillary Clinton Didn't Insult Sanders' Supporters as 'Basement Dwellers'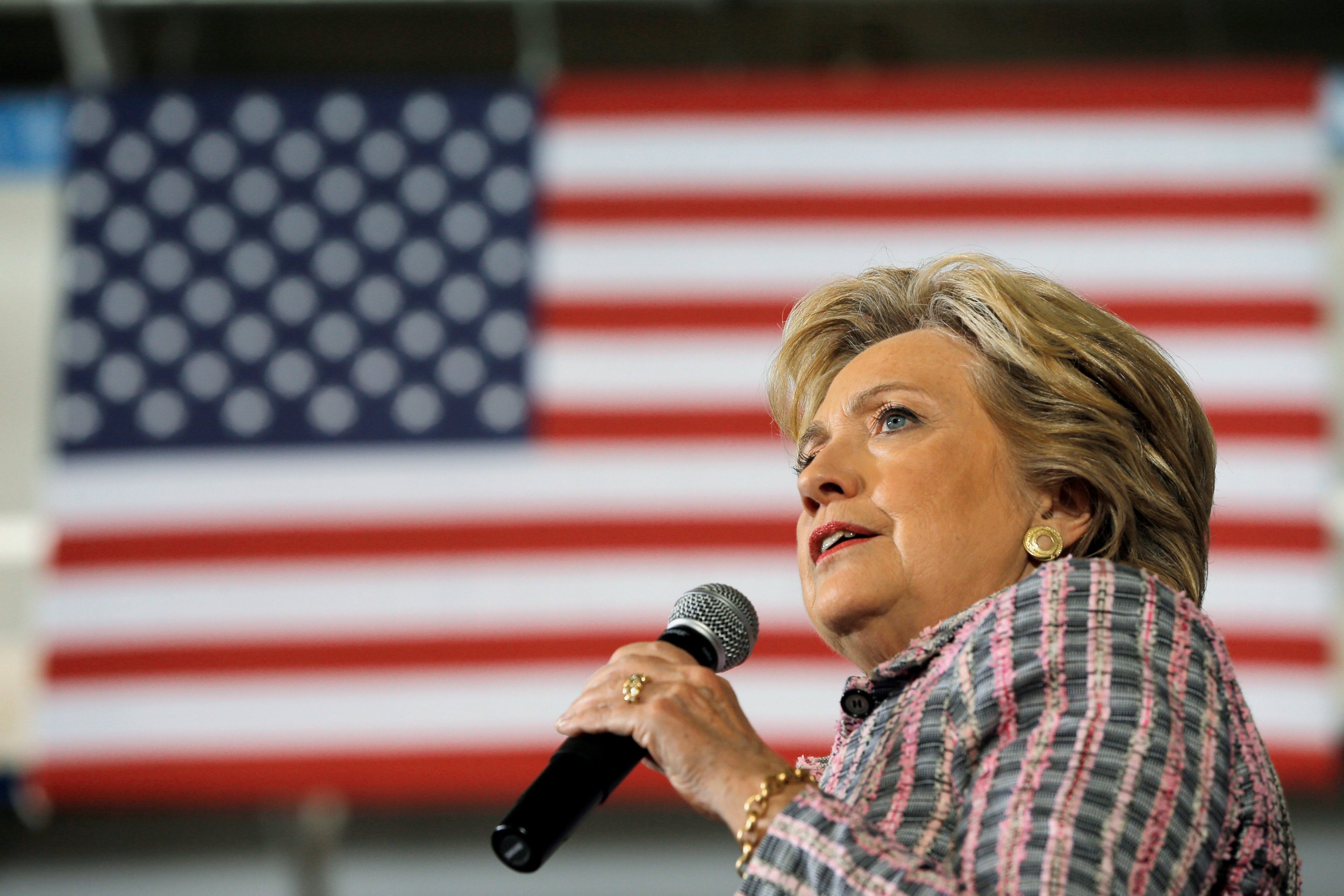 Updated | Hillary Clinton is facing a torrent of criticism over remarks she made that supposedly denigrate Bernie Sanders' supporters and millennial voters as "basement dwellers." There's one big problem with the narrative: The Democratic presidential nominee never used the phrase and expressed sympathy with young voters, not scorn.
Audio of comments Clinton made at a February fundraising event in Virginia, during the height of the Democratic primary race, were published earlier this week by the Washington Free Beacon, which reported its origin as a breach of "an email account of a campaign staffer." The audio features Clinton making brief remarks before taking questions from the audience, including one about the "cynicism" of some voters. Clinton responds by examining the forces that leave many young voters disaffected and scrutinizing the appeal of Sanders, whom she feels offers a "false promise" to idealistic voters who otherwise have legitimate concerns about the future.
You wouldn't know that from social media or right-wing outlets that are framing Clinton's comments as an "attack" on Sanders' supporters, who they falsely claim were labeled "basement dwellers" in Clinton's remarks. "How can the American people elect a woman who uses such divisive language?" asked Twitter user "Uncucked Cuck," in one of the tamer tweets about the audio. "I wonder where Killary will be dwelling after Election Day. It won't be in the White House since she can't win without the #BasementDwellers," reads another.
GOP nominee Donald Trump jumped in the fray, tweeting, "Crooked H is nasty to Sanders supporters behind closed doors. Owned by Wall St and Politicians, HRC is not with you," while his campaign manager, Kellyanne Conway, tweeted, "Who else does @HillaryClinton ridicule behind closed doors for $$$?"
If any of the critics had bothered to actually listen to the audio, they'll hear Clinton sympathizing with millennials who may be under-employed and attracted to Sanders' pitch of a political revolution, while explaining how she thinks she offers a more realistic option for progress.
"Some of the frustration that you are seeing in the political process this season is really rooted in the fact that people have not recovered their position from where they were before the Great Recession," Clinton says. She goes on to diagnose the political scene: "There is a strain of, on the one hand, the kind of populist, nationalist, xenophobic, discriminatory kind of approach that we hear too much of from the Republican candidates. On the other side, there's a deep desire to believe that we can have free college, free healthcare…that what we've done hasn't gone far enough...I don't want to over promise. I don't want to tell people things that I know we cannot do. I want to level with the American people."
Clinton later tells the audience that she understands why young voters facing what they believe to be an uncertain future may gravitate to Sanders' talk of revolution. "There is a sense of disappointment among young people about politics. They're children of the Great Recession, and they are living in their parents' basement. They feel that they got their education, and the jobs that are available to them are not at all what they envision for themselves, and they don't see much of a future…that is a mindset that is really affecting their politics. So if you're feeling that you are consigned to being a barista or some other job that doesn't pay a lot and doesn't have much of a ladder of opportunity attached to it, then the idea that maybe, just maybe you could be part of a political revolution is pretty appealing.
"I think we all should be really understanding of that and try to do the best we can, not to be a wet blanket on idealism; you want people to be idealistic, you want them to set big goals, but to take what we can achieve now and try to present them as big goals," Clinton says.
The nominee was dismissive of easy answers, saying that hard work and cooperation is needed to enact change—but that large goals were reasonable and it's her challenge to get that message to disaffected voters.
"What I'm trying to do is to make the case that we have ideals, we've got big goals but we also believe that the path to progress is one that you have to wake up everyday and work on, you have to make it…part of your civic responsibility...I don't think you tell idealistic people, particularly young people, that they bought into a false promise. You try to do the best you can to say, 'hey, that's his view, that's what he is offering you, but here's another way where actually we can achieve a lot of what we had said starting day one and make a real difference in peoples' lives.'"
It's easy to see how Clinton's comments could be used as an attack. The idea that she insulted Sanders' supporters as lazy idiots lounging in a basement fits perfectly with the caricature of a cold, calculating, uncaring politician against the image of Sanders as the pure idealist who truly understands his backers. The truth that Clinton understands their grievances but wants to be straight with them about what's possible in our bitter and divided political reality just isn't nearly as sexy.
Of course, Sanders would go on to endorse Clinton after losing the primary campaign, and there's been much debate on whether those attracted to his candidacy will really come out for Clinton on Election Day. It's an open question, especially with Trump seemingly doing his best to alienate as many people as possible while Gary Johnson and Jill Stein still draw enough support to make it a tight race, even after Clinton's debate performance and Trump's ensuing, days-long Miss Universe meltdown.
Clinton clearly doesn't inspire the passion and adoration in voters that President Obama did, and Trump is the only candidate in the 2016 race who comes close to sparking that excitement in his supporters. Admittedly not a natural politician or gifted orator, Clinton is steady, competent, tested, gifted—not necessarily the qualities that make people scream at rallies. She clearly understands her problems with millennials, and has increasingly made efforts to pitch her policies to them while ramping up her youth efforts in battleground states. But her opponents are making parallel efforts to keep those voters doubtful and dismissive, making attacks like #BasementDwellers all the more likely as the election season comes to a close.
This article was updated to include comments from Donald Trump and Kellyanne Conway.