Hillary Clinton's Emails: Judge Orders State Department to Review New Documents for Potential Release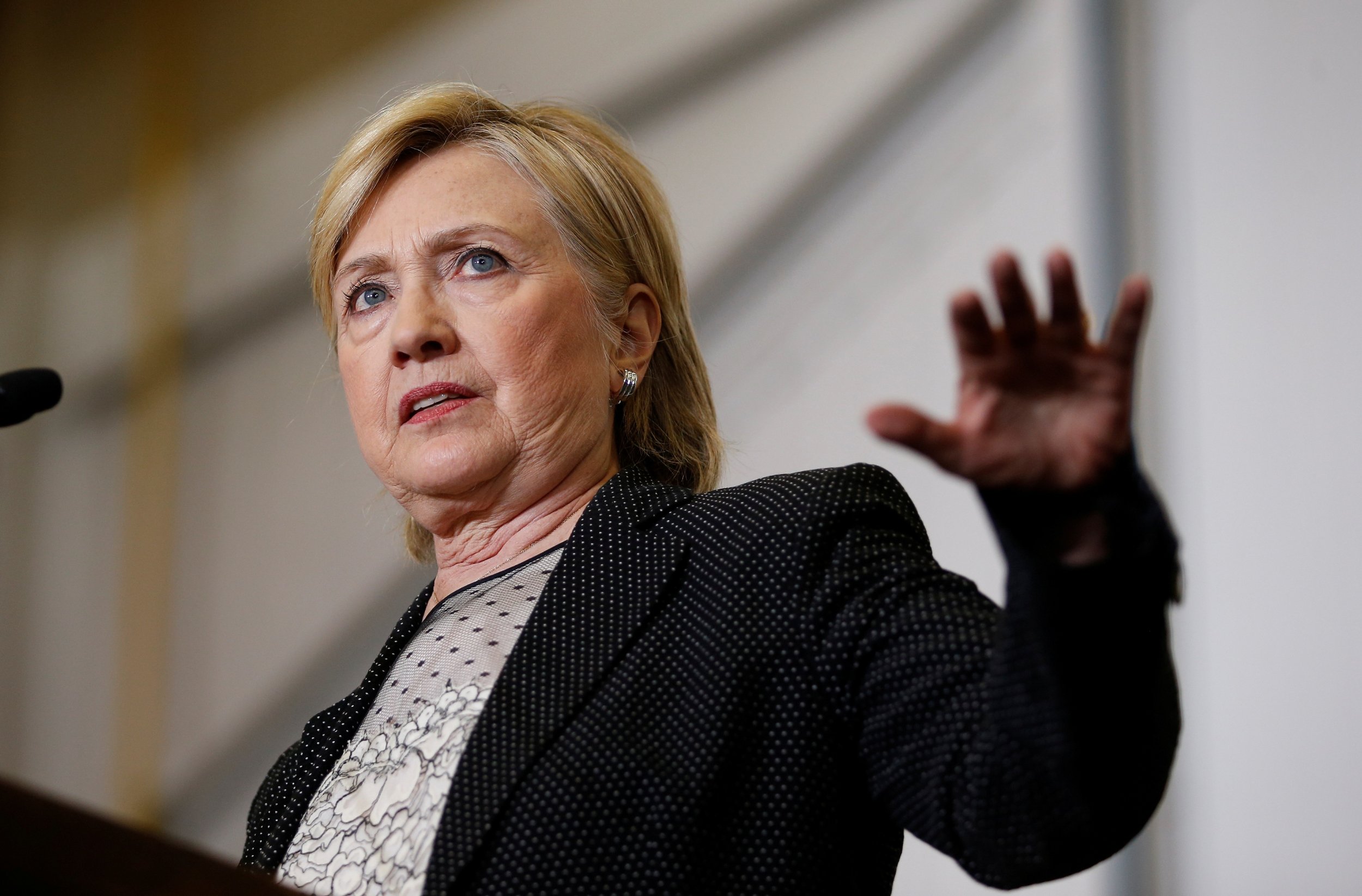 WASHINGTON (Reuters) - A judge ordered the State Department on Monday to review and determine the potential release of 14,900 documents, most of which are believed to be emails to or from Hillary Clinton, that turned up in an FBI investigation of her use of a private email server as secretary of state.
The documents are part of a cache that the FBI turned over to the State Department at the end of its probe into Clinton's use of the server. The Federal Bureau of Investigation found Clinton was "extremely careless" with sensitive information by using the private server but recommended against bringing charges against Clinton. She has been dogged by questions about the issue throughout her run for the White House.
The State Department could make public the first batch of emails in October, weeks before the Democratic nominee faces Republican rival Donald Trump in the Nov. 8 election. State Department employees are due to craft a timeline for the release at a meeting on Sept. 23.
The revelation of more emails after 55,000 pages of emails were turned over by Clinton last year could provide continued fodder for opponents who have seized on the email issue to charge she is untrustworthy.
The announcement by U.S. District Court Judge James Boasberg, who is overseeing a group of lawsuits seeking to make Clinton's emails public, came the same day a conservative watchdog group, Judicial Watch, made public a batch of Clinton's emails obtained through a lawsuit.
Judicial Watch says that the emails show donors to the Clinton family's charitable foundation seeking the access to her during the period she was secretary of state from 2009-2013.
The 14,900 documents referred to by Boasberg are believed to include emails that were not included among the 55,000 pages of emails that Clinton previously turned over to the State Department after her use of a private email server and private email account became public last year.
The new documents are believed to consist chiefly of emails to or from Clinton, said a U.S. official who spoke on condition of anonymity, and may include a mix of personal and work emails. Some of the emails were found on the servers of people she or her staff were communicating with.
Clinton, who is currently leading Trump in opinion polls ahead of the election, has said she did not compromise classified information and used a private server for convenience, and later apologized, saying "I take responsibility."
'Trying to Pin it on Me'
Meanwhile, former Secretary of State Colin Powell over the weekend dismissed reports that Clinton told federal investigators that it was at his suggestion that she used a personal email account, according to a media report.
Powell, who served as the nation's top diplomat from 2001-2005 under Republican president George W. Bush, told People magazine that while he did send Clinton a memo about his own email practices, Clinton had already chosen to use personal email rather than a government account while she had the job.
"Her people have been trying to pin it on me ... The truth is, she was using (the private email server) for a year before I sent her a memo telling her what I did," Powell told People on Saturday.
Last week, The New York Times reported that Clinton told federal investigators that Powell had suggested she use personal email for unclassified email when the two spoke over dinner. The conversation occurred "in the early months" of Clinton's tenure at the State Department, the Times said, citing a forthcoming book by journalist Joe Conason that first reported the dinner exchange.
Representatives for Powell, in a separate statement to NBC news, said he had no recollection of the conversation with Clinton but did write to her.
"He did write former Secretary Clinton an email memo describing his use of his personal AOL email account for unclassified messages and how it vastly improved communications within the State Department," his office told NBC on Friday.
The email exchange occurred in 2009, according to the Times.
Powell and aides to his successor as secretary of state in the Bush administration, Condoleezza Rice, received some classified information via personal email accounts, Reuters has reported. Clinton's additional use of a personal computer server at her home, however, broke State Department rules, an internal watchdog found.
The FBI last week turned over a number of documents to the U.S. Congress related to its probe into the emails, but this has riled both Democrats and Republicans.
Democrats have expressed concern over the potential for politically motivated leaks by Republicans to target Clinton less than three months before the election.
Republican U.S. House Oversight Committee Chairman Jason Chaffetz told MSNBC on Monday the documents lawmakers received "are overly redacted" and that they are asking for another version with more of the missing information so they can be made public as soon as possible.
(This version of the story corrects paragraph 21 to show Rice aides received emails, instead of Rice)