Conservative Watchdog Pursuing More Clinton Email Disclosures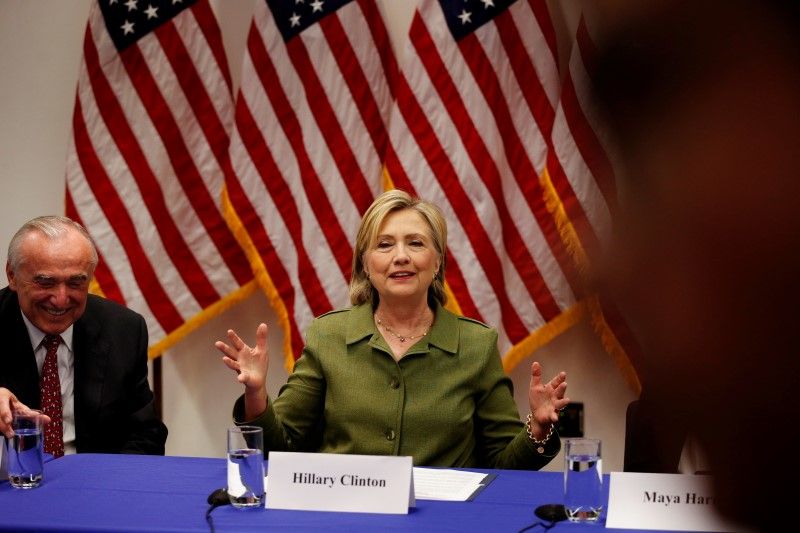 Hillary Clinton has taken a beating this month over the discovery that donors to her family's charitable foundation received special treatment from the State Department when Clinton was secretary of state. And she's unlikely to get a reprieve before Election Day, as the organization behind those email disclosures expects several more headline-grabbing document dumps in the next 11 weeks.
More than Donald Trump's campaign or the Republican Party, the conservative watchdog group Judicial Watch has proved to be the thorn in Clinton's side in 2016, pursuing 20 Freedom of Information Act lawsuits related to information it is seeking on Clinton and her State Department emails. Its investigation into the attack on the U.S. diplomatic compound in Benghazi, Libya, helped uncover the existence of Clinton's private email server in the spring of 2015, a storyline that has dogged her campaign from the start. "We were just doing straightforward FOIA requests," explains the group's president, Tom Fitton. "Benghazi was an important issue, for sure. We wanted to figure out how all that went down." What the group discovered was that Clinton's emails weren't turning up in the State Department's records, which led to the disclosure about her private account and server. Judicial Watch's subsequent probes into the handling and content of Clinton's private emails—and those of her closest aides—have produced much of the drip-drip-drip of unflattering disclosures that have continued this election year.
The Clinton campaign got a taste of what's to come on Monday. As part of one of Judicial Watch's lawsuits, a federal district court ordered the State Department to speed up its review of nearly 15,000 documents produced by the FBI in its investigation of Clinton's private email usage and what some saw as her illegal handling of classified information. The FBI completed that probe in July and did not recommend any criminal charges, determining that neither Clinton nor her aides knowingly exposed classified intelligence in their private email exchanges. But as FBI Director James Comey said in a statement, they were "extremely careless in their handling of very sensitive, highly classified information."
The court ordered another hearing a month from Monday—September 22—when it expects the State Department to begin releasing those documents and to set a timeline for the process. "The processing time ought to be quick," Fitton tells Newsweek, noting that the documents are electronic records—not paper, like the roughly 30,000 Clinton emails she provided the State Department, which it posted online in a yearlong series of releases. (Because of the sheer volume of documents and the need to review them to redact classified information, the release of these and other emails has happened in phases.)
Judicial Watch on Monday also released a new batch of emails sent and received by Huma Abedin, Clinton's longtime aide and vice chairwoman of her presidential campaign. Included in those 725 pages of emails are a handful of exchanges in which Abedin fields requests from donors and top brass from the Clinton Foundation, the global charity started by former President Bill Clinton and run by the Clintons and their daughter, Chelsea. In one June 2009 exchange, Doug Band, a former Clinton Foundation executive, emailed Abedin to notify her that the crown prince of Bahrain was visiting and wished to set up a meeting with Secretary Clinton. "Good friend of ours," he pointed out. Abedin ultimately helped set up a meeting "thru official channels," she told Band.
The emails released Monday were the 10th set of records Judicial Watch has obtained as a result of its FOIA requests for Abedin's emails while she was serving as deputy chief of staff at the State Department. On August 9, it released other emails between Abedin and Band, including one discussing another Clinton Foundation donor who wanted to get in touch with someone at the State Department. Those disclosures prompted calls from news outlets such as The Boston Globe and The Huffington Post for the Clinton Foundation to shut down if Clinton wins the general election in November. In response, the foundation announced that it will no longer accept donations from foreign entities if Clinton becomes president. But one of its major affiliates, the Clinton Health Access Initiative, did not swear off such donations.
Fitton says Judicial Watch may get another batch of Abedin's emails in the next month, and certainly before November.
The group is also poised to get written answers to its questions for Clinton, thanks to another court ruling last week. The U.S. District Court in Washington, D.C., denied Judicial Watch's request that the Democratic presidential nominee sit for an in-person deposition about her use of a private email account, instead ordering Clinton to submit to written questions. Judicial Watch has until October 14 to serve its questions to Clinton, but a spokeswoman for the group said it would like to deliver those so-called interrogatories as soon as possible. Clinton is required to respond within 30 days. Presumably, Judicial Watch would like to receive those answers and release them publicly before Election Day.
So far, none of the revelations from the Clinton emails have produced a smoking gun demonstrating a material quid pro quo between Secretary Clinton and Clinton Foundation donors, such as changing State Department policy to benefit a donor's financial or personal interests. But because there appears to have been regular contact between Clinton Foundation and Clinton State Department aides, and because Clinton Foundation executives seemed to expect special State Department access, it appears they did not shy away from potential conflicts of interest.
As a result, the Clinton campaign has been less effective than it probably could have been at attacking Trump for his web of corporate interests, which he has not distanced himself from during the campaign. Nor has he explained how he would avoid the myriad financial conflicts of interest that would arise were he elected president. On Monday, Trump reiterated the call to shut down the Clinton Foundation, calling it the "most corrupt enterprise in political history."
John Podesta, the Clinton campaign chairman, quickly responded in a statement: "The Foundation has already laid out the unprecedented steps the charity will take if Hillary Clinton becomes president. Donald Trump needs to come clean with voters about his complex network of for-profit businesses that are hundreds of millions of dollars in debt to big banks."
But it is difficult for the Clinton campaign to claim the moral high ground amid the disclosures forced by Judicial Watch—which, since its founding in 1994, during Bill Clinton's first term in the White House, has been on a mission to take down the Clintons. It also conducted some investigations of the Bush administration, but pursuing America's most famous power couple has always been its meat and potatoes—from Whitewater to Monica Lewinsky to Benghazi. Fitton, for his part, doesn't deny that the group is taking aim at the Democratic presidential nominee. "Hillary Clinton has a long record of corruption, and we are proud of that record of exposing and holding her to account for that corruption," he says.