Clinton Embraces Obama, Battles Sanders in Democratic Debate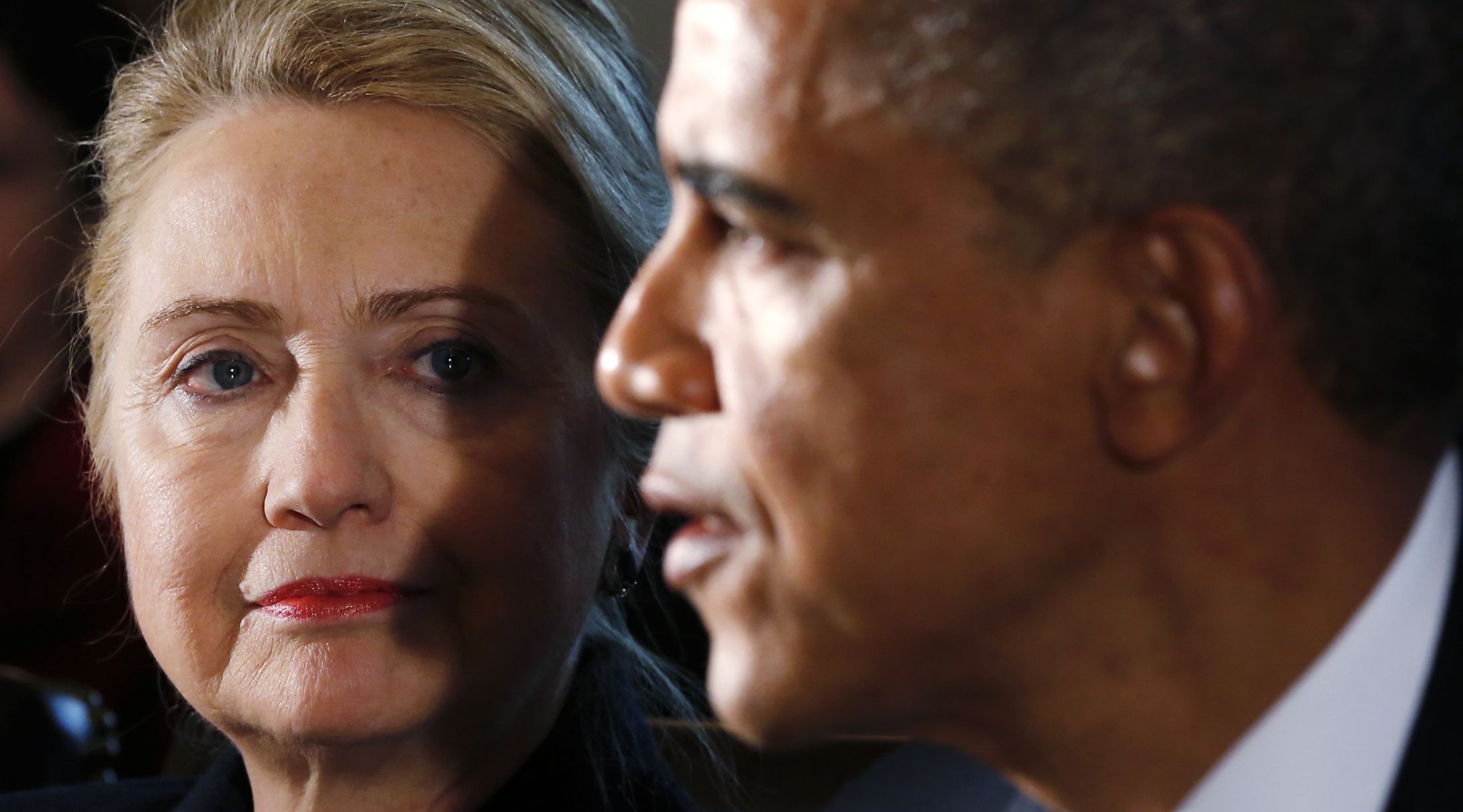 The frontrunner for the Democratic nomination, Hillary Clinton, who faces a formidable challenge from Bernie Sanders, wrapped herself in President Barack Obama's mantle at Sunday's Democratic presidential debate —just over two weeks before the Iowa caucuses.
Clinton, praising the president on everything from Obamacare to his efforts to reform Wall Street, positioned herself as the defender of a leader still beloved by Democrats. For instance she said she would defend the Affordable Care Act from Sanders's proposal for a single-payer system . Clinton noted that she and Obama opposed lawsuit protection for gun manufacturers when they were both in the Senate, while Sanders opposed it. She even chided Sanders for criticizing the Obama administration's response to the financial crisis and pointed to comments he made in 2011 that seemed to encourage a challenge to Obama's re-election. Clinton applauded the president's nuclear deal with Iran. And she avoided a chance to criticize Obama's vacillation on striking Syrian President Bashar al-Assad's forces after he deployed chemical weapons.
Even though Clinton and Obama fought bitterly for the Democratic nomination in 2008 and often disagreed while she was his secretary of state, over issues such as arming the Syrian opposition, it makes sense that she would align herself with the president. Obama remains especially popular among minority voters—a constituency among which Clinton has a commanding lead that she needs to hold if she's to win the nomination. Sanders is arguing that he's offering a platform of profound change, and so it makes less sense for him to portray himself as a mere custodian of Obama's policies. "Our campaign is thinking big," Sanders said in his answer to the first question at Sunday's debate, a point he made throughout the debate.
Sanders and Clinton are locked in close contests in Iowa and New Hampshire , the first two of the many leading to the Democratic presidential nomination. But in South Carolina, where the debate was held, Clinton continues to hold a wide lead , driven in large part by her commanding strength among African-American voters in the Palmetto State and nationwide. The debate was sponsored by NBC News, YouTube and the Congressional Black Caucus Institute. Many of the questions focused on race and criminal justice.
When moderator Lester Holt , the anchor of NBC Nightly News , asked if recent events in Charleston—including the mass shooting at an African-American church and the indictment of a white police officer on murder charges for the shooting of an unarmed black man—was an indication that the lives of black men were "cheap," Clinton agreed and vowed an effort to "end systemic racism in our criminal justice system." Sanders said he agreed wholeheartedly with Clinton's remarks.
On health care, Clinton took shots at Sanders's plan, what would be a mammoth overhaul of the American health care system that would replace the current public-private hybrid with a single-player plan that would essentially eliminate private health insurance. She portrayed the Sanders plan , released just two hours before the debate, as a repeal of Obama's Affordable Care Act. "I want to build on the Affordable Care Act and improve it," she said. Sanders, for his part, portrayed his plan as an expansion of health care as "Medicare for all," rather than a replacement. "We are not going to tear up the ACA, I helped write it. But we are going to move toward a Medicare for all system," Sanders insisted.
Either way, the Sanders plan would be extremely difficult to pass without an enormous Democratic majority in Congress even were Sanders to win the presidency. With a 60-vote Democratic majority in the Senate, President Obama barely saw his Affordable Care Act passed in 2010 .
Sanders seemed to score points by chiding Clinton for taking money from major donors. "I don't get personal speaking fees from Goldman Sachs," Sanders said, noting the $600,000 Clinton earned from Goldman during her out-of-government interregnum from 2013 to 2015.
Former Maryland Governor Martin O'Malley, still mired in single digits in polls, and who was in danger of being excluded from the debate, sought to insert himself into the debate. (He had less than half the speaking time of either Sanders or Clinton.) When NBC News's Holt asked the panelists if there was anything else they would like to say, he asked the oft-ignored O'Malley first. Laughter followed. "Bet you didn't see that coming," Holt said.
The Iowa caucuses are being held on February 1, just two weeks from Monday. The New Hampshire primary follows on Tuesday, February 9. The Nevada caucuses and South Carolina primary follow later in February.