In First Campaign Rally, Clinton Promises Americans 'A Better Deal'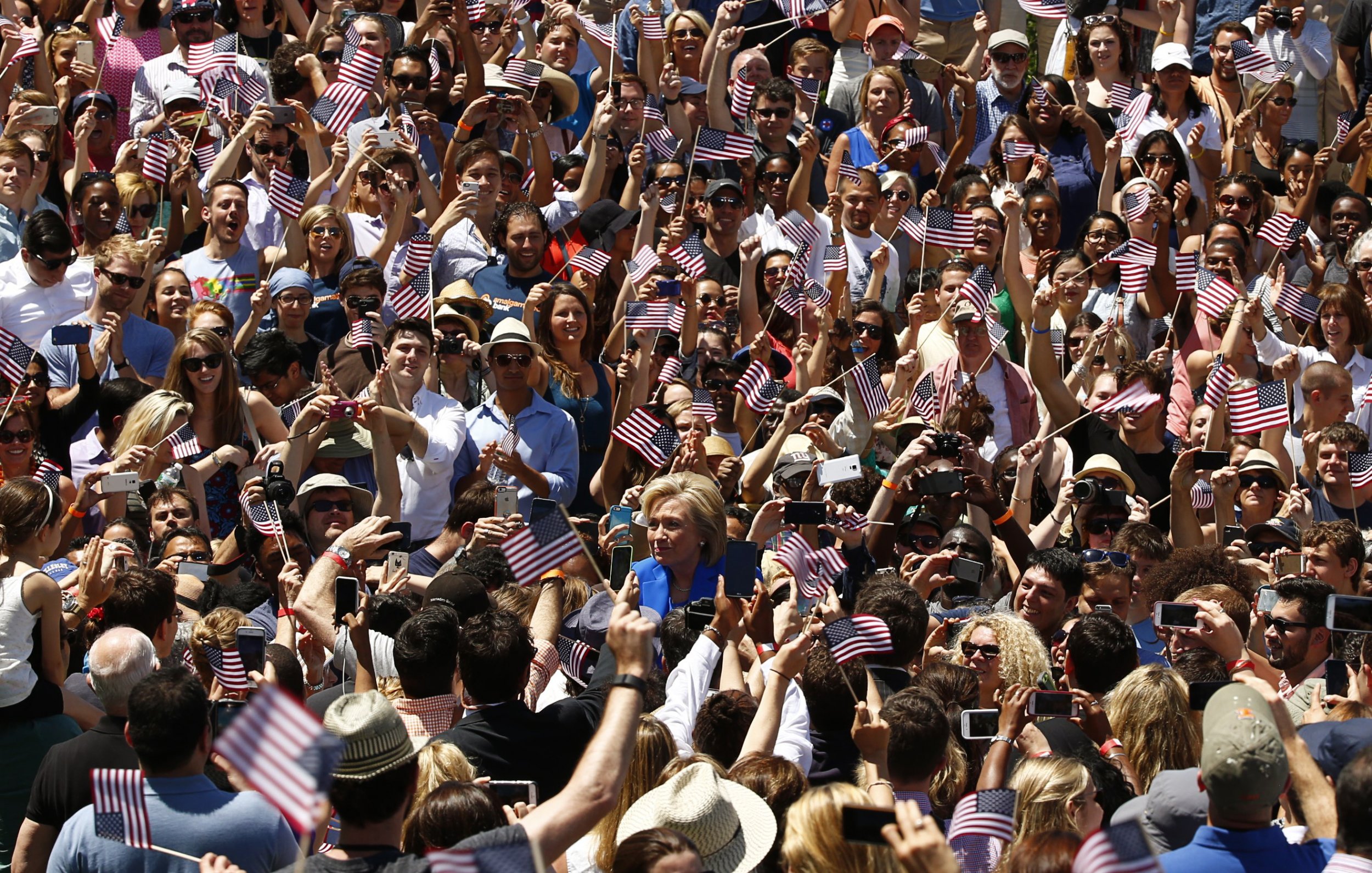 For a woman who needs no introduction, Hillary Clinton staged an elaborate one Saturday.
With the Manhattan skyline in sight, she invoked President Franklin Delano Roosevelt—the namesake of the New York City island where she staged her campaign kickoff rally—and promised "a better deal" for middle class Americans.
One of four candidates in the Democratic primary, the former senator and secretary of state painted herself as a classic, Roosevelt-style liberal with a wonky speech that was heavy on prescriptions for improving the economy and boosting the little guy.
She also spoke in more personal terms about her family and embraced her status as a groundbreaking female leader—lines that invokes some of the biggest outbursts of applause from a female-heavy crowd. "It is way past time," she declared, "to end the outrage of so many women still earning less than men on the job, and women of color often making even less!"
Clinton spoke fondly of her late mother, who was abandoned by her family and worked as a maid in her early teens. She recalled asking her mother, Dorothy Rodham, "what kept her going." The answer: kindness.
"And because some people believed in her, she believed in me," Clinton said.
It's a shift from Clinton's 2008 presidential bid—a months long, but ultimately unsuccessful, battle against Barack Obama. Back then she tried to convey a tough, pragmatic persona, playing down gender in hopes of convincing voters they could trust her as commander in chief. She's still embracing the "tough" image these days, but is also trying to show a softer side as well as a more progressive one.
With her Democratic opponents and liberal icons like Massachusetts Senator Elizabeth Warren pushing her from the left wing, Clinton ticked off a litany of liberal policies she supports—on the environment, immigration and gay rights. She also made a point of going after the financial industry and hedge funds, despite the fact she ably represented that industry as New York's junior senator and has received significant financial support from Wall Street during her Senate and presidential campaigns.
Aides hope her swing leftward will help energize the Democratic base and her talk of core values will humanize a woman who's been in the public eye for three decades but who still, her campaign thinks, isn't entirely understood.
On Friday, the Clinton campaign released a video detailing the candidate's journey from idealistic young lawyer to first lady to U.S. senator to secretary of state, part of an effort to explain Clinton's convictions. It framed her as a "tenacious fighter" for those less fortunate, from her time at the Children's Defense Fund to her fight for universal health care as first lady—a theme she emphasized on Saturday, as well. The short film built on an April 11 announcment that she was running for president.
She's been campaigning in early primary states since, but has focused on small events, what she's dubbed a sort of "listening tour." And she's taken flack for not being accessible to the public or the press. In the meantime, critics and reporters have pounced on her and former President Bill Clinton's finances and the practices of their charitable foundation. The Clinton Global Initiative has raised hundreds of millions of dollars for a range of charitable causes and how it handled foreign donors and those with an interest in her policies as secretary of state remains opaque.
Nonetheless, she's the prohibitive favorite in a Democratic field that also features liberal Vermont Senator Bernie Sanders, former Maryland Governor Martin O'Malley and former Rhode Island Governor Lincoln Chafee. None of those men come anywhere near her in state-by-state or national polls.
The sense of inevitability surrounding her campaign may be hurting her ability to rally support, however. Despite her potential to make history as America's first female president, Clinton's campaign has yet to generate a fervent mass following the way Obama's did in '08. On Saturday, the overflow area the campaign set up in Four Freedoms Park on Roosevelt Island held just a smattering of people.
The rally on Saturday marks the start of the "real" campaign, her advisers say. From New York, she's headed to the early primary states of Iowa, New Hampshire, Nevada and South Carolina in the coming week. Speaking at an event on Friday night in Manhattan, Communications Director Jennifer Palmieri said Clinton plans to speak in depth about what she would do as president, giving a policy speech a week during July and August.