Clinton, Sanders Shift Focus to 'Pivotal' Wisconsin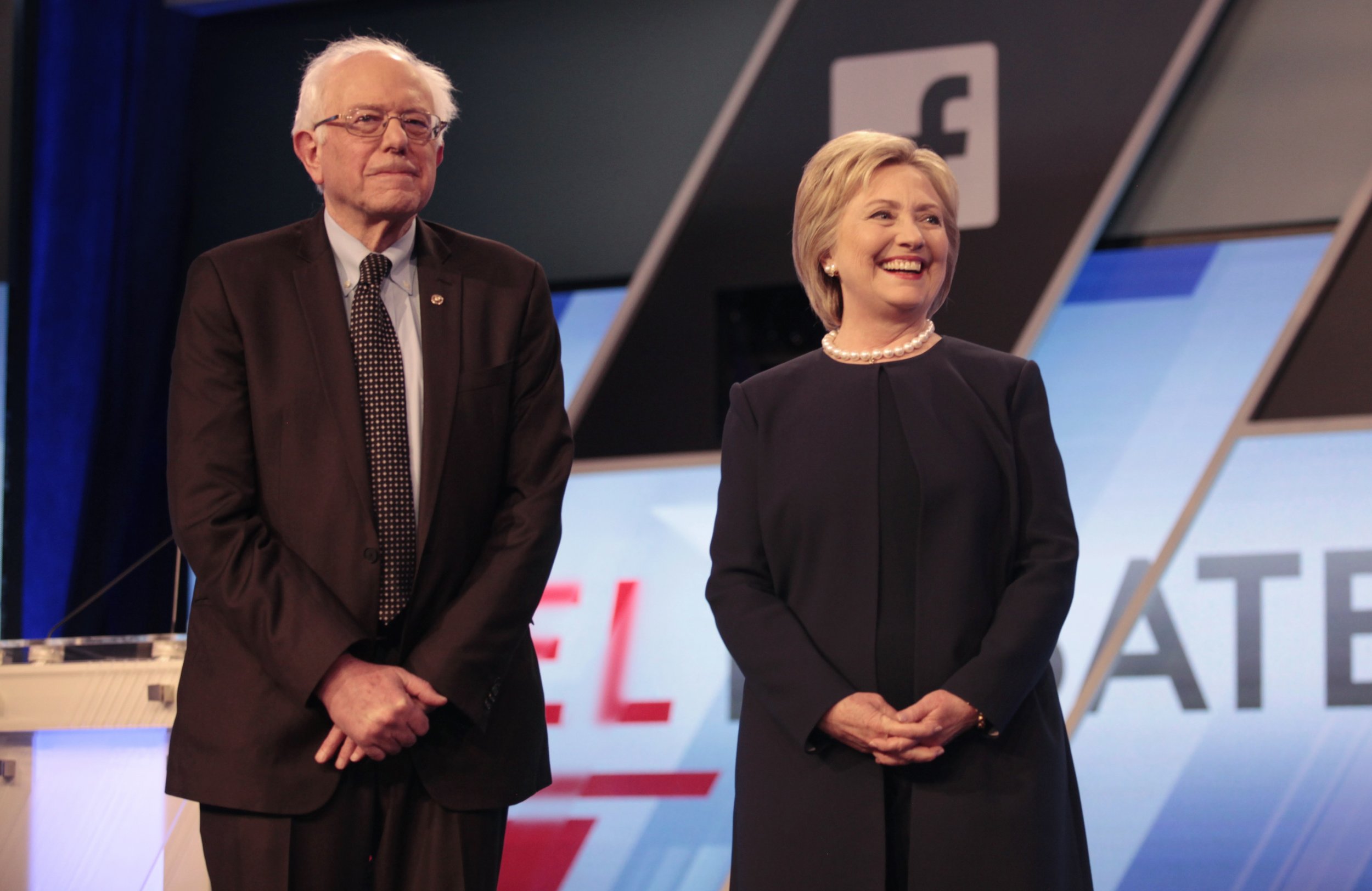 Updated | It doesn't take much to energize Bernie Sanders supporters, who since he announced his candidacy for president have looked for reasons to prove the conventional wisdom wrong, to demonstrate that their guy isn't a crazed old socialist and that he can win. So the Vermont senator's resounding victories in Washington, Alaska and Hawaii on Saturday had the expected effect, awarding him the mantle of momentum even as the numbers continue to favor his Democratic rival, Hillary Clinton.
The truth: while those Left Coast wins are invigorating for the Sanders camp— especially because the resulting campaign contributions will likely fatten his wallet in advance of critical upcoming contests in Wisconsin in New York— what happens next is far more important than what happened Saturday.
On April 5, a less-predictable blend of voters in the maverick-friendly state of Wisconsin gets to have its say, and while Nate Silver may give Clinton an 84 percent chance at winning the primary, Sanders is every bit as likely to defy the polls in the Badger State as he was in Michigan, experts tell Newsweek. Sanders's Michigan win was an important one because everyone can now point to it as evidence that the pundits and the polls are lying to you. If he wins in Wisconsin, that lends credence to the idea that Michigan was no fluke, and that Sanders belongs in the race.
"We rolled the dice going this late," Charles Franklin, director of the Marquette Law School Poll, tells Newsweek . "But it became pivotal. We're in a good position to either further boost his campaign or end up like Ohio, and be a disappointment."
Sanders won in Washington and Alaska largely because they are whiter, more progressive states. As he has since the primaries began, the senator tends to struggle with African-American and Latino voters. Wisconsin doesn't have that many of them. The state is 88 percent white, and most of its minority voters are concentrated in Milwaukee, which is 40 percent African-American but which makes up about 10 percent of the state's population. Clinton will need substantial turnout in that city, which she might just get, thanks in part to hotly contested mayoral and county executive races. But elsewhere, Wisconsin's demographics would seem to favor the democratic socialist from Vermont: white professionals in cities like Madison and Green Bay, and more progressive white voters in rural areas.
"That's a non-trivial component of the democratic coalition in Wisconsin," Julia Azari, a political science professor at Marquette University and a contributor to Fivethirtyeight, told Newsweek. Compared to Michigan: "On the one hand, Wisconsin is more obviously friendly Bernie territory; on the other hand, things that are rare don't happen that often."
Both candidates have "a real shot" at winning Wisconsin, Barry Burden, a University of Wisconsin-Madison political science professor, told Newsweek. Clinton and Sanders have been effectively tied in polling since the beginning of the year, and there's not much indication that voters are indecisive about their candidate. Midwestern states have proven to be the battleground between the two candidates—they effectively tied in Iowa, she won by a hair in Illinois, he won Michigan and she took Ohio. "Wisconsin is at the intersection of all these states," Burden says. "That sets up a real showdown."
Sanders drew 8,000 to a rally on Saturday in Madison, on a spring break week, when many students weren't around. The contest will likely hinge on turnout, Burden suggests. Wisconsin has an open primary and same-day registration, both of which provide further opportunities for voters to prove pollsters wrong. Sanders's momentum—he's won five of the last six contests—could help him there.
Wisconsin is make-or-break for Sanders in a way that it isn't for the frontrunner. He needs the young people who support him in overwhelming numbers to actually vote. If he loses here, it gets harder to see a path to victory between now and June, if only because Clinton's lead is large enough that Sanders would have to win most of the remaining states by big margins in order to catch up. "It's like your GPA," says Jeanne Zaino, a political scientist at New York University. "Once you're down, it's pretty hard to get it back up again, with the system structured the way it is."
If Sanders wins, though, he's likely to follow it with another victory in Wyoming, after which comes a compelling contest: New York.
News reports tend to refer to New York as Clinton's "home state," but Sanders grew up in Brooklyn, and New York City has in particular moved in an increasingly progressive direction, as indicated by the 2014 election of Mayor Bill de Blasio.
"I'm fascinated to see what happens in New York. The New Yorkers I talk to, you hear on the one hand that this is Hillary's home state, but you also hear people describe her as a carpetbagger. And Bernie Sanders grew up here," Zaino says. "Hillary will do fairly well upstate, she has her headquarters in Harlem and a lot of connections on Wall Street. But we saw de Blasio hang back on an endorsement for a long time."
Zaino doesn't think Sanders will win in New York, but how well he does in that state could provide some important clues about the future of the Democratic Party, while also informing Clinton about what she needs to do to win over Sanders supporters, provided she does in fact defeat him. Between now and June, Zaino suggests, it's actually good for Sanders to continue to at least nip at Clinton's heels because it keeps her in the news in a positive way (provided she maintains her delegate lead). But then comes a delicate transition: The former secretary of state has to keep beating Sanders but then immediately shift to winning over his constituents in the general election. And because no one is more important in accomplishing that task than Sanders himself, she'll have to demonstrate that she's willing to take his issues seriously, in the Oval Office.
"It's a delicate balance," Zaino says.
And if Sanders does sweep Wisconsin, Wyoming and New York? He'd be well on the way to catching Clinton's count in pledged delegates. "He becomes extremely competitive, in a way he hasn't before," Burden says. But Clinton remains well out in front in superdelegates, to the chagrin of Sanders's vocal supporters. They and their candidate often hope publicly that superdelegates will shift their loyalty, swayed either by national polls that suggest Sanders might fare better against Donald Trump in the general election or by overtaking Clinton in the pledged delegate count. But superdelegates are free to vote as they choose, and there's no guarantee that they'll change their minds. "He's a stronger candidate against Trump on certain issues like trade, but she's stronger with getting out the Obama coalition: minority voters and women," Zaino says. "I don't believe he's going to be able to convince the superdelgates" that he's the better Trump foe. "If he was going to do that, he would have had to do it right after Iowa, and especially after New Hampshire."
Meanwhile, all eyes are on Wisconsin, which has the race all to itself from now until April 5.
This article has been updated to remove a reference to Hawaii among a grouping of "whiter, more progressive" states.