At CNN Town Hall, Democratic Candidates Make Their Case
Clinton, Sanders, O'Malley stick to script at (sort of) joint appearance.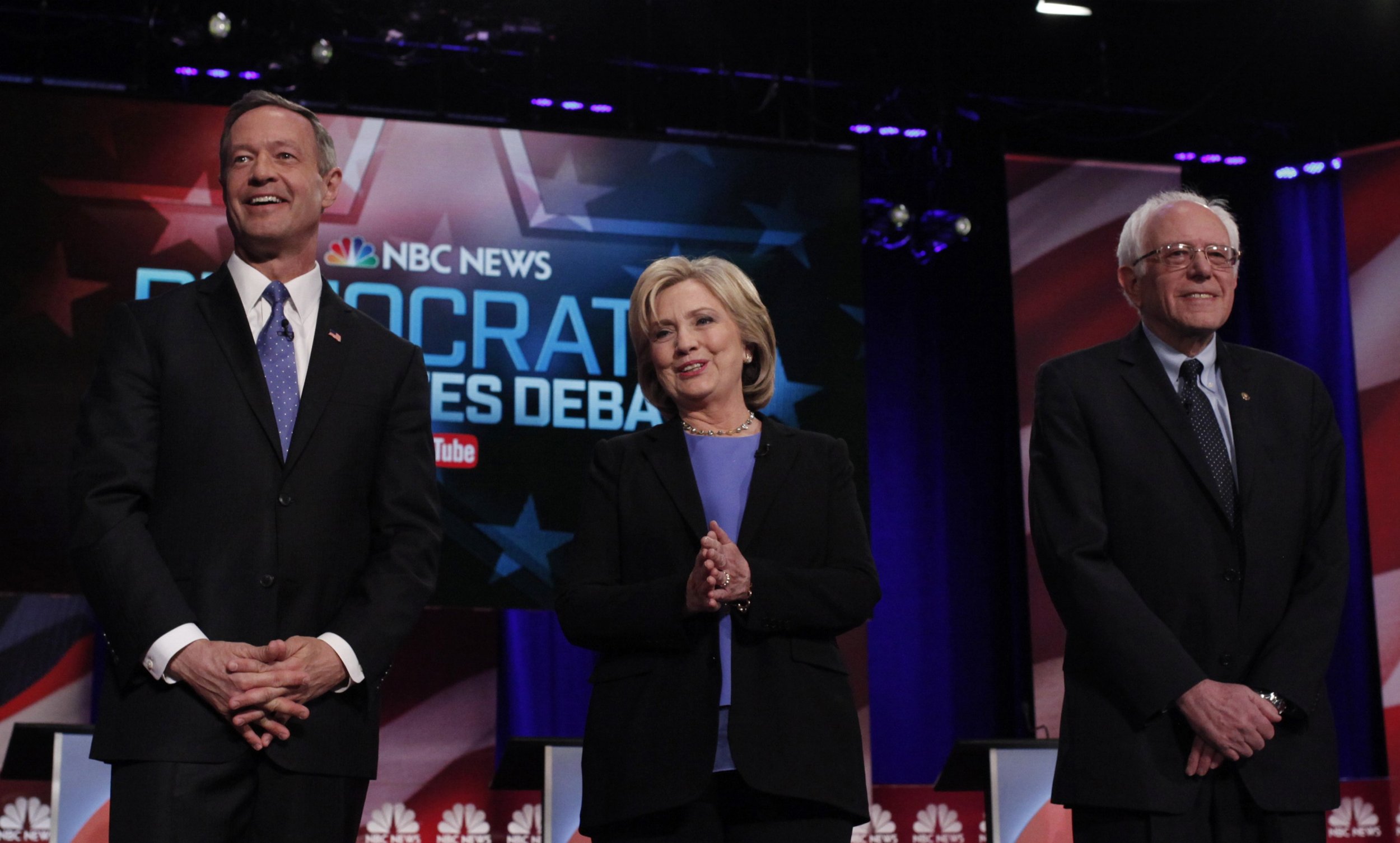 With less than a week until the Iowa caucuses, the Democratic presidential candidates appeared at a town hall to take questions and make their closing arguments to voters. The forum, sponsored by CNN, was not a traditional debate. The candidates appeared separately before the same assembled audience of Iowa voters. So there were no spats like the debates, and much less excitement.
Each candidate stuck to familiar themes. Bernie Sanders stressed income inequality and the more dramatic nature of his proposals, from replacing the nation's current health care system with a European-style single-payer method to providing free tuition for all students attending a public university. "What democratic socialism means to me is that the right to economic security should exist in the United States," Sanders said. "There has…been a massive transfer of wealth, billions of dollars from millions of families, to the top tenth of 1 percent. I demand that Wall Street start paying its fair share."
Sanders defended his vote to provide liability protection to gun manufacturers and chided Clinton for playing politics with gun control, reminding voters that in 2008 she had attacked Barack Obama from the right on gun control to the point that the then–Illinois senator called her Annie Oakley.
At one point, moderator Chris Cuomo said Sanders was 75. "I'm 74!" shouted Sanders.
"You're going on 75," said Cuomo.
"I'm going on 75," deadpanned Sanders. "So are you!"
For her part, Clinton reveled in questions about a new interview in Politico where the president sang her praises and seemed to come up just shy of an endorsement. But she faced a tough question from the audience. One young, undecided Iowan said a lot of his peers were voting for Sanders and they thought she was "dishonest." Her reply: "I've been around a long time. People say a lot of things about me, I just keep going forward.... I'm still standing." She seemed to win the crowd by saying the reason she was being attacked was because she's "taken on the status quo."
The former secretary of state also fought back against an assertion made by Vice President Joe Biden that she had only recently taken up the issue of income inequality. She noted a long history of fighting for children, women's rights and narrowing the wealth gap during her husband's tenure in office. The front-runner was perhaps most animated when she described trying to keep America's allies from escalating tensions, pointing to how she worked to prevent the bombing of Iranian nuclear facilities and how she tried to stem an Israeli invasion of Gaza. Her coup de grace: "President Obama trusted my judgment."
She used a question about Islamophobia posed by a Muslim Air Force veteran to denounce Donald Trump and his proposals and to make a familiar point that Muslims at home and abroad are essential to fighting the Islamic State militant group (ISIS).
The forum gave former Baltimore Mayor and Maryland Governor Martin O'Malley a national stage for 30 minutes, something his campaign definitely needed. Not surprisingly, he received a question about the zero-tolerance policing that was a hallmark of his tenure in Baltimore. Zero-tolerance policing is now being seen in a different light as Democrats turn against large-scale incarceration, and Baltimore in particular has seen rioting in the wake of the death of an unarmed black man at the hands of the city's police department. O'Malley discussed ending the death penalty in Maryland on his watch, and he tried to remind the questioner that tough-on-crime policies were popular at the time. He also said he took pride in signing an anti-discrimination bill to protect the LGBT community.