Clinton, Sanders Define "Progressive" at CNN Town Hall
The two meet at a CNN-sponsored event in Derry, New Hampshire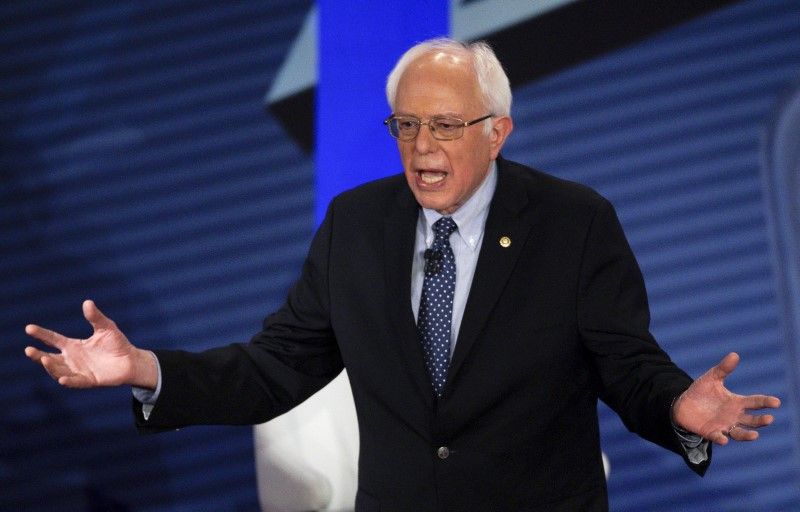 Bernie Sanders and Hillary Clinton appeared at the same New Hampshire forum on Wednesday for the first time since their razor-thin finish in the Iowa Caucuses on Monday. Each used the CNN Town Hall to hone their messages with Sanders vowing to foment a "political revolution" and Clinton insisting that she is a "progressive who gets things done."
The candidates echoed their messages from many other forums this year in which the candidates politely took questions from audience members, complimented them on their queries—and then repeated their talking points. In that sense, there were no surprises.
While emphasizing his capacity to work with Republicans in Congress on veterans benefits and other issues, Sanders was clear, in case anyone had any doubts, that he seeks bold change. "Some of my best friends are moderates," he said, jabbing at Clinton's remark that she's a "proud moderate." "But you can't be a moderate and a progressive," the Vermonter added in a jab at Clinton's saying she's a "progressive who gets things done."
By contrast Clinton, repeated her claims that she shares Sanders goals but believes in a pragmatic course to achieve them. As she has before, she emphasized that she wants to build on President Obama's Affordable Care Act rather than subject the country to a "contentious debate" about transforming to the kind of single-payer, European-style health care system that Sanders is advocating.
Sanders is leading in all of New Hampshire polls but both candidates portrayed themselves as underdogs. "With all due respect" Sanders said. "That's media talk."
Each took questions at the historic Opera House in Derry from an audience of New Hampshire residents and from moderator Anderson Cooper. And each had to confront some of their perceived weaknesses. Sanders sought to assuage concerns that he could not win a general election by citing polls that show him beating Donald Trump in a head-to-head race. He also said that the large rallies he's been able to hold suggest that he could bring enough new voters into the system to propel him into the Oval Office.
By contrast, Clinton was questioned about her perceived hawkishness, including her vote for the Iraq War which she has called a mistake, something she did not do during her 2008 presidential bid. When asked if she could guarantee that she would not expand the use of American military forces as president she said "in good conscience I cannot," adding that it would hamstring her if she faced a military crisis as commander in chief. She did say that she'd have to consider a recommendation posed by military commanders at a recent congressional hearing that draft registration be expanded to include women.
One of the more interesting moments came when the candidates were asked about their religious faith. Sanders has in the past has said that he is "not actively involved with organized religion." He was a little more expansive in his comments at the Town Hall where he said "I would not be running if I did not have strong spiritual and religious feelings. My spirituality is that we are all in this together."
Clinton was more detailed in remarks about her faith, discussing the prayers she says each morning, her Methodist faith, and how her religious beliefs sustained her during troubled personal times which seemed to be an allusion to her husband's infidelities, and even cited the strength she's derived from a book by a Dutch Catholic priest about the parable of the Prodigal Son.
Sanders continued to jab at Clinton for having a SuperPAC that can accept donations of any size and for accepting large speaking fees from Wall Street firms. "Name one time when they influenced me," Clinton said. "Name one."
There were areas of agreement. Each vowed to defeat ISIS and raise the minimum wage and to combat the Opioid crisis that has ravaged this New England state and many others.
CNN posed a few lighter questions. Sanders said he drives a Chevy, does not chop his own wood (in contrast to published accounts) and produced the worst album ever, a collection of folk songs he recorded three decades ago. Asked what would she do if she were anonymous for a day, Clinton described leaving the White House as First Lady and said if she had the same chance she would stroll through New Hampshire towns.