Clinton Spreading the Wealth, With Eye on Congress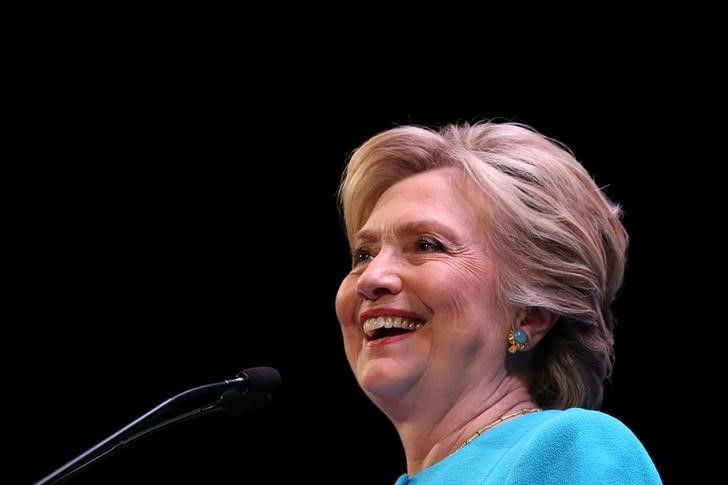 Hillary Clinton's latest contribution to fellow Democrats who are fighting to win Senate, House and gubernatorial elections: nearly $10 million. The value of having a Democrat-controlled Congress to partner with in 2017 if she wins the presidency: priceless.
Donald Trump's skid in the polls, fueled by multiplying allegations of sexual assault and his increasingly dark, acrimonious rhetoric, has raised Democrats' hopes of a wave election, enabling a takeover of not just the Senate but even the House, where the party currently faces a 59-seat deficit. With Clinton favored to win the presidential election in November, she and other allies are shifting their gaze to the Senate and House races that will determine whether she has a Congress that can help her advance her agenda or one that will be an intransigent roadblock, as Congress has been for President Barack Obama. They have the money to spend—between the party and the Clinton campaign, the Democrats have double the war chest of Trump and the Republicans.
During a conference call Monday morning, Clinton's campaign manager, Robby Mook, announced plans to spend an additional $6 million on coordinated party efforts in the battleground states of Florida, Iowa, Ohio, Pennsylvania, Nevada, New Hampshire and North Carolina. The spending will be focused on mail and digital media outreach to try to get out the Democratic vote in those states, all of which are seeing competitive Senate contests this election. The governor's races in North Carolina and New Hampshire also look set to go down to the wire.
The Clinton campaign is also looking to expand the map, pouring another $2 million–plus into Arizona, a traditionally Republican state, to expand its television, digital advertising and mail campaign. Mook announced that first lady Michelle Obama will appear at a rally in Phoenix on Thursday to encourage residents to vote, and Vermont Senator Bernie Sanders and Clinton's daughter, Chelsea, will be visiting earlier this week.
Polls show Clinton closing in on Trump in Arizona, which has a large Latino population—albeit one that has been slow to mobilize, politically. Trump's anti-immigrant rhetoric seems to have helped accelerate that process. That's bad news for veteran Republican Senator John McCain, who may be the most vulnerable he's ever been since joining the Senate in 1987. He's up against Democratic Representative Ann Kirkpatrick, whom Clinton hopes to boost. There's also a House seat up for grabs in Arizona's first district, one that Democrats would sorely like to keep.
Even though Clinton faces what Mook termed "an uphill battle" in Indiana and Missouri, the campaign plans to spend a combined $1 million in the two states in the final weeks of the election, with an eye toward the Senate races there. Both were expected to be safe Republican seats at the outset of the election, but GOP Senator Roy Blunt faces an unexpectedly tough challenge from military veteran Jason Kander in Missouri. And Democrats got a boost in Indiana when former Senator Evan Bayh decided to run for his old seat, against Republican Representative Todd Young. Both governor's races are up for grabs as well. "That effort is going to be focused on direct mail and…radio and video advertising," Mook said.
It's not outside the realm of possibility that Clinton wins one or both of those states too. Obama narrowly won Indiana in 2008, and the former secretary of state trails Trump there by single digits in the latest polls. The same is true in Missouri. Losing Indiana would be a particularly deep blow for the Republicans, given Trump's vice presidential pick, Mike Pence, is the sitting governor there.
Both Clinton and Trump have been raising money for months through what are known as joint fundraising committees—collaborations between the presidential candidate and the national and state party organizations, with the funds divvied up between the various entities. Federal election law allows the parties to coordinate spending with their candidates. Not surprisingly, given her superior organization and Trump's late start on fundraising, Clinton and the Democrats are walloping Trump and the Republicans on this front. The Trump campaign just announced over the weekend that it has $75 million in cash available between the campaign and joint fundraising committees, as of the end of September; Clinton and the Democrats disclosed earlier this month they have a combined $150 million the bank. And the Clinton campaign has made a point of opening offices in all 50 states, though its investments are significantly smaller in places that aren't considered battlegrounds.
The moves the Clinton campaign announced Monday echo building optimism in Democratic congressional circles that they could indeed return to the majority in both chambers on Capitol Hill. Mook tried to temper expectations in his call with reporters, but confidence is clearly building in the Clinton camp and beyond. He didn't rule out further expenditures in other Republican-dominated states where Trump has shifted the status quo, like Georgia and Utah. The Republican Party is "in a civil war," Mook said matter-of-factly. And Democrats are eager to capitalize.