Hillary Clinton Takes Jab at Donald Trump With Russian Hat During Yale Commencement
Hillary Clinton said she still isn't "over" her 2016 election loss to President Donald Trump and she wasn't afraid to show it, taking a jab at the U.S. leader by donning a Russian ushanka hat while delivering a keynote speech at Yale University's commencement on Sunday.
The former U.S. secretary of state, who graduated from Yale Law School in 1973, congratulated students, saying: "I am thrilled for all of you.... Even the three of you who live in Michigan and didn't request your absentee ballots in time."
Later, she admitted she is "not over" the election loss, adding, "I still regret the mistakes I made. I still think though that understanding what happened in such a weird and wild election in American history will help us defend our democracy in the future. Whether you're right, left, center, Republican, Democrat, vegetarian… Whatever. We all have a stake in that. So, today, as a person, I'm OK," she said. "As an American, I'm concerned."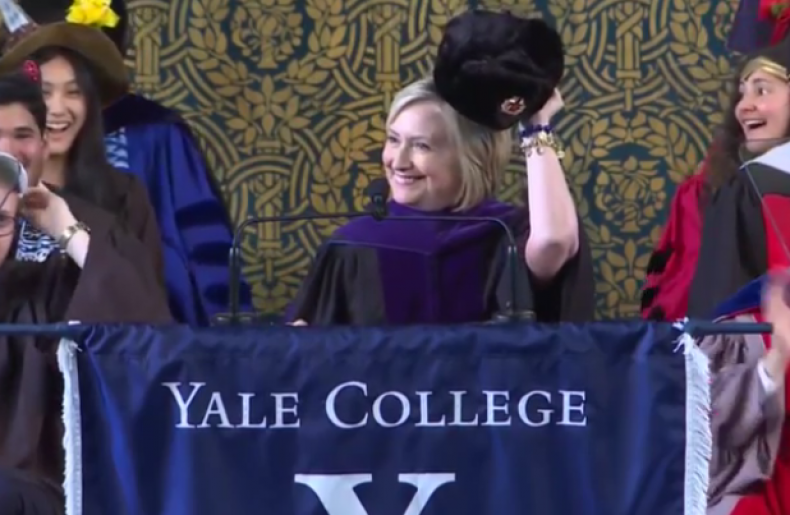 The former presidential election candidate called for a "return to rational debate." "This is a moment to reach across divides of race, class and politics to try to see the world through the eyes of people very different from ourselves."
However, Clinton also took the opportunity to take a swipe at Trump over Robert Mueller's Russia investigation.
Looking out at the crowd of students, who wore a range of humorous hats as part of a centuries-old tradition at Yale, Clinton said, "Now, I see looking out at you that you are following the tradition of over-the-top hats, so I brought a hat too."
The crowd cheered as Clinton brought out a Russian ushanka hat, holding it over her head. "A Russian hat… I mean, if you can't beat 'em, join 'em!" she joked.
An infuriated Trump demanded to know on Sunday when Mueller's Russia probe will "STOP" and said he planned to order an investigation into whether the FBI and Department of Justice "infiltrated or surveilled" his campaign for "political purposes."
He also hit out at Clinton, though it is not clear whether it was in response to her commencement speech.
"At what point does this soon to be $20,000,000 Witch Hunt, composed of 13 Angry and Heavily Conflicted Democrats and two people who have worked for Obama for 8 years, STOP!" Trump said in a series of tweets.
"They have found no Collussion with Russia, No Obstruction, but they aren't looking at the corruption...in the Hillary Clinton Campaign," he continued. "Republicans and real Americans should start getting tough on this Scam."