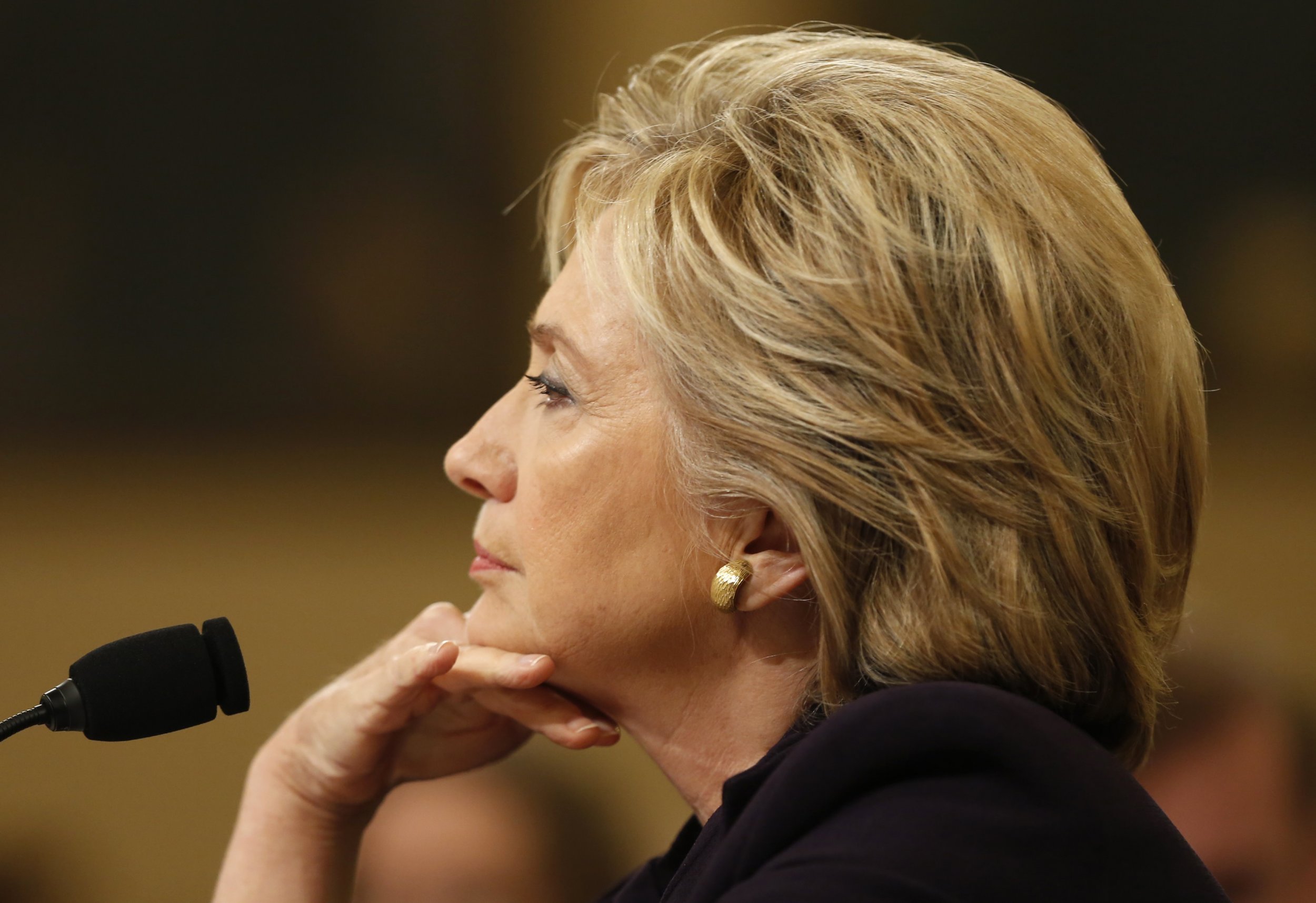 At a hearing that was at times low-key and marked by shouting between Republicans and Democrats, Hillary Clinton used her much anticipated testimony on the 2012 attack on the U.S. diplomatic outpost in Benghazi, Libya, to defend her record as secretary of state and to call for more bipartisanship in the conduct of U.S. foreign policy.
The biggest fireworks came over the discussion of emails Clinton exchanged with Sidney Blumenthal, a longtime friend who offered considerable advice about Libya. A ferocious defender of the Clintons, Blumenthal had been blocked from getting a position at the State Department under Clinton for being too critical of President Barack Obama. Republicans pressed Clinton on what kind of advice Blumenthal gave and whether she actively sought it from him.
Democrats insisted that Blumenthal's testimony before the committee should be released publicly. Republicans balked and the matter was unresolved when the committee broke up for lunch, after an extended shouting match between Republican Chairman Trey Gowdy and ranking member Elijah Cummings, a Democrat.
Clinton's low-key performance during the first three hours and 17 minutes was short on fireworks, although she appeared upset at suggestions that she had not worked hard enough to provide aid on September 11, 2012, to U.S. personnel in Benghazi, four of whom who died that evening, including the U.S. ambassador to Libya, J. Christopher Stevens.
"Chris Stevens understood that diplomats must operate in places where our soldiers do not," Clinton said.
Gowdy was eager to make the House Select Committee on Benghazi seem nonpartisan in the wake of assertions by two Republican congressmen, who said the committee was formed to diminish Clinton's popularity.
"Let me assure you, it is not [about you]," Gowdy told Clinton during his opening remarks. Despite his insistence that the investigation is about the attack on the American diplomatic compound and not the likely Democratic nominee for president, it would be hard for either Democrats or Republicans to believe that Clinton was not the subject. She was the one testifying, and most of the questions concerned her emails.
"The secretary of defense is not sitting at your left. The director of the CIA is not sitting on your right," Cummings said to Clinton.
Insisting that the full truth still needs to be uncovered, Gowdy directly cited Clinton's much written about "email arrangement" as the prompt for the most recent Benghazi investigation. Clinton told the committee that she did not do "the vast majority of [her] work" as secretary of state on email, saying she used other forms of communication as well as intelligence briefings from government officials to obtain the information necessary to do her job.
The expeditionary diplomatic outpost in Benghazi was protected by a combination of CIA and diplomatic security forces. Mike Pompeo, the Republican congressman who made headlines for claiming that Clinton got "the vast majority" of her intelligence information from Blumenthal, was the most aggressive Republican, suggesting that Clinton was incompetent for failing to fire security officials after the attack. But Gowdy perhaps made a crucial tactical error by telling Republicans not to interrupt Clinton, a reminder of decorum that was lost during the Planned Parenthood hearing.
"I did not...substitute my judgment from a thousand miles away for the judgment of the security professionals [on the ground] who made the decisions about what kind of security could be provided," Clinton said. Her central argument was that Stevens had agitated for U.S. involvement in the area, volunteering for the assignment and acknowledging the security risk.
Republican Susan Brooks tried to embarrass Clinton by stacking a pile of emails on the dais to demonstrate the amount of correspondence she had about Libya prior to 2012, suggesting that Clinton had ignored the evolving state of affairs on the ground. At one point, Republican Lynn Westmoreland actually asked Clinton why Stevens didn't have Hillary Clinton's personal email address.
"Chris...never said to anybody in the State Department, You know what, we...can't stay there," Clinton said.
Regardless of which side you believe, it was abundantly clear from the proceedings that little new information was going to come to light. Committee members debated Libya policy from the past with Clinton and continually pressed her to say whether she could have done more to re-evaluate the situation in Libya leading up to the attack on the Benghazi outpost, but were unable to steer her into a corner. Republican Jim Jordan essentially accused Clinton of playing politics by blaming the attack on a "spontaneous demonstration" that resulted from an Internet video. Remarkably, Obama answered nearly the exact same question while debating Mitt Romney in 2012.
Clinton continually referenced the numerous attacks that have taken place on American diplomatic centers since 2001; by urging members not to interrupt Clinton's answers, Gowdy allowed her testimony to turn into an explication on her foreign policy record. Lost in the back and forth politics of the hearing was Clinton's original admission of responsibility, which was well established during the 2012 election, when Obama was asked during the same debate with Romney whether "the buck stops with your secretary of state."
Gowdy spent most of his opening statement justifying the existence of his committee, but the context of the morning hearing alone belied the idea that the investigation has not been politicized. On the home page of the committee's website, under "Latest News," the second headline read, "Committee Democrats politicize Benghazi terrorist attack investigation." At this stage, it's fair to say that both sides—as well as the Clinton campaign itself—are attempting to use the former secretary of state's testimony to gain political leverage.
"Those who want to believe the worst will believe the worst," said Democrat Adam Schiff. He argued that Republicans were attempting to prove that Clinton had deliberately obstructed additional security requests in Benghazi. Clinton appeared to hold back tears and said she was personally hurt by the implication.
Cummings didn't mince words, saying that top Republicans "set [the committee] loose, Madame Secretary, because you're running for president."