Chelsea Clinton Slammed for Claiming Roe v. Wade Decision Added Trillions of Dollars to U.S. Economy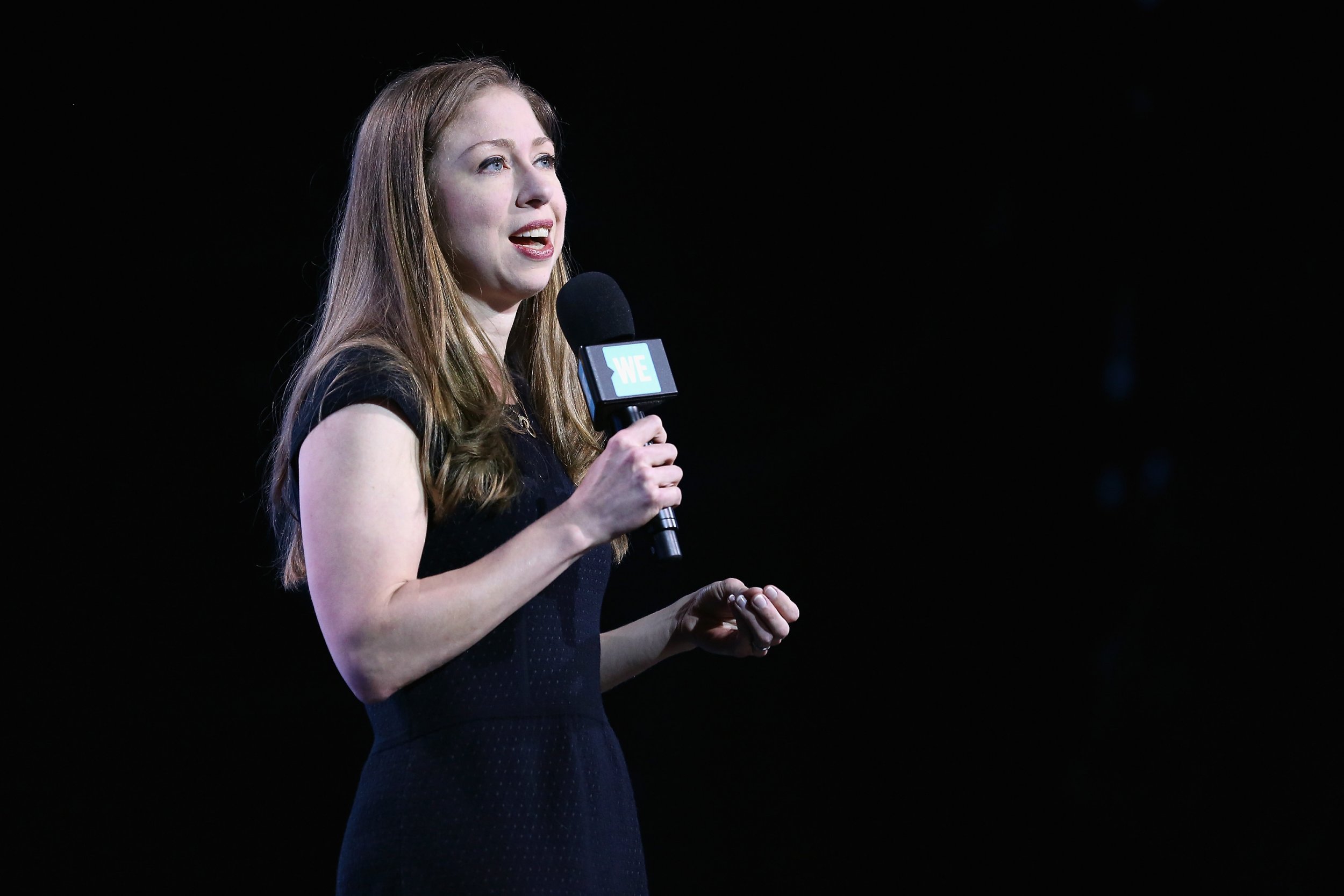 Former first daughter Chelsea Clinton claimed trillions of dollars were added to the U.S. economy over the more than four decades since Roe v. Wade was decided by the Supreme Court while speaking at a pro-choice event Saturday.
Clinton, daughter to former President Bill Clinton and Secretary of State Hillary Clinton, hosted the Rise Up for Roe event in New York. She was speaking to the potential threat to reproductive rights posed by President Donald Trump's nominee to the Supreme Court, Judge Bret Kavanaugh, and why people should care.
"Whether you fundamentally care about reproductive rights and access right, because these are not the same thing, if you care about social justice or economic justice, agency – you have to care about this," Clinton said, according to the Media Research Center.
Clinton continued: "It is not a disconnected fact—to address this t-shirt of 1973—that American women entering the labor force from 1973 to 2009 added three and a half trillion dollars to our economy. Right? The net, new entrance of women—that is not disconnected from the fact that Roe became the law of the land in January of 1973."
Clinton also made a hopeful plea for equal rights.
"So, I think, whatever it is that people say they care about, I think that you can connect to this issue.
"Of course, I would hope that they would care about our equal rights and dignity to make our own choices—but, if that is not sufficiently persuasive, hopefully, some of these other arguments that you've expressed so beautifully, will be."
It is unclear exactly what statistic or study Clinton was citing about the additions to the U.S. economy since abortion became legal.
The Clinton Foundation, where Clinton serves as vice chairperson, did not immediately respond to Newsweek's request for comment about Clinton's statements.
Conservatives blasted Clinton over her comments. Former Republican vice presidential nominee Sarah Palin responded by telling her Twitter followers they would "never guess" what Clinton had said.
Clinton took to Twitter Tuesday to respond to a fellow user who said her comments were "pure evil and disgusting" and cited a study released earlier this year that found abortion rates had dropped by 25 percent between 2008 and 2014 and women denied abortions were "more likely to be in poverty for four years after denial of abortion," among other findings.
"That's not what I said as you can see in the video. Reproductive rights have always been economic rights. A recent study (https:// lat.ms/2n4olXb) found denying women-often already mothers-a wanted abortion results in years of less employment & more family poverty," Clinton tweeted.
Since Trump nominated Kavanaugh last month, fears have increased that the landmark Roe v. Wade decision could be overturned in the near future should he be confirmed by the Senate as Justice Anthony Kennedy's replacement. Kennedy was long viewed as the deciding vote on a number of social issues, including abortion and gay marriage.
Republicans and Democrats are currently battling over the release of documents pertaining to Kavanaugh's time working for President George W. Bush's administration. The Senate Judiciary Committee released thousands of documents last week, but Democrats have called for more to come out before Kavanaugh appears for confirmation hearings.