Clinton Trolls Trump, Questioning Loyalties Ahead of Putin Summit
Hillary Clinton questioned President Donald Trump's loyalties hours before his summit with Russian President Vladimir Putin, after the president congratulated Russia for its hosting of the 2018 World Cup tournament.
"Great World Cup," the former secretary of state tweeted late Sunday.
"Question for President Trump as he meets Putin: Do you know which team you play for?"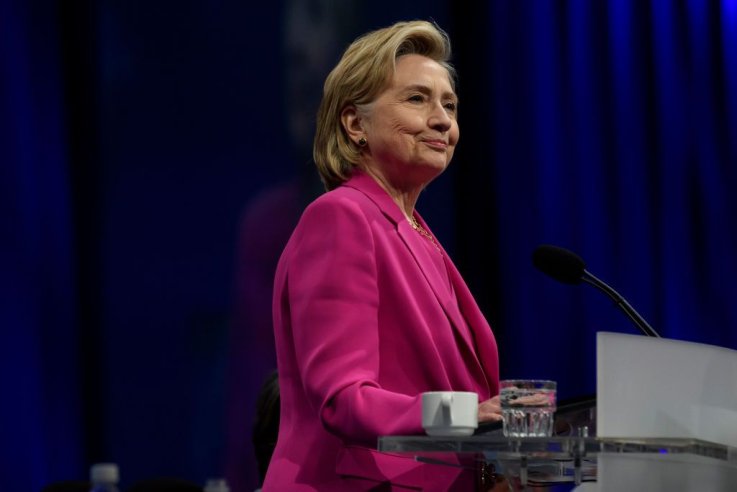 Clinton has long accused Trump of being at the bidding of Moscow, describing Trump as a "puppet" of the Russian president during the 2016 presidential election campaign.
"You encouraged espionage against our people. You are willing to spout the Putin line, sign up for his wish list: break up NATO, do whatever he wants to do," Clinton said later in a televised debate with Trump ahead of the 2016 presidential election. "You continue to get help from him because he has a very clear favorite in this race."
Early Monday, Trump blamed U.S. "stupidity" for the poor state of Russian relations.
"Our relationship with Russia has NEVER been worse thanks to many years of U.S. foolishness and stupidity and now, the Rigged Witch Hunt!" Trump tweeted as he prepared for the summit.
On Sunday he congratulated Russia for its hosting of the World Cup, after France defeated Croatia in the final.
"Congratulations to President Putin and Russia for putting on a truly great World Cup Tournament -- one of the best ever!" he tweeted.
Special counsel Robert Mueller continues to probe relations between the Trump campaign and Russia, amid accusations that Trump's officials colluded with Russia to ensure victory. Last week, Deputy Attorney General Rod Rosenstein announced an indictment for 12 Russian intelligence officials accused of hacking emails from Democrat National Committee email servers, the Clinton presidential campaign and the Democratic Congressional Campaign Committee.
Trump has described the probe as a "witch hunt" waged by politically partisan U.S. intelligence officials.
Last Friday, he said he would ask Putin about electoral interference but didn't expect to make progress on the issue.
Clinton Trolls Trump, Questioning Loyalties Ahead of Putin Summit | U.S.