Hillary Clinton a 'Liar,' Donald Trump a 'Blowhard,' Jeb Bush a 'Bush': Poll Plays Word Association Games With 2016 Candidates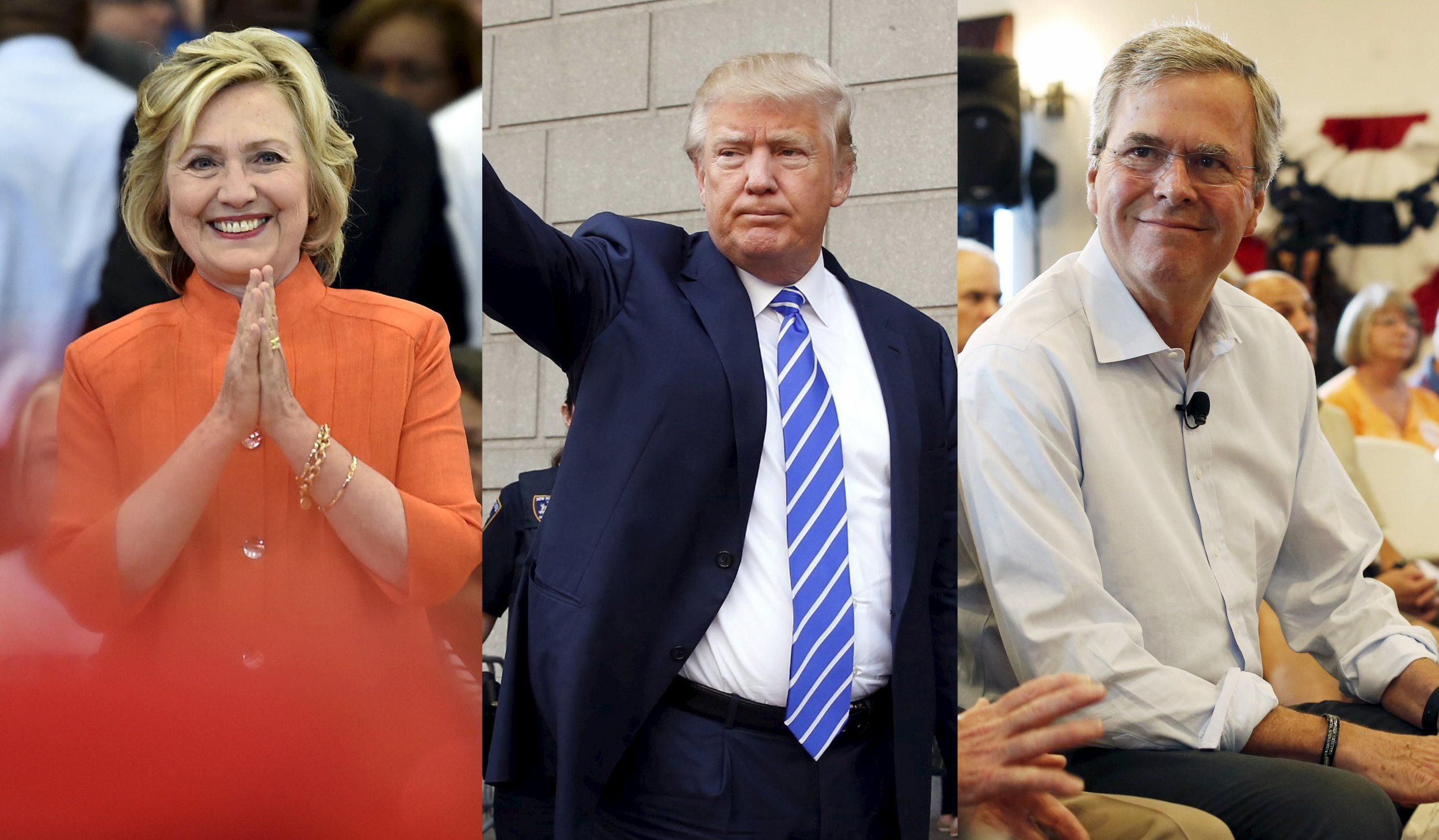 Pollsters from Quinnipiac University played word association games with American voters, and they didn't have much nice to say about 2016 presidential nominees Hillary Clinton, Donald Trump or Jeb Bush.
Voters were asked to relate "the first word that comes to mind when" they think of Clinton, Trump and Bush as part of a new Quinnipiac national poll released Thursday morning. Words that were mentioned less than five times were not tallied.
Among the 1,563 voters polled over the course of five days, it would appear that Democratic front-runner Hillary Clinton has an image problem with honesty. Of those asked, 178 said "liar" was the first word that came to mind. "Dishonest" was the second most common word association, with 123 responses. "Untrustworthy" came in third with 93 responses. Rounding out the top 10 were "experience," "strong," "Bill," "woman," "smart," "crook" and "untruthful."
Voters think Trump, the leading Republican contender, is "arrogant" (58 responses), a "blowhard" (38 responses) and an "idiot" (35 responses). Rounding out Trump's top 10 were "businessman," "clown," "honest," "ego," "money," "outspoken" and "crazy." ("Asshole" ranked 14th.)
Former Florida Governor Jeb Bush's most memorable trait appears to be his last name. "Bush" was his most common word association, with 138 responses, almost exactly twice as many as the next most common word, "family." Rounding out Bush's top 10 were "weak," "brother," "dynasty," "experience," "George," "Florida" and "politician."
More broadly, the pollsters found Clinton leading the Democratic field, with 45 percent of likely Democratic voters, and Trump leading the Republican field, with 28 percent of likely Republican voters. However, Vice President Joe Biden leads Trump by a wider margin than Clinton does, even though he has not announced he's running, the pollsters found.