Clinton: Fight Radicalism, Control Guns; Trump: Ban Muslim Immigrants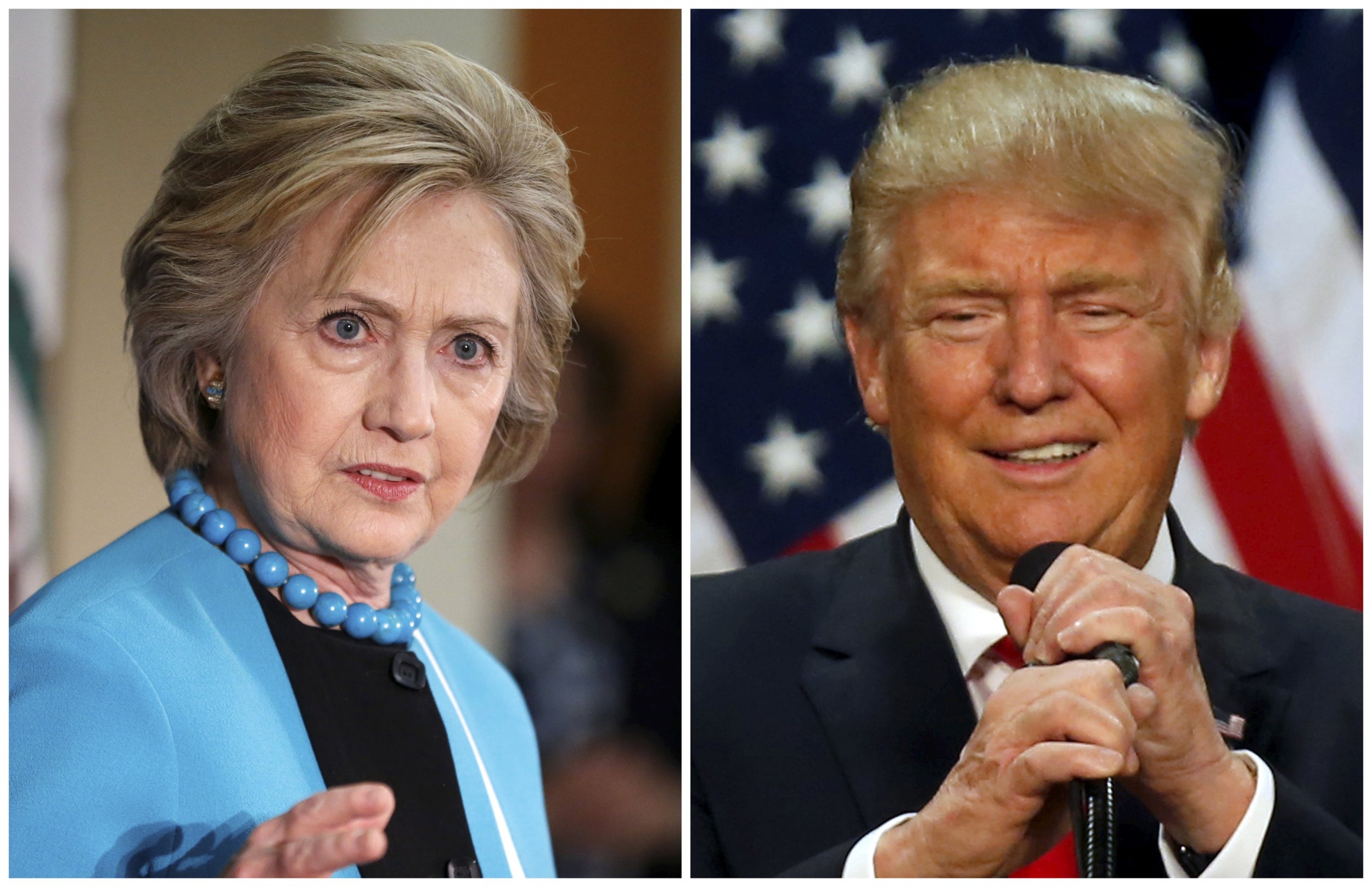 In response to the Orlando massacre, Hillary Clinton called for the U.S. to step up its war against violent extremism at home and abroad and argued for increased gun control, a point underscored by her decision to deliver her address at a Cleveland company that produces helmets and other equipment for police and the military. For his part, Donald Trump reiterated his proposal to block all Muslim immigrants from entering the United States.
Clinton's response was measured but muscular. Calling the attack "an act of hate" in a statement, she said the U.S. must work with its allies to defeat international terror groups. She stressed the need to combat the spread of violent ideologies of the Islamic State and Al-Qaeda. "The virus that poisoned" the shooter's mind "remains very much alive, and we must attack it with clear eyes, steady hands, unwavering determination and pride in our country and our values," Clinton said.
The former secretary of state touted the anti-ISIS coalition's gains in recent weeks, but said that gains on the ground mean the militant group will seek to stage and encourage more lone wolf-style attacks on the American homeland. "As president, I will make identifying and stopping lone wolves a top priority," she said.
To predict future attacks, Clinton reiterated her proposed "intelligence surge to collect more data on would-be terrorists in partnership with U.S. tech firms in Silicon Valley.
She also called for stricter gun control laws.
"We may have our disagreements over gun safety regulations, but we should all be able to agree to a few essential things: if the FBI is watching you for suspected terrorist links, you should not be able to just buy a gun with no questions asked. And you shouldn't' be able to exploit loopholes and evade criminal background checks by buying online or at a gun show," she said to a standing ovation. However, the weapons used by the Orlando attacker were purchased legally and, while he had been under investigation by the FBI at some point, he was not being investigated when the attack happened, FBI Director James Comey said Monday.
Donald Trump's remarks to an audience of supporters in New Hampshire could have not have been more different. Reading from a teleprompter with visible difficulty, Trump focused on immigration policy, calling once again for a complete ban on immigration from "areas of the world when there is a proven history of terrorism against the United States, Europe or our allies."
"If we want to protect the quality of life for all Americans—women and children, gay and straight, Jews and Christians and all people—then we need to tell the truth about radical Islam. We need to tell the truth, also, about how radical Islam is coming to our shores. We are importing radical Islamic terrorism into the West through a failed immigration system—and through an intelligence community held back by our president," he said.
Trump cited the 9/11 hijackers, who he said came to the U.S. on visas (18 of 19 hijackers entered the country on business or tourism visas, and one entered on a student visa), "large numbers of Somali refugees in Minnesota [who] have tried to join ISIS" (in June, a federal jury found three Somali-American men guilty of plotting to join ISIS) and the Tsarnaev brothers, the so-called "Boston bombers," who entered the country as refugees.
"If we want to remain a free and open society, then we have to control our borders," he said.
Not surprisingly, Trump also had words for Clinton. He criticized her refusal to use the words "radical Islam"—phrasing disfavored by President Obama and Clinton—and what he claimed were her proposals to "ban guns" and an immigration plan he ascribed to Clinton which Trump claimed "will bring vastly more radical Islamic immigration into this country." Clinton's immigration plan has no planks specific to immigrants from Muslim areas.
Trump also claimed that the family and friends of the San Bernardino attackers knew about the attack but did nothing to stop it—a claim not supported by the FBI investigation into that attack. In San Bernardino, as an example, people knew what was going on, but they used the excuse of racial profiling for not reporting it," Trump said. "We need to know what the killer discussed with his relatives, parents, friends and associates," Trump said, appearing to suggest increased surveillance of Muslim-Americans.
Hillary Clinton also took aim at Trump, though she did not use his name. Clinton criticized any plan to bar Muslim immigrants, saying such a ban "hurts the vast majority of Muslims who love freedom and hate terror."
"Since 9/11, law enforcement agencies have worked hard to build relations with Muslim-American communities. Millions of peace-loving Muslims live, work and raise their families across America and they are the most likely to recognize the insidious effects of radicalization before it's too late," she said. "We should be intensifying contacts in those communities, not scapegoating or isolating them."
The two candidates also both reached out to the LGBT community. "You have millions of allies who will always have you back and I am one of them," Clinton said. But, Trump said, Clinton "can't claim to be an ally to the gay and lesbian community" while allowing immigration from cultures where some denounce LGBT people.