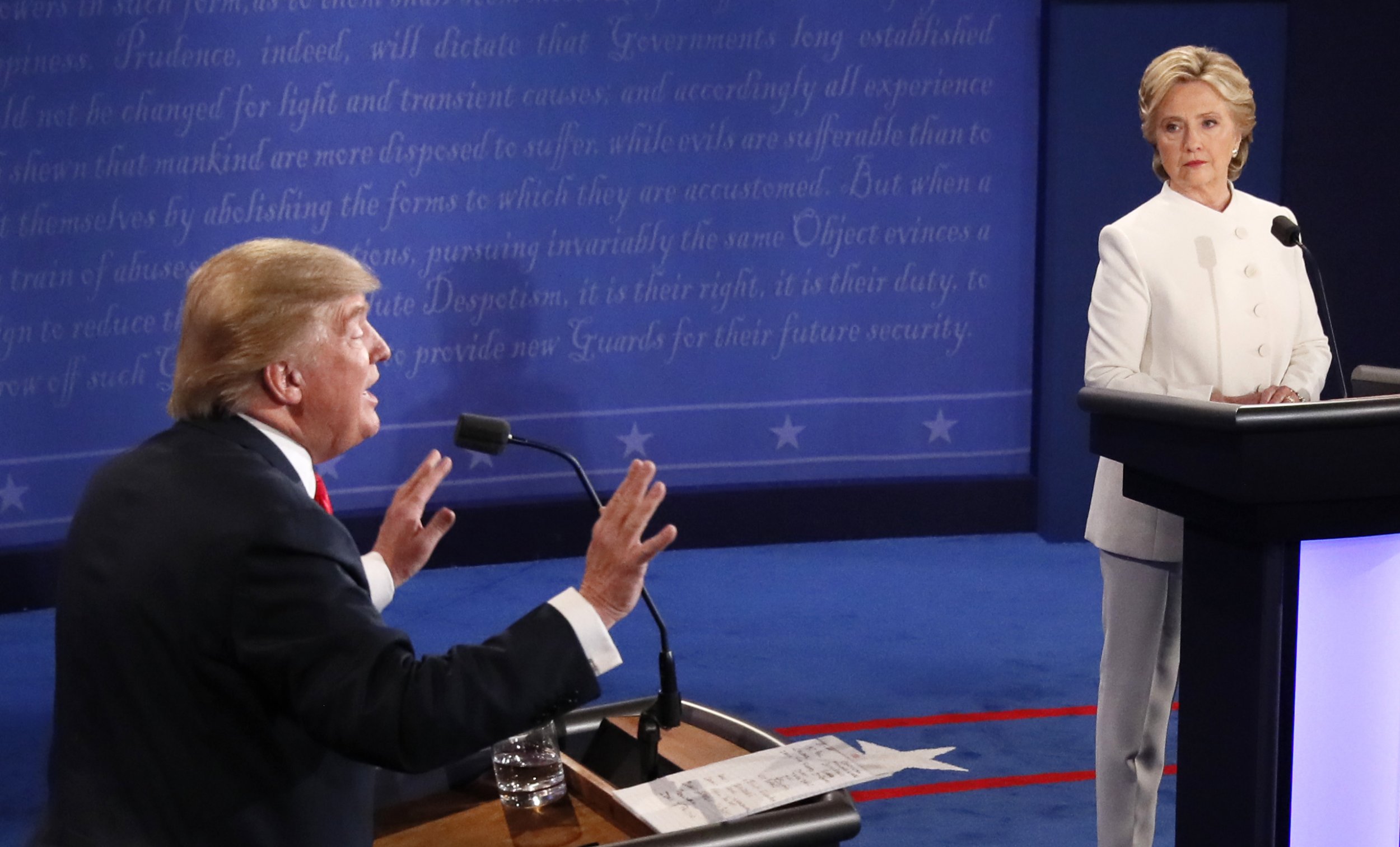 President Donald Trump doled out some sage advice on Twitter Saturday morning—and then promptly ignored it.
"Crooked Hillary Clinton is the worst (and biggest) loser of all time. She just can't stop, which is so good for the Republican Party," he wrote. "Hillary, get on with your life and give it another try in three years!"
Related: Hillary Clinton Says Donald Trump Is Acting Like a Dictator
Yes, you're reading that right. The president—who was tweeting about the general election he won more than a year ago despite having actual responsibilities like making sure the U.S. doesn't get nuked by North Korea, helping Puerto Rico recover from a major hurricane and figuring out how to protect young immigrants after he dismantled a program that did just that—wants Clinton to stop talking about it.
Trump's tweets were likely a response to a Mother Jones interview with Clinton that dropped Friday. In it, Clinton said that Russia's meddling in the election "was one of the major contributors to" her loss. Clinton also spoke about strict voter ID laws, which in states like Wisconsin ended up deterring thousands of potential Clinton voters from casting ballots.
As a result, Clinton said, there were "lots of questions" about the legitimacy of the race.
"We don't have a method for contesting that in our system," she told Mother Jones. "That's why I've long advocated for an independent commission to get to the bottom of what happened."
Clinton has been on a seemingly endless press tour for months, making not-so-subtle digs at Trump and suggestions the election was unfair along the way. And the president just can't let it go. Newsweek found that Trump has tweeted about the election or Clinton more than 260 times in the past year. To put that in perspective: He's mentioned it three out of every four days. Earlier this month, he was even commenting on drama that took place during the Democratic primary—which Clinton won over Bernie Sanders fully 480 days ago.
Some experts have surmised that Trump's doing it intentionally to distract from larger issues, like his party's inability to pass a health care bill or the ongoing investigation into whether his campaign staff colluded with the Kremlin to influence the election. That means it may only get worse as time goes on and special counsel Robert Mueller circles Trump's closest allies.
For what it's worth: Clinton has said she won't run again. But that won't stop Trump from tweeting about it.