Clip of Anderson Cooper and Stephen Colbert Discussing Grief Goes Viral as Twitter Users Share Stories of Loss
A clip of Anderson Cooper becoming emotional during a conversation with Stephen Colbert went viral on Friday.
The pair sat down for an episode of Anderson Cooper 360° and discussed life, death, faith, grief and gratitude.
Cooper, who lost mom Gloria Vanderbilt in June, was brought to tears when he asked the late night show host about comments he made on learning to "love the thing that I most wish had not happened."
Cooper paused to seemingly brace himself as he read a quote by English writer J.R.R. Tolkien that Colbert had referenced in a past interview.
"You went on to say, 'What punishments of God are not gifts?' Do you really believe that?" Cooper asked.
"Yes," Colbert affirmed after a short pause. "It's a gift to exist, and with existence comes suffering. There's no escaping that."
The comedian clarified that "I want it to not have happened, but if you are grateful for your life ... then you have to be grateful for all of it. You can't pick and choose what you're grateful for."
Colbert pointed out that suffering allows people to relate to one another. He said: "What do you get from loss? You get awareness of other people's loss, which allows you to connect with that other person, which allows you to love more deeply and to understand what it's like to be a human being, if it's true that all humans suffer."
Colbert lost his father and two of his brothers in a 1974 plane crash. The comedian was 10 years old at the time of their deaths. Cooper was the same age when his own father died of a heart attack. His brother, Carter, died by suicide in 1988, at the age of 23.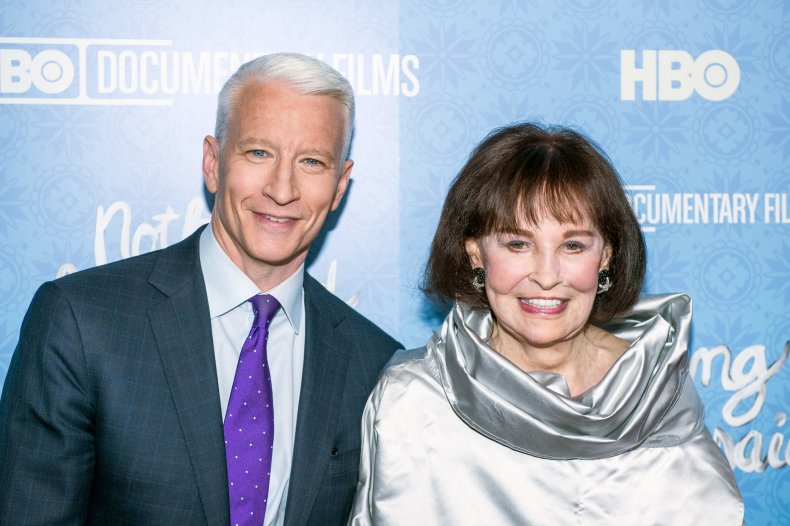 Cooper later spoke about his mother, Gloria Vanderbilt, who died in June after a battle with stomach cancer, and her sanguine methods of dealing with suffering.
"[She] never asked 'Why me? Why did this happen to me?'" said Cooper. "She would always say, 'Why not me? Why would me be exempt from what has befallen everybody—countless others over the centuries?' And I think that's another thing that has helped me think 'Yeah, of course. Why not me? This is part of being alive.'"
Users retweeted the video clip, which was first posted to the Anderson Cooper 360° Twitter account, almost 19,000 times. Many replied to the video to share their own stories of suffering and to thank the pair for being "real" and "reflective."
Cooper had segued into the discussion on grief by referencing a letter he received from Colbert afterward. That part of the conversation was shared in a video clip in a previous tweet.
"You wrote me a letter after my mom died, and in it you said, 'I hope you find peace in your grief,'" Cooper said.
He explained that he did find peace in the people who approached him online and in person to share stories of their own experiences with grief.
"I found that the most helpful thing, I found it to be the most powerful and moving thing," said Cooper. "And I kind of, oddly, don't want that to stop because in regular times, people don't do that."