Clip of Mike Pence Saying 'Foreign Governments Cannot Participate in American Political Process' Resurfaces After Trump Asks China to Investigate Bidens
A clip of Vice President Mike Pence declaring, "Foreign governments cannot participate in the American political process," during the 2016 campaign has gone viral in the wake of Trump reportedly asking foreign governments to investigate former Vice President Joe Biden.
The clip was first posted on Twitter by The Bulwark reporter Sarah Longwell, who says her colleague Barry Rubin found it. In the clip—part of the 2016 Vice Presidential Debate—Pence says, "Now, y'all need to know out there. This is basic stuff. Foreign donors—and certainly foreign governments—cannot participate in the American political process."
According to a report by the Washington Post, President Trump "repeatedly involved" Vice President Pence in an attempt in exerting pressure on Ukrainian President Volodymyr Zelensky to solicit information on his Democratic political rivals, including Joe Biden.
The Associated Press reports that President Trump instructed Pence to cancel his plans to attend the inauguration of Zelensky after initially urging him to go. Aides to Pence dispute this assertion made by the Associated Press' sources, saying Biden never came up when Zelensky and Pence conversed. They also said that the cancellation was a logistics issue, and additionally that he knew nothing about President Trump's alleged interest in pressuring Zelensky for information on the Bidens.
Months later, according to the Washington Post, Trump told Pence to tell Zelensky that U.S. aid was being withheld from the Ukraine while requesting more aggressive action on corruption. Sources in the article deny that Vice President Pence possessed any knowledge that he was passing coded information between the two Presidents.
President Trump has been under fire ever since the release of a whistleblower report alleging that Trump tried to solicit damaging information from the Ukraine about his political rivals.
In a transcript of the July 25 phone call that's part of the report, the President asked Zelensky for "a favor" and requested he collaborate with Attorney General William P. Barr to acquire compromising information about Joe Biden and his son, Hunter. In particular, Trump was interested in Hunter's business dealings with a Ukrainian gas company, Burisma while Joe Biden was vice president.
Trump accused Joe Biden of using undue influence in having an investigation into Burisma killed. Two weeks before the call, President Trump had military security assistance to Ukraine suspended, which was allegedly eventually unfrozen after positive reports from Pence about Zelensky and applied congressional pressure.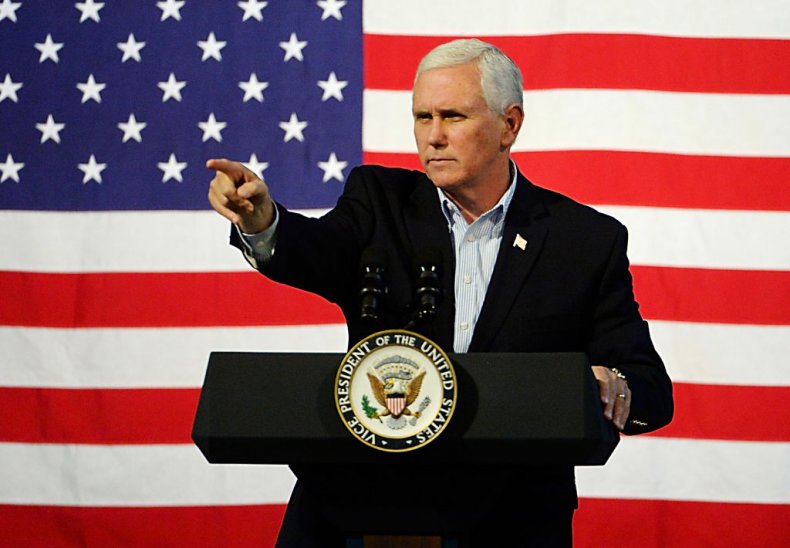 One of Pence's top advisers allegedly listened in on the call, according to The Washington Post, though sources quoted in the same article disagree about whether or not Vice President Pence had listened to the call himself or read a briefing about it before his September 1 Warsaw meeting with Zelensky.
An impeachment investigation is ongoing in the House.
From the White House on October 3, President Trump called for China to investigate the Bidens, accusing Hunter Biden of taking $1.2 billion from Chinese government business and that the U.S. has a "sweetheart deal" on trade with China thanks to the dealings of the Bidens.
"You know what they call that," President Trump said. "They call that a payoff."
This is an assertion Geng Shuang, China's Ministry of Foreign Affairs has called "totally groundless," according to the AP.