Clip of Ted Cruz Saying Democrats Would Say COVID 'Magically Better' Week After Biden Wins Resurfaces
In a recently resurfaced video clip, Republican Senator Ted Cruz of Texas said Democrats would call off coronavirus restrictions a week after a Joe Biden victory in the presidential election.
"If it ends up that Biden wins in November...I guarantee you, the week after the election suddenly all those Democratic governors, all those Democratic mayors, will say, 'Everything is magically better. Go back to work, go back to school.' Suddenly, the problems are solved," Cruz said in the July 22 clip.
He continued: "You won't even have to wait for Biden to be sworn in. All they'll need is Election Day and suddenly their willingness to just destroy people's lives and livelihoods...they will have accomplished their task."
Lauren Blair Aronson, Cruz's communications director, told Newsweek, "All summer and fall, Democrats filibustered common-sense proposals to safely reopen our economy and get our kids back to school. Now, they're acting like they've always cared about passing something, and, as always, the media is cheering them on. Senator Cruz's message is very simple: Democrats need to stop playing politics with people's lives."
President Donald Trump echoed Cruz's sentiments while on the campaign trail last month. The president claimed that in the days following the election, COVID-19 would no longer be a useful political issue and that, as a result, Americans would not hear as much about it from major media outlets.
"ALL THE FAKE NEWS MEDIA WANTS TO TALK ABOUT IS COVID, COVID, COVID," Trump tweeted on October 27. "ON NOVEMBER 4th, YOU WON'T BE HEARING SO MUCH ABOUT IT ANYMORE. WE ARE ROUNDING THE TURN!!!"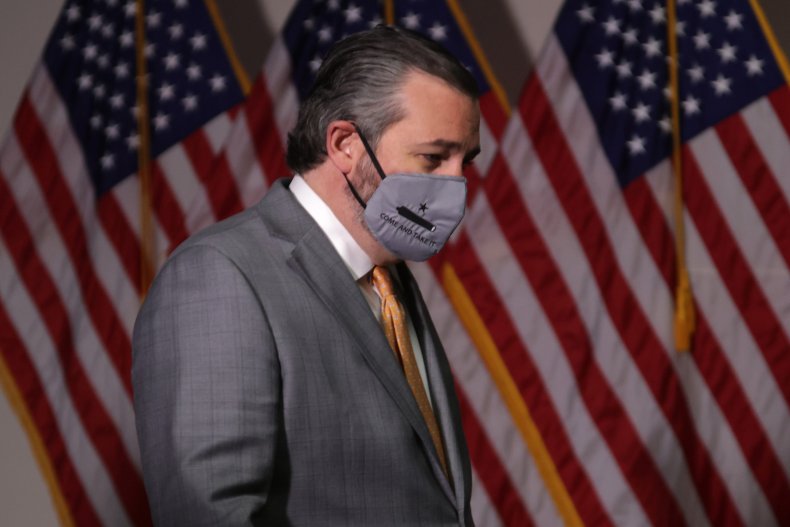 Biden and Vice President-elect Kamala Harris were declared the projected winners of the presidential election on November 7, after the Associated Press and various television networks called Pennsylvania and Nevada for Biden. This pushed the Democratic ticket over the 270 threshold required for victory in the Electoral College.
Since then, governors and mayors across the country haven't rolled back coronavirus restrictions. In fact, within weeks of the election, Democratic leaders in states such as Washington, California and Michigan have imposed new restrictions as coronavirus cases surge nationwide.
Over 141,000 new cases of the virus and 843 deaths were reported in the U.S. on November 22, according to The New York Times. Over the past week, there have been 171,376 new daily cases, on average, an increase of 54 percent from the previous two weeks.
As of Monday afternoon, more than 12.3 million people in the country have been infected with the virus and over 256,700 people have died since the start of the pandemic, according to the Times.