Cliven Bundy Mistrial: How a Nevada Rancher Became an Icon for the Far-Right Militia Movement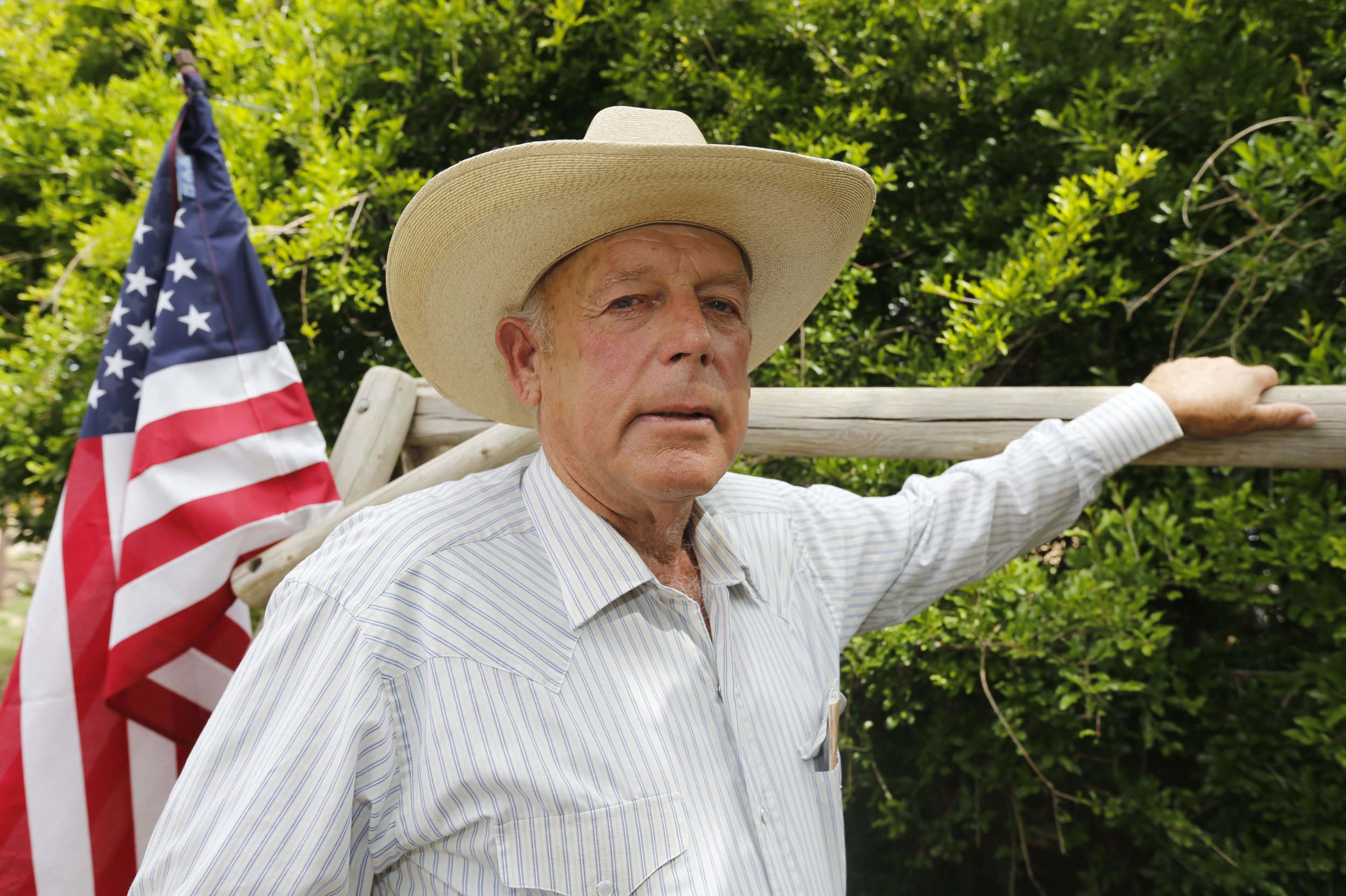 Supporters cheered Monday as Nevada rancher Cliven Bundy hugged his wife, Angie, and walked out of the Las Vegas court a free man.
Bundy and his sons, Ammon and Ryan, had been charged with felony counts of carrying and using a firearm, engaging in conspiracy and threatening a federal officer after armed stand-offs with police and federal officials at his ranch in 2014 and an Oregon nature reserve in 2016.
Judge Gloria Navarro dismissed the case against Cliven Bundy "with prejudice"—meaning it cannot be retried—and said prosecutors had withheld evidence that could have helped Bundy and the co-accused.
Bundy was bullish speaking to reporters after the judge's decision, declaring himself a "political prisoner", having been held in prison for two years before the trial, and blasted sheriffs as "terrorists" for having failed to protect his property rights.
"I come in this courtroom an innocent man and I'm going to leave as an innocent man," he said, as quoted by The Oregonian.
Bundy's stand off with the federal government initially saw him lauded as an icon of righteous patriotism by conservatives, who praised him for taking a stand against government overreach. But experts have warned that some of Bundy's core support is from the violent and virulently racist militia movement—which has used his struggle to rally and embolden other extremists.
Bundy's long-running dispute with the federal government came to a head in 2014, when officials from the Bureau of Land Management (BLM) attempted to seize his cattle in lieu of $1 million in unpaid grazing fees for illegal use of public land. But they were forced to retreat when faced by hundreds supporters, including heavily armed militiamen, who had gathered on the family's Bunkerville ranch.
Emboldened, Ammon Bundy and militias led the takeover of the Malheur national wildlife refuge in eastern Oregon in 2016 in protest at the imprisonment of two ranchers. The stand-off was ended when police shot dead one of the leaders of the protest, and arrested the Bundys and their followers. Criminal charges followed.
U.S. Senator Ted Cruz and Texas Governor Rick Perry were among conservatives initially supportive of the rancher, with Senator Dean Heller hailing him and his supporters as "patriots."
As the national spotlight fell on Bundy, he used the opportunity to extol his views on a multitude of subjects—including the "Negro" and emancipation—and mainstream conservatives began to distance themselves.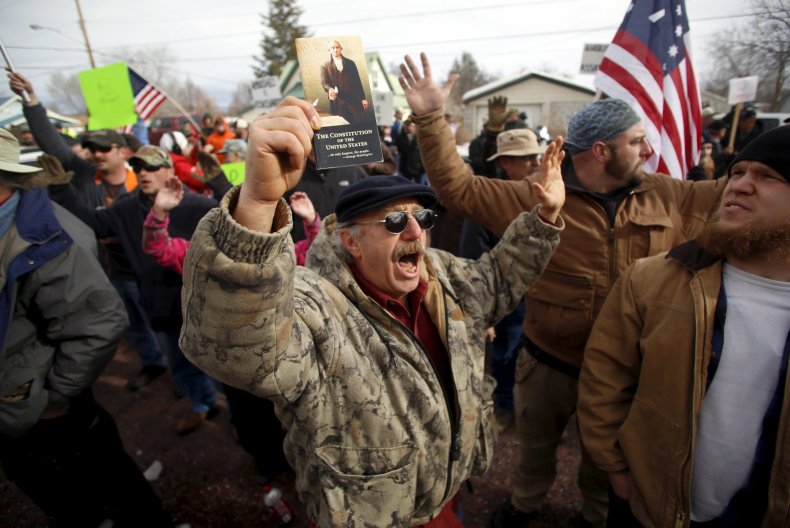 "They abort their young children, they put their young men in jail, because they never learned how to pick cotton," Bundy said in 2014, as quoted by media outlets. "And I've often wondered, are they better off as slaves, picking cotton and having a family life and doing things, or are they better off under government subsidy? They didn't get no more freedom. They got less freedom."
For Bundy's supporters from the far-right militia movement, racism and anti-government paranoia are common currency.
"The core belief of the militia movement is that the rest of the world is subjugated by a globalist tyrannical one world government, often referred to as the New World Order," Mark Pitcavage, Senior Research Fellow in the Anti-Defamation League's Center on Extremism, told Newsweek.
"And the U.S. is the last bastion of freedom, but the U.S. government is actually collaborating with the New World Order to slowly strip us of our right and freedoms."
He said the movement arose in response to the 1992 Ruby Ridge standoff and 1993 Waco massacre.
"The militia movement says we need to form militias like our ancestors to make sure things like this don't happen again and we can fight back against the government when it crosses the line either in terms of persecuting citizens or bringing about the New World Order," he said. "And so as a result over the past 20 years the militia movement has been quite responsive to perceived victims of government."
Supporters have cannily exploited social media to tell their version of Bundy's story—filming his stand-offs with law enforcement, and broadcasting FacebookLive updates outside the court where he stood trial. Bundy's son, Ammon, even spoke to supporters from jail, where he was held before his trial, using the platform. Their purpose has been to rally others suspicious of the federal government under their banner.
Supporters have dubbed those arrested during the Oregon stand-off the Bundy 19.
Bundy supporter Shawna Cox told NPR in 2015 that social media allowed supporters to bypass a news media they see as complicit in the government's persecution of ordinary Americans.
"You have to have somebody you believe," she said. "If it's somebody that you know or trust that's giving you that information, that's the line you're going to follow."
In 2016, she filmed police shooting dead militia leader LaVoy Finicum at a roadblock outside the Oregon nature reserve where the Bundys rallied—with the footage posted on YouTube and subsequently going viral.
Cox says social media is a powerful recruitment tool. "Because one person will be here on the ground and they'll send it out, and they'll share it and Facebook goes ballistic."
The Southern Poverty Law Center has warned that the virulent rhetoric of anti-government extremists can have deadly consequences.
In June 2014, Jerad and Amanda Miller, who spent time at the Bundy ranch, walked into a Las Vegas pizza parlour and shot dead two police officers eating lunch—leaving a militia movement Don't Tread on Me flag and a Swastika on the bodies. They subsequently shot another person dead, before being killed by police.
Since 2009, there have been 17 shooting incidents between antigovernment extremists and law enforcement, the SPLC has reported.
Mark Stickler, who met Bundy when they were both serving time in the Nevada Southern Detention Center in Pahrump, describes Cliven as a "folk hero." He even convinced Bundy to help him write his biography: Cliven Bundy: American <s>Terrorist Patriot.
He told Newsweek that Bundy does not share the views of some of his more extreme supporters.
"You can't throw them all in the same pot. And their motives for why they were there are completely separate. The Bundys believing that the land belongs to the state of Nevada and they have pre-eminent rights to be there – and there are other guys with similar views to extreme views."
Stickler said he quizzed Bundy about the presence of militias at the 2014 stand off.
"'The private militias that came, I didn't invite but I'm glad they came.'" he said Bundy told him.
Stickler continued: "And I said why are you glad they came he said 'this thing would have turned out significantly different if they had not come. And I felt I needed personal bodyguards.' And it turns out he was right," said Stickler, who maintains the federal government was out to get Bundy.
Stickler said the verdict had hardened Bundy's profound suspicion of the federal government.
"In essence what was nice was that it all solidified and showed that what Cliven Bundy has been saying the whole time has been true," remarked Stickler
So what effect is the Bundy mistrial verdict likely to have on the resurgent militia movement?
Under the Obama administration, the number of anti-government militias exploded, with 150 recorded by the SPLC in 2008, and more than 1,000 by the time he left office. But many members of the movement were strong supporters of Trump's presidential candidacy.
"Its hard to be as pessimistic towards the federal government if someone you like is at the head of it and furthermore many people believe the Trump administration and the Department of the Interior are sympathetic to many of their goals and aims," said Pitcavage, citing the Trump administration's decision to shrink federal protections for the Utah monuments in December.
He warned though that a fringe may feel vindicated by the mistrial and be inspired to act.
In 2016, he remarked observers "were very concerned that if the dozens of people arrested after the end of the Oregon stand off – if they weren't successfully prosecuted that would embolden extremist to do more of the same and be even more aggressive than they had been over the last two years, which was very concerning.
"Now that is still the main risk – whether it is the militia movement or the extreme wing of the anti-public lands movement or both since they are now fairly allied."