'Clock Is Running Out' for Trump to 'Conclude' Trade Disputes, GOP Senator Warns 'Damage Will Be Long Term'
Republican Senator Ron Johnson warned on Sunday that time is "running out" for President Donald Trump to resolve ongoing trade disputes, explaining that some of the "damage" to the economy would be "long term" otherwise.
"I think the president also realizes the clock is running out," Johnson, who represents Wisconsin and chairs the Senate Homeland Security Committee, said during an interview with Fox News Sunday. "We need to conclude these deals, because some of this damage will be long term. You might see manufacturing start moving overseas to, for example, supply their overseas customers with a mini manufacturing business."
Continuing, Johnson said that trade disputes needed to be resolved in order to "bring certainty back to the economy."
Earlier in the interview, Johnson said, however, that his constituents are willing to suffer the "short-term pain" caused by trade tensions. "We have not been treated fairly by trading partners," he said, pointing to China, Europe and Mexico.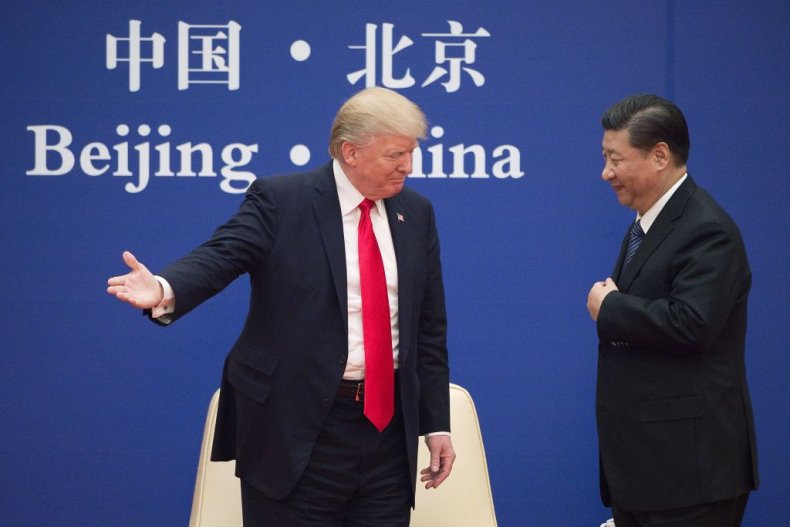 Although the senator admitted that tariffs are a "tax on consumers," he praised Trump for using the threat of tariffs "brilliantly" this past week to convince the Mexican government to take steps to curb the flow of undocumented Central American migrants. On Friday, Mexico and the U.S. announced an agreement that Mexican authorities would take additional steps to curb the flow of migrants. This led Trump to withdraw his threat to add tariffs on Mexican imports.
While many Republicans and even some top administration officials have readily admitted that Trump's tariffs on key trading partners will cause harm to the U.S. economy, the president has repeatedly disagreed. He has argued, inaccurately, that countries, such as China, pay the additional tariffs his administration has added to their imports. That is false, as American importers pay the levies, meaning prices rise for consumers.
U.S. industries have already suffered as a result of reciprocal tariffs implemented by China and other trading partners. The American agricultural sector has been hit particularly hard, as China has slapped tit-for-tat levies on U.S. soybeans and other farm products. As a result, the Trump administration has bailed out agricultural producers with billions of dollars, subsidizing farmers to keep them afloat.
While many farmers and others impacted by the trade dispute may continue to support the president in his hardline stance on trade, despite the negative impact on their bottom lines, others have voiced their frustration.
Larry Angler, a farmer in Iowa, told CNN last month that his family expected to lose $100,000 to $150,000 due to Trump's ongoing trade war with China. Asked if he had voted for Trump, angler responded quickly: "I did! I'll never vote for him again!"
Following his announcement of a tentative agreement with Mexico to avoid the import tariffs, Trump proclaimed that "Mexico has agreed to immediately begin buying large quantities of agricultural product from our great patriot farmers!"
However, on Sunday, Mexican Ambassador to the U.S. Martha Bárcena would not say that any such specific deal had been reached.
Appearing on CBS News' Face the Nation, Bárcena would only say that she expects the lack of tariffs and the ratification of a new North American trade agreement would ultimately result in more U.S. goods being imported to Mexico.