Tributes have been pouring in for Cloris Leachman, who has died at the age of 94.
The Oscar-winning actress and comedy legend passed away in her sleep of natural causes at her home in Encinitas, California, her publicist Monique Moss confirmed on Wednesday.
Some of the star's memorable roles included Phyllis on The Mary Tyler Moore Show and Frau Blücher in Young Frankenstein.
Leachman was known for her prolific career as a character actress, portraying the grandmother Ida in Malcolm in the Middle and Timmy's mother in the Lassie series. She also played Ellen DeGeneres' mother in her sitcom Ellen.
She won the best supporting actress Oscar at the 1971 Academy Awards for her portrayal of Ruth Popper, wife of the high-school gym teacher in The Last Picture Show.
Despite earning more than 300 acting credits, some of Leachman's other memorable roles include the adaptation of Neil Gaiman's novel American Gods and Raising Hope, the 2019 revival of Mad About You, Spanglish and The Longest Yard.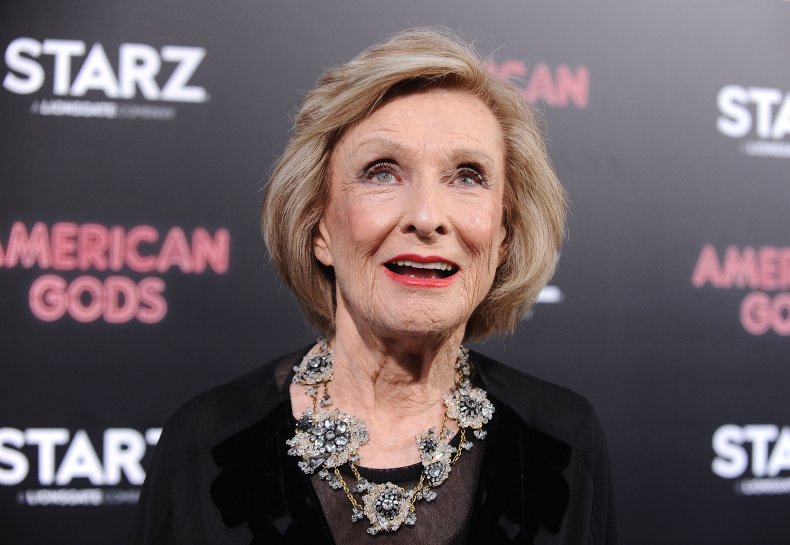 In 1977 she appeared in an episode of The Muppet Show and went on to become a successful voice actor in the animation field starring in titles such as A Troll in Central Park and the English dubbing of Hayao Miyazaki's 1986 Castle in the Sky.
Hollywood has been paying tribute to the acting heavyweight with everyone from Reese Witherspoon to Lynda Carter honoring the late talent.
"Cloris Leachman was queen of the Amazons and a queen of industry, breaking barriers and inspiring women in film and TV for decades," tweeted original Wonder Woman star, Carter. "She was a sweet TV mom and a riot to work with. I will miss you, along with the smiles and laughter you brought everywhere you went, Cloris."
Legally Blonde's Witherspoon described Leachman as "truly original and larger than life in every unique performance. An incredibly talented actress who will be deeply missed."
Young Frankenstein director Mel Brooks tweeted: "Such sad news—Cloris was insanely talented. She could make you laugh or cry at the drop of a hat. Always such a pleasure to have on set. Every time I hear a horse whinny I will forever think of Cloris' unforgettable Frau Blücher. She is irreplaceable, and will be greatly missed."
Playwright Paul Rudnick added: "RIP Cloris Leachman, a comic genius and a fine actress. Audiences cherished her, as Phyllis Lindstrom or Frau Blucher and so many more indelible characters. Her instincts were impeccable and she's irreplaceable. Bea Arthur and Madeline Kahn are welcoming her to comedy heaven."
The official account of The Muppets also posted a touching tribute to their one-time guest star, writing: "As a guest star on The Muppet Show, Cloris Leachman kept the show going despite an invasion of pigs and in The Muppet Movie she opened the door to our standard rich and famous contract. A legend and a great friend. Cloris, we will never forget you."
Fellow comedy legend Steve Martin added: "Salute to Cloris Leachman, who brought comedy's mysteries to the big and small screen."
Comedian Natasha Rothwell wrote: "A million years ago I saw Cloris in an audition waiting room. I was sweating profusely, terrified about my audition. When my name was called she said, "Have fun in there!"— which was something I'd completely forgotten was possible. I didn't get the part but learned a lesson. #RIP."
Full House stars John Stamos and Bob Saget both reflected on what it was like for Leachman to roast at them on Comedy Central's Roast of Bob Saget.
"God I loved her. RIP #CLORISLEACHMAN," Stamos tweeted. While Saget added: "So sad over the loss of the brilliant Cloris Leachman. Beyond being an Academy award winner, her hilarious role in 'Young Frankenstein,' and being 'Phyllis,' I had the pleasure of being roasted by her on television. My deepest sympathies to her loved ones."
"Cloris Leachman played my mother on my second sitcom. I always considered myself lucky for having the chance to work with her. She will be missed," Ellen DeGeneres tweeted.
Lea Thompson tweeted: "A sad day for us all. She was a treasure. Always outspoken. And so funny. I remember carrying her over my shoulder in #thebeveryhillbillies. Small but mighty #rip."
Actor Elias Toufexis added: "God bless and Rest In Peace to the wonderful Cloris Leachman. She was just the f---ing best (she would have wanted me to swear)."
While Viola Davis tweeted: "I loved your work!!! Just LOVED!! I grew up watching Phyllis and The Last Picture Show. Your consistent excellence, ability to morph, and bravery will be sorely missed. RIP Cloris Leachman! Godspeed."
Director Edgar Wright wrote: "Brilliant and memorable though it is, Cloris Leachman's best performance in a 1970's classic shot in B&W is not 'Young Frankenstein' but her role in 'The Last Picture Show'. If you only know her as Frau Blücher, then prepare to be amazed."