'Close to an Agreement': Stimulus Bill Likely to Come in Next Few Days, Bipartisan Group of Senators Say
A group of bipartisan senators indicated on Sunday that another stimulus bill proposal will likely come in the next few days, as coronavirus cases continued to surge across the country.
In an appearance on CNN's State of the Union, Democratic Senator Mark Warner of Virginia told host Jake Tapper that congressional lawmakers are now close to settling differences and could reach an agreement as soon as Monday.
"I think we have got the top line numbers done. We are working right now on language so that we can have—as early as tomorrow—a piece of legislation," he said.
Eight months have passed since President Donald Trump signed the CARES Act, and negotiations for another stimulus package have been deadlocked for over five months.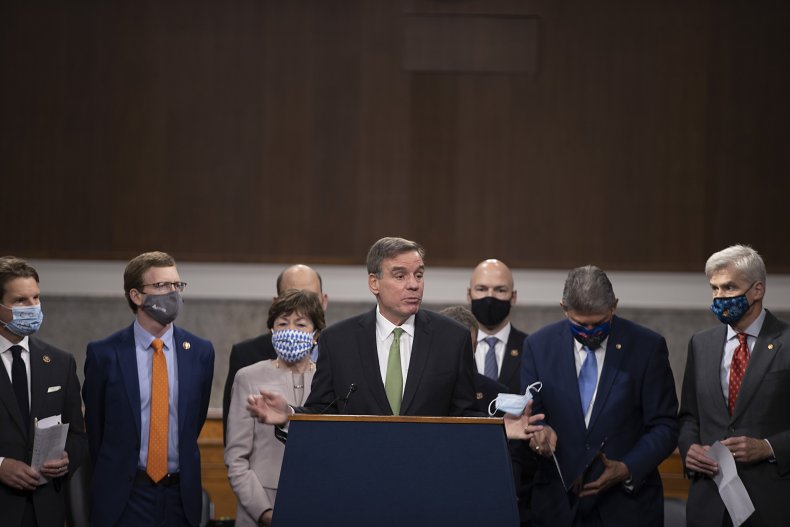 There are currently two competing stimulus proposals at play. The first is a $908 billion bipartisan proposal, introduced by a coalition of Republican and Democratic senators including Warner, as a middle-of-the-road compromise. President-elect Joe Biden, House Speaker Nancy Pelosi and Senate Minority Leader Chuck Schumer have backed the plan. But Senate Majority Leader Mitch McConnell rejected the offer last week as he unveiled a slightly tweaked $550 billion version of his previous Republican proposal.
Warner confirmed that the upcoming legislation will be a four-month package totaling around $908 billion.
The plan "will give targeted relief for the unemployed; for people in food insecurity; rental assistance; small businesses that have run out of their [Paycheck Protection Program] funds and additional funds to those minority businesses that have been extraordinarily hit hard," he explained, adding that funds have also been provided for hospitals, broadband, and vaccine distribution.
The Democrat said he was fairly certain both sides of the political aisle will come together to support the legislation.
Republican Senator Bill Cassidy of Louisiana echoed Warner's timeline in an appearance on Fox News. "Probably come out early this week—earlier this week," he said.
The proposal's $908 billion price tag represents a figure that's less than half of the Democrats' latest offer of $2.2 trillion and almost double the $550 billion proposed by McConnell's "targeted" Republican plan. It does not include the highly-anticipated second round of $1,200 stimulus checks. While both parties have supported further direct payments, Cassidy on Sunday said that the concession was necessary to garner support from cost-cutting conservatives in Congress.
"There may be a stimulus check, but that would be part of a different piece of legislation," Cassidy said.
A draft framework of the proposal includes an extra $300 per week in unemployment benefits; $160 billion for state and local governments; and nearly $290 billion in aid for small businesses. McConnell has previously stood firm on opposing any bill that includes aid to states and local governments, so it is unclear whether the funding will make it onto the final proposal.
Newsweek reached out to McConnell's office for comment.