Close-up Footage of Climber's Butt Prompts Apology From Sporting Body
Organizers have apologised after inappropriate close-up footage was taken of an Austrian athlete's bottom while she competed at a World Championship climbing event over the weekend.
It is the second time this year that Johanna Färber has found herself subject to inappropriate TV coverage of her competitions after describing a similar incident back in June as "disrespectful and upsetting".
The International Federation of Sport Climbing, the governing body for the sport of competitive climbing, issued an apology to Färber for footage taken during the women's bouldering semi-finals at the World Championships on Saturday, September 18, in Moscow, Russia.
"The International Federation of Sport Climbing (IFSC) would like to deeply apologise to Johanna Färber, Austria Climbing, all the athletes, and the entire Sport Climbing community for the images that were broadcast today during the women's Boulder semi-final at the IFSC Climbing World Championships Moscow 2021," the agency said in a statement.
"The IFSC condemns the objectification of the human body and will take further action in order for it to stop, and to protect the athletes."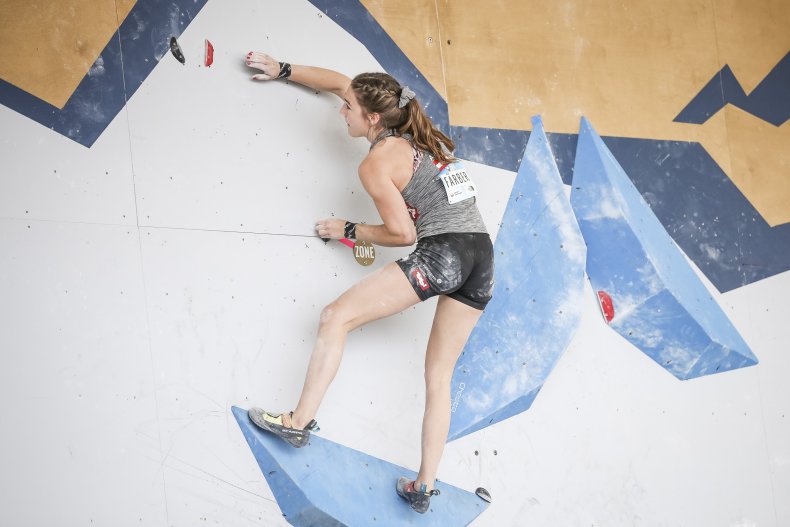 After meeting with representatives of the Austrian team, IFSC President Marco Scolaris also issued the following comment: "How many times will things have to be done wrong, before we learn how to do them right?"
Complaints regarding the footage were made to the IFSC by viewers, after the broadcasters showed a close-up of chalk handprints on Färber's backside, Inside The Games reported.
Commentator Matt Groom issued an immediate apology on the broadcast and co-commentator and fellow climber Hannah Meul criticised the incident later in the broadcast, the publication added.
It is the second time this year Färber has been filmed inappropriately whilst competing. In June, the athlete described close-up footage taken of her during the IFSC World Cup in Innsbruck, Austria, as "disrespectful and upsetting" over her social media accounts, according to various outlets at the time.
Host broadcaster, ORF, later apologized for the broadcast, temporarily removing the footage from their YouTube channel and promising it would be "edited and re-uploaded as soon as possible."
"We acknowledge that, for a brief moment, we chose to display the sport of climbing in the wrong way," ORF director Michael Kogler said in a statement issued on June 26.
"Our apology goes out to Ms. Johanna Färber, the International Federation of Sport Climbing, Austria Climbing, and all those who felt concern and discomfort for our actions."
Former GB climber and editor-in-chief of U.K. Climbing.com, Natalie Berry, described the incident as "disappointing" and "inappropriate."
"For this disrespectful incident to happen once again to the same athlete is very disappointing, at a time when more eyes are on the sport than ever before and more women and girls are being introduced to climbing," she told Sky News.
"While the intentions of the camera operators and editors may not be to sexualise an athlete and instead to focus on a visually interesting chalky handprint, in the context of the sexualisation of women in sport throughout history, it's quite simply inappropriate."
Berry backed calls for robust photography and filming policies to be introduced in climbing as is the case in many other sports.
"As an athlete, self-confidence is a huge factor in competition," she said. "If athletes feel that their bodies are being inappropriately presented on screen, it could unfairly affect their performance as well as their mental health."
Färber made a statement in June through her Instagram account. "I'm an athlete and here to show my best performance," she wrote. "To be honest I do really feel so embarrassed to know that thousands of people saw this. We need to stop sexualizing women in sports and start to appreciate their performance."
Sport climbing made its debut at the Tokyo Olympics this year.
Newsweek has contacted Johanna Färber for comment.