Closing Redundant Military Bases Spurs Local Economies
This article first appeared on the Cato Institute site.
Last month, Secretary of Defense James Mattis urged Congress to allow the Pentagon to reduce its excess overhead.
Mattis has requested this authority before – as have at least four of his predecessors (Carter, Panetta, Hagel, and Gates) – but the latest request accompanies a new Pentagon report that assesses the military's infrastructure needs based on a much larger force structure than the one it has today.
Even if the military, and especially the Army, were to grow back to the levels seen when the United States was actively fighting wars in both Afghanistan and Iraq (2012), the DoD is carrying 19 percent excess capacity.
Such waste clearly impacts military effectiveness. As Mattis explained in a letter accompanying the report, "every unnecessary facility we maintain requires us to cut capabilities elsewhere."
Although the leading Democrat on the House Armed Services Committee, Adam Smith (D-WA), and a handful of other lawmakers, agree with Mattis's assessment and would allow the Pentagon to cut such obviously wasteful spending, many others in Congress remain opposed to a new round of base closures.
Kay Granger (R-TX), chairwoman of the House Appropriations Subcommittee on Defense said in May that she had "never seen [BRAC] save much money." Sen. Jim Inhofe (R-OK) called plans for base closure "disappointing" and "dangerous." "Clearly, base closure rounds," Inhofe wrote in September, "cost the American taxpayers an exorbitant amount of money upfront and take years to recoup the initial investment."
This is incorrect. The closure of hundreds of unnecessary military bases in five successive BRAC rounds has saved American taxpayers billions of dollars. Even the much-maligned fifth and final BRAC round, initiated in 2005, is expected to deliver net savings in 2018.
Secretary Mattis explained in testimony before the Senate Armed Services Committee in June that a "properly focused base closure effort" could generate $2 billion or more annually.
But we shouldn't assess the benefits of base closures solely on the basis of possible savings to the Department of Defense; that amounts to looking through the wrong end of the telescope.
Although BRAC does generate real savings, the greater economic benefits accrue to communities near affected bases when they put underutilized facilities to more productive uses. In that sense, military bases aren't closed, they're opened.
I visited such a place on Wednesday: the former Glenview Naval Air Station, about 20 miles northwest of Chicago. During World War II, the Navy trained pilots to land on aircraft carriers, in this case, two converted passenger steamers on Lake Michigan.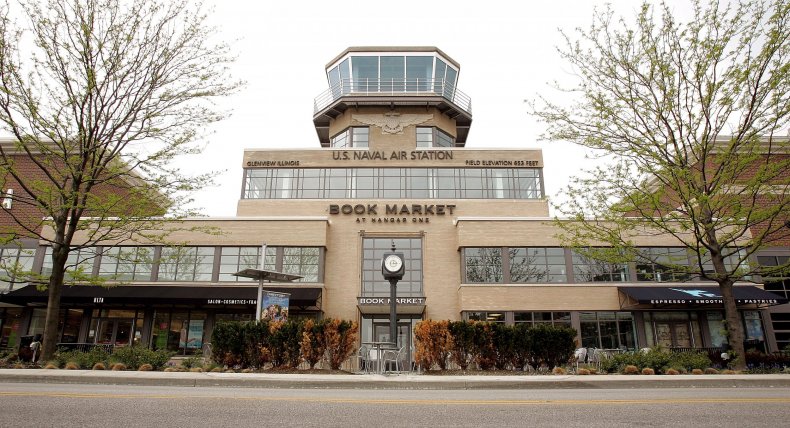 The Navy didn't have actual aircraft carriers to spare. More than 17,000 naval aviators underwent training at Glenview, including George H.W. Bush.
But the naval air station was included in the 1993 BRAC list, and Glenview took charge of clearing some 1100 acres, funded infrastructure improvements, and subdivided and sold parcels to private developers. About 400 acres were preserved as open space and parkland.
To the untrained eye, few would realize that there was ever a naval base here. I've been aware of Glenview for years, even though I had never visited before. I knew what to look for.
The street names betray the area's storied past. Independence and Constitution Avenues are pretty common, and one even encounters the occasional Patriot Boulevard. But one doesn't often find Nimitz Drive, Kitty Hawk Lane, or Admiral Court in a typical American subdivision.
The beautiful homes, many with three-car garages, and backing to golf courses and open space, command top dollar on the real estate market. A review of a few of the listings for the houses with For Sale signs on their front lawns found asking prices between $760,000 and $875,000. Phoebe Co, a realtor with Berkshire Hathaway, explained that condos in the area go for as low as $300,000, but some of the newer townhomes sell for $800,000 or more. Single family homes selling for more than $1 million are not atypical.
Glenview is a coveted location not merely for its pleasant neighborhoods and ample green space with bike and walking paths. It is also in close proximity to the headquarters of a number of Fortune 500 companies (we drove past Allstate's sprawling campus on the way back to O'Hare), and an easy commute to downtown Chicago – about 40 minutes by train during rush hour.
The centerpiece of Glenview's redevelopment of the former base property is The Glen Town Center, which includes retail shops at street level, and apartments above them for rent.
These properties are ringed by attractive brick rowhomes. Here one finds the most visible remaining remnant of the former base: the air station's control tower is now home to a Dick's Sporting Goods, a Carter's children clothing store, and a Von Maur department store.
Three statues – a pilot, a sailor, and a ground crewman – stand around a fountain across the street. Painted plaques by the store fronts celebrate the many units that served at the base.
Jeanne Fields, assistant property manager for the Aloft apartments, explained that renters value the convenience of living so close to shopping and dining.
The Glen is "very unique," Fields said. "You don't usually have urban style living in the suburbs." People who want city living without the city can get it at The Glen.
And they're willing to pay: rentals start at $1600 for a 1 bedroom, and go as high as $5000 for the largest two-bedroom unit. Fields reported that more than 90 percent of the units are currently occupied.
I strolled around The Glen with my colleague Harrison Moar, stopped in at the ubiquitous Starbucks, and ate lunch at the Yard House (allegedly home of the "World's Largest Selection of Draft Beers").
The sprawling restaurant can accommodate 250 diners, and seemed surprisingly busy for a Tuesday at Noon. The many families with young children probably weren't there for the 100+ beers on tap, but Harrison and I might have tried one. Alex at the front told us that this was a pretty typical lunchtime crowd, and that the restaurant was even busier later in the week and on weekends.
Those who believe that base closures will devastate a local economy need to be aware of cases like Glenview (and Philadelphia, and San Francisco, and San Antonio, and Brunswick). To be sure, some places will take longer to recover (e.g. Brooklyn), and a few might never see economic activity comparable to when the nearby bases boomed (e.g. Limestone, Maine).
But those who would keep unnecessary military bases open in order to shield local communities from the possible negative economic impacts are saying, in effect, that their parochial concerns should outweigh the needs of the nation.
And elected officials who doubt that their base will ever be successfully converted betray a curious lack of faith in their own constituents' ability to make productive use of valuable real estate.
Christopher Preble is the vice president for defense and foreign policy studies at the Cato Institute. He is the author of The Power Problem: How American Military Dominance Makes Us Less Safe, Less Prosperous, and Less Free (Cornell University Press, 2009) and John F. Kennedy and the Missile Gap (Northern Illinois University Press, 2004). He coedited, with John Mueller, A Dangerous World? Threat Perception and U.S. National Security (Cato Institute, 2014); and, with Jim Harper and Benjamin Friedman, Terrorizing Ourselves: Why U.S. Counterterrorism Policy Is Failing and How to Fix It (Cato Institute, 2010).
Preble teaches the U.S. foreign policy elective at the University of California, Washington Center. Before joining Cato in February 2003, he taught history at St. Cloud State University and Temple University. Preble was a commissioned officer in the U.S. Navy, and served aboard the USS Ticonderoga (CG-47) from 1990 to 1993.