People Are Trying to Sell Clubhouse Invites for Hundreds of Dollars on eBay
Vendors on eBay are trying to sell access to the invite-only app Clubhouse for hundreds of dollars, a search of the website shows.
The app has surged in popularity this year after appearances by Tesla boss Elon Musk and Facebook CEO Mark Zuckerberg, but currently has an air of exclusivity because it can only be accessed via invitations from those already on the inside.
The app's creators—Rohan Seth and Paul Davison—have said it is not intended to be exclusive forever, previously noting that it was scaling slowly to ensure it is stable and fully-formed by the time it reaches a full release to the general public.
But the app's restrictions have left many social media users clamoring for access to the latest craze. For now, it is only accessible for Apple users via the iOS store and anyone seeking to join in without an official invite has to sign up to a waiting list.
Broadly, Clubhouse is based around the concept of audio-only chat rooms that can be dedicated to any topic, be it politics, news, culture or technology.
Unlike Facebook, TikTok, Snapchat, Twitter or Instagram, the front door isn't fully open, although the users who do get access are initially allocated two invites to share out. As a result, a black market for those Clubhouse invites has now emerged online.
While the vast proportion of the Clubhouse invite listings on eBay are under $20, some of the sellers are asking for hundreds of dollars for an invitation.
One listing that was active on Wednesday was showing a starting bid of $415.00, with the main image suggesting the person had two Clubhouse invitations. When the bid failed to illicit any offers on the site today, the price was lowered to $388.00.
A description said: "I will need your phone number for this once in a lifetime Networking experience!! They are giving SOOO MUCH GREAT BUSINESS INFORMATION MILLIONAIRES AND BILLIONAIRES HERE! SECRETS REVEALED!"
There have been no offers on those invites at the time of writing and it was not clear why anyone would ever bid when a multitude of rival offers were significantly cheaper.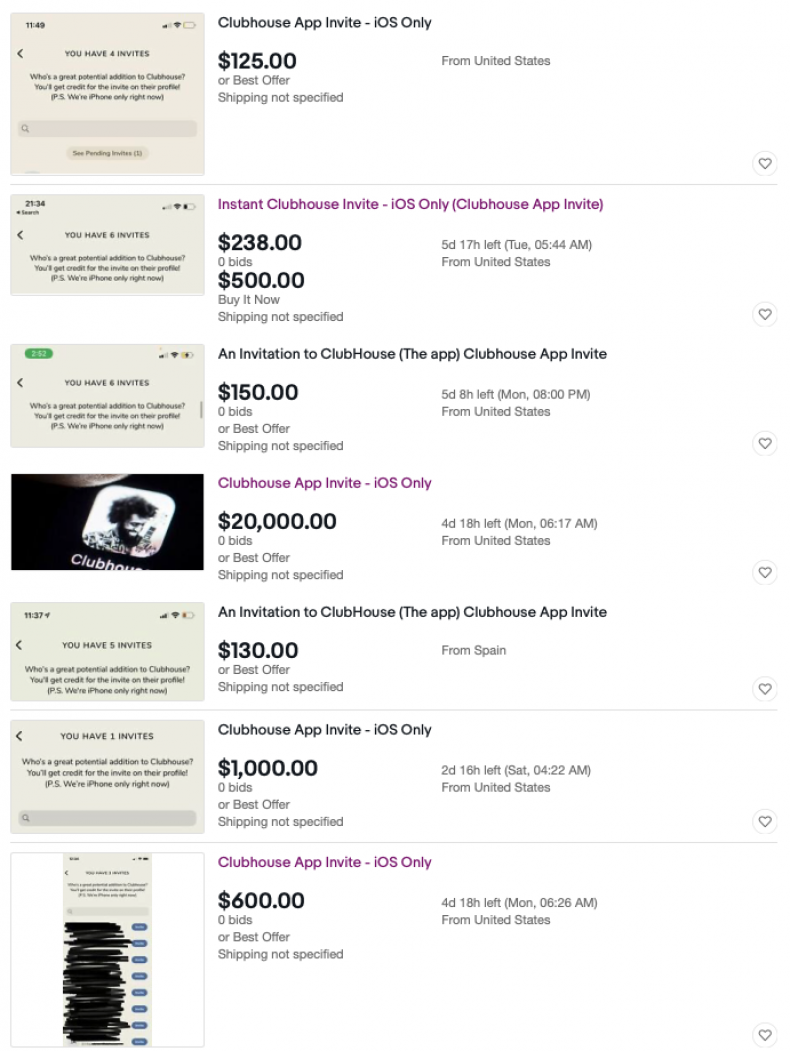 A separate vendor who was pitching their six total invites as access to the "hottest app" used by "many elite and successful people" listed their starting bid at $238.
Another person claiming to have three Clubhouse invitations, had listed their price at $600. While one vendor claiming the app offered the chance to chat with "celebrities" and "real estate gurus" and "athletes" had used a starting bid of $150.
Some of the most price-inflated listings were around $1,000 but at least one person had attempted to list a starting bid of $20,000, unsurprisingly with zero luck.
The examples were numerous, and it was not immediately clear how many are likely to be legitimate postings. eBay has been contacted for comment by Newsweek.
But eBay isn't the only destination for those wanting immediate access to Clubhouse. A Reddit community r/ClubhouseInvites now has more than 8,000 members.
While many on the page are trying to sell the invites, others are offering them for free. "I have 2 free invites because I HATE people who make this app exclusive and you should NOT have to pay. I only ask that you pay it forward," one Redditor wrote today.