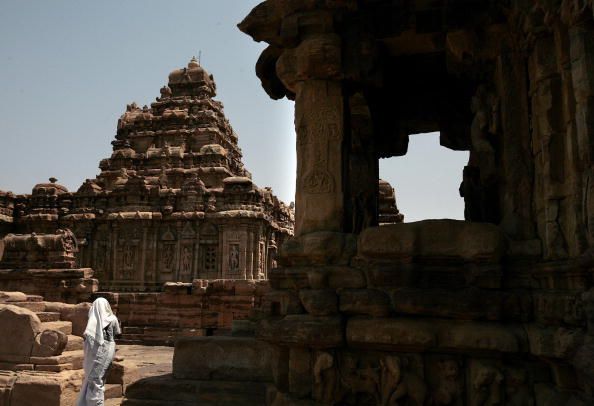 A mysterious engraved stone led a team of researchers in Bangalore, India, to the ruins of a lost temple.
During part of a recurring search for similar archaeological relics in the village of Jakkur, a bus driver and "heritage enthusiast" identified as Dhanpal M. by the Bangalore Mirror discovered the stone and its inscription. Realizing that it signified an even bigger discovery, Dhanpal continued the search and found a series of "pillar-like" stones in a vacant lot nearby—the ruins of a temple dating to 1539 A.D.
Dhanpal told the Bangalore Mirror that after he reported his discovery to the local archaeology department, experts visited the site and concluded that the ruins belonged to a temple dedicated to the Hindu deity Allalanatha, for which the region Allasandra was named. Experts found that the temple was constructed by a ruler known as Sadashiva Raya, the son-in-law of renowned Indian emperor Krishnadevaraya.
Epigraphists—experts who study and decipher ancient inscriptions like this one—believe the stone inscription dates to 975 A.D. This makes it among the oldest known inscriptions from Jakkur, the Bangalore Mirror reported.
Bangalore, also known by the name Bengaluru, is the third-largest city in India. More than three-quarters of its population is Hindu, according to the most recent census data (the national average according to the same data is more than 80 percent).
Idols (small statues or similar representations of deities used for worship) were discovered at the site, along with a mantapa (a sort of pavilion or outdoor foyer used for ceremonial purposes) and a paanipeeta (a plank inside a temple that holds a deity, according to the Bangalore Mirror).
The ancient site also revealed a broken veeragallu—a "hero stone," which commemorates a warrior who died in battle. One of the experts told the Bangalore Mirror that the hero stone's writings were of a brave, martyred soldier in the village Jakkiuru, presumably the same place as the village named Jakkur today. Further excavations are expected to reveal more details about the soldier if they proceed, which they likely will.
"What has been found on the temple premises is new and an unpublished inscription of the veeragallu," an archaeology museum director identified as R. Gopal told the Bangalore Mirror. "The department will take up exploration of the temple basement after which excavation work will begin.''
Numerous hero stones have been found in the area before, according to a previous report by the Bangalore Mirror. Efforts to move them for study or restoration work, however, are frequently "thwarted" by local residents, who fear that disturbing the stones calls down bad luck upon the village.