CM Punk Returns to WWE on 'WWE Backstage,' In-ring Wrestling Future Still Up in the Air
Former WWE champion-turned-UFC fighter CM Punk, arguably one of the most popular figures in professional wrestling in the last decade, shocked fans Tuesday night with a surprise appearance on FS1's WWE Backstage, five years after his acrimonious split from WWE.
Punk—real name Phil Brooks—appeared at the end of Tuesday's episode of the studio show, which is produced by Fox Sports, and spoke directly into the camera saying: "It's as simple as this: Just when they think they've got the answers, I change the culture. I'll see you here next week."
The show's host Renee Young and analysts including Paige and Booker T seemed surprised to see Punk, with Paige heard saying: "Is this a rib?"
In October, Punk confirmed that he auditioned for an analyst role on the show, which features a mix of behind-the-scenes WWE gossip and recaps of in-ring wrestling shows Raw and SmackDown.
"Yeah, I did [the audition]. This goes back to me being in a position in my life where I'm like, 'What do you got?' I'm very much in a position where I'm like, 'Well, talk to me.' I'm open to anything," Punk told Collider Live.
WWE's executive vice president of talent relations, live events and creative Triple H told MMA journalist Ariel Helwani in October that WWE would be open to working with Punk again despite his previous tenure ending on a sour note. "That's a 'could be.' Vince [McMahon, WWE chairman] will say it all the time: 'We're open for business.' The past is passed, today is today and you never say never in WWE," said Triple H.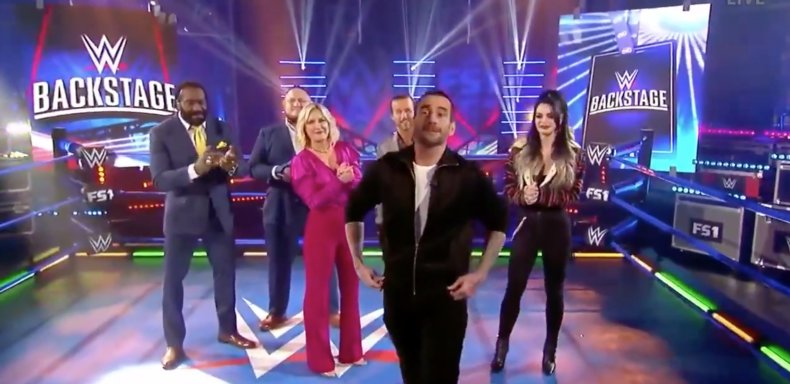 Punk, a two-time WWE champion and three-time world heavyweight champion in WWE, notoriously walked out of WWE in January 2014 at the height of his fame over frustrations with the company, including over his health. He was given termination papers, he claimed, in June 2014 on his wedding day. Punk is married to former WWE women's champion AJ Lee.
In a now-notorious interview with fellow wrestler Colt Cabana on his Art of Wrestling podcast in November 2014, Punk claimed that WWE inadequately treated injuries he sustained in the ring including concussions and what he said at the time was a staph infection.
Following his WWE run, Punk tried his hand at mixed martial arts in Ultimate Fighting Championship (UFC), but lost both of his professional fights.
Will CM Punk wrestle again?
Punk's return in an analyst role on WWE Backstage has already prompted fans to wonder when and if he will return to a WWE ring and wrestle again. The nature of Punk's involvement with the FS1 show might mean fans have to wait for an answer to that question.
WWE Backstage is produced and cast by Fox Sports, so his contract would be with them, not WWE. An in-ring return would require Punk striking a second deal with WWE.
For his part, Punk told Collider Live in October he isn't interested in returning to the ring for WWE.
"If they come at me and they're like, 'Hey, we want you to wrestle.' I'm gonna be like, 'I'm not interested,'" said Punk. "I've grown so much as a person and I look back at all that stuff and I don't need the confrontation and the drama. I'm a businessman. But I put my morals and integrity above business deals."