Carrie Underwood, Reba McEntire, Dolly Parton to Host CMA Awards 2019 and Fans Could Likely Snag Tickets
Country music singers Carrie Underwood, Dolly Parton and Reba McEntire will co-host the upcoming Country Music Association (CMA) Awards and some fans will get to see it in person.
On Monday, the CMA Awards announced the trio would be responsible for ushering in the night, which would include a celebration of legendary women in country music throughout the ceremony. Underwood has been the host for the past few years and between herself, Parton and McEntire, they hold 124 CMA Awards nominations and 22 total wins.
"It's an incredible honor to welcome Carrie, Reba and Dolly to the CMA Awards stage this year," Sarah Trahern, CMA Chief Executive Officer, said. "In addition to awarding the year's best and brightest in the genre, 'The 53rd Annual CMA Awards' will celebrate the legacy of women within Country Music, and we couldn't think of a more dynamic group of women to host the show."
Nominees for the 53rd Annual CMA Awards will be announced on August 28 during ABC's Good Morning America, and the big night will take place on November 13 at 8:00 p.m.
The show will be broadcast on ABC, but it's also likely there will be an opportunity for country music fans to catch the action live, in person. Held at the Bridgestone Arena in Nashville, Tennessee, the biggest names in country music are often in attendance and a limited number of tickets are also sold to fans.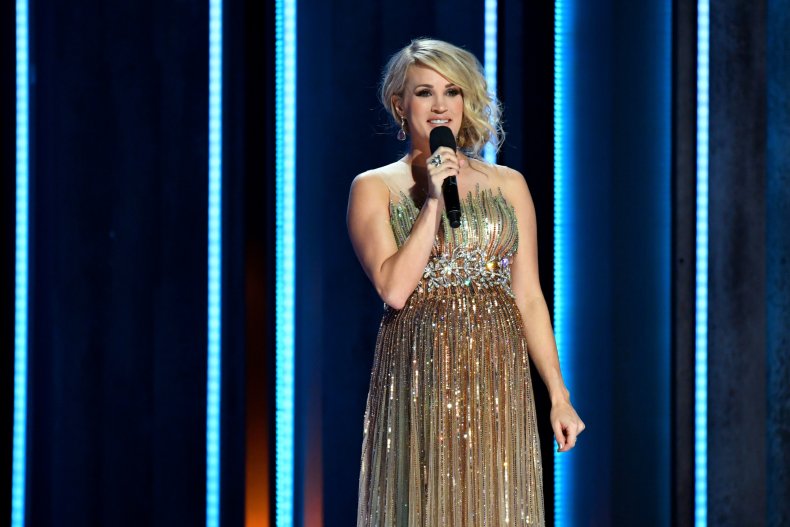 Information about the CMA Awards is still just trickling out, but, if past years are indicative of future behavior, tickets will likely go on sale in September or October. While the cost of each specific ticket ranges based on the year and the seat locations, fans should be prepared to pay at least a hundred dollars per ticket, but likely more.
In past years, tickets were made available on Ticketmaster.com, as well as, from the arena's website. Similarly to other events, in 2018, tickets were listed on Craigslist and other third-party retailers, however, the CMA urged people to use caution when purchasing because the ticket could be fake.
For 2014's show, The Tennessean reported tickets ranged from $244 to $725, but some people paid as much as $2,000 per ticket. In the past, the CMA has also held contests for fans to win tickets, as well.
If a fan is able to snag a ticket, there are a few things they should know before attending. The first being that it's the tradition to dress in formal attire or even black tie, meaning gowns and tuxedos or nice suits are encouraged.
A number of security measures will also likely be in place on the night of the event, including allowing only small bags inside and requiring attendees to enter through metal detectors.
All three hosts expressed their excitement for the opportunity to shine light on country music's greatest stars.
"Let's go girls!," Parton wrote on Twitter and McEntire added that she couldn't wait to join the other two women at the upcoming award shows.