CMAs Get Political: 'Before He Cheats' Turned Into 'Before He Tweets'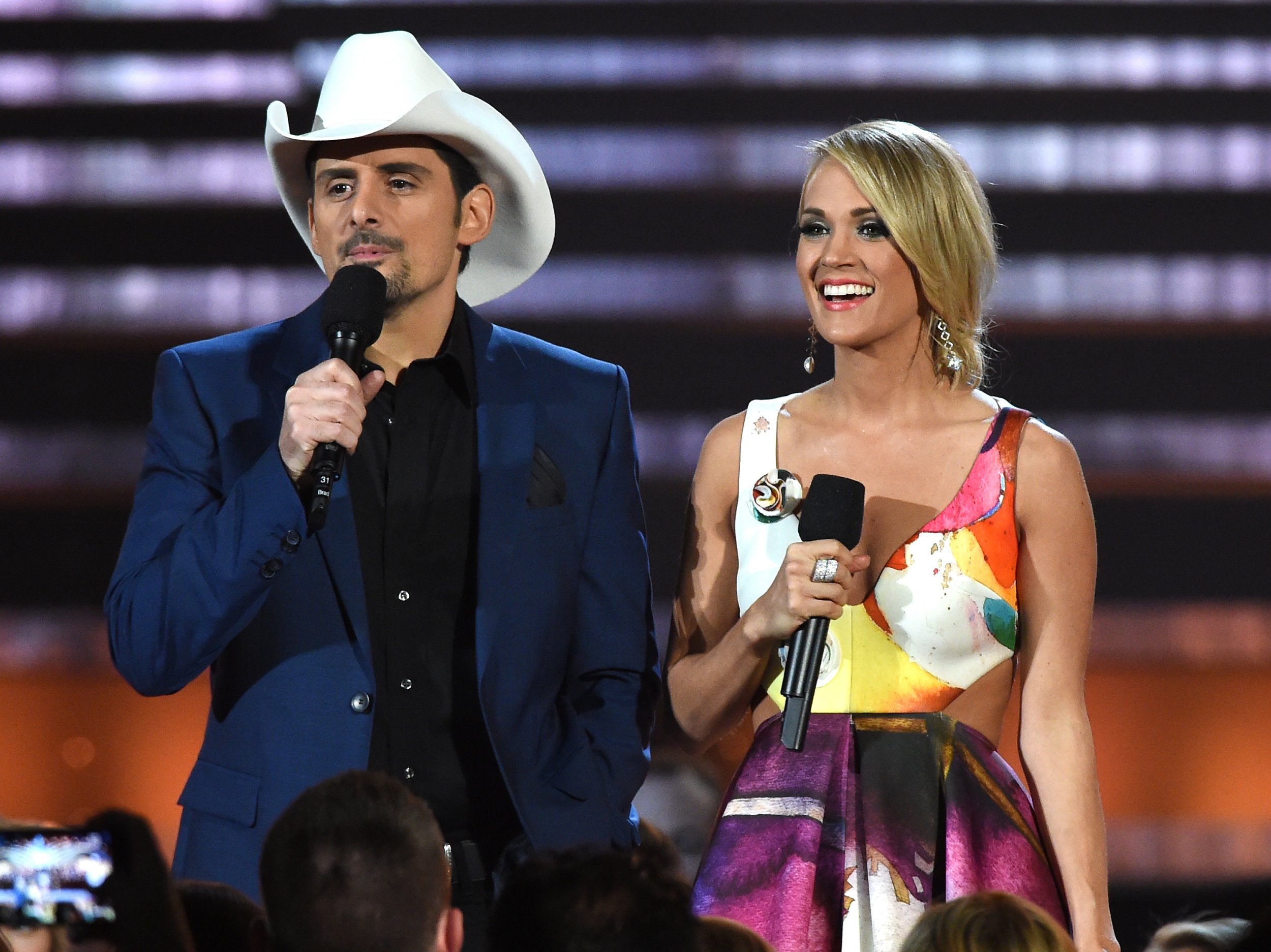 "Maybe next time he'll think before he tweets."
The 2017 Country Music Awards (CMAs) got political Wednesday night. During Brad Paisley and Carrie Underwood's monologue, they turned Underwood's hit 2005 song "Before He Cheats" into a political tune on President Donald Trump, calling it "Before He Tweets." And fans loved it.
"Thanks to Brad and Carrie for hosting the only awards show as politically incorrect as me," one fan wrote on Twitter.
This might come as a surprise to many country music fans, who are predominately Republican. A 2004 Gallup poll found that country music is preferred by rural voters, who tend to be conservative. And in the presidential race that year, country music fans were twice as likely to vote Republican than fans of other genres.
Republican Senator from Texas and former 2016 presidential candidate, Ted Cruz, said he became a country music fan after 9/11 because he liked how patriotic it was. And then there's the Dixie Chicks political mistake that ruined their careers: In 2003, a member of the band said that she was ashamed that President George W. Bush was from Texas. Country music fans never forgave the band.
Some fans are pretty upset about Underwood and Paisley dragging Trump. One tweeted: "I swear, the CMA show isn't even about country music anymore, it's about seeing how many Donald Trump insults can fit into one TV program."
And another fan said: "really enjoy CMA until tonight. Music is great, but the political stuff needs to stop! I voted for Trump and am PROUD to say so"
Some fans were upset and threatened to boycott the CMAs. However, most of them seem to be pretty accepting of Underwood and Paisley's slam against the GOP president. Most tweets were even surrounded by the crying-while-laughing emoji.
One fan wrote on Twitter: "'Maybe next time he'll think before he tweets!!' To the tune of 'before he cheats'! Brad Paisley and Carrie Underwood are my heros! [sic]"
One possible scenario is that Underwood and Paisley aren't facing much criticism yet because their line was a joke. One fan wrote: "#CMAawards opens are always hilarious — 2017 just makes it even better, of course. 'Maybe next time he'll think before he tweets...'"
Even Spotify is waiting for the new hit to drop. They tweeted: "Hey @carrieunderwood & @BradPaisley! Let us know when you're ready to drop 'Before He Tweets' on #Spotify. #CMAawards"
No matter how the night turns out for Underwood and Paisley, their new tune is sure to turn heads.