Will the U.S. Still Be a Democracy After Nov. 8? | Opinion
If the 2020 election was the battle for the soul of our nation, the 2022 election is the battle for the future of our democracy. Free and fair elections are threatened by Republican-led voter suppression, election subversion, and election interference efforts in nearly every state. Reproductive rights and access to abortion, currently banned in 13 states and soon to be banned in nearly 25, will be banned nationwide if Republicans have their way. And the security of minority communities is at risk amid the GOP's use of extremism, racism, and antisemitism to further their political agenda.
These issues are inextricably linked to the midterms because Republican candidates up and down the ballot are overwhelmingly aligned with Trump's brand of MAGA extremism, while Democrats are committed to defending democracy, election integrity, and reproductive rights. The partisan divide on these issues has a single common denominator—Republicans are willing to do anything to obtain power, even attacking our democracy and freedom.
Never was this more apparent than on Jan. 6, 2021, when—after a deadly insurrection and attempted coup—147 Republican senators and representatives refused to certify the 2020 election. Since that time, they have continued to perpetuate the false notion that the presidential election was stolen and have carried election denialism into the midterms. According to Brookings, "the 2022 midterms may well be the first elections ever where the elections themselves are on the ballot." Their recent study counted 345 election deniers running for office in November—all of them Republicans. Approximately 60 percent of American voters will have an election denier on their ballot in November, and several are poised to win in Republican-leaning states.
While election deniers are on the ballot in every state, the number is relatively higher in three of the battleground states where Trump contested the outcome of the 2020 election: Arizona, Georgia, and Michigan. According to the Washington Post, "election deniers have targeted offices in each of those states—as well as in other battleground states, including Wisconsin, Nevada, and Pennsylvania—potentially giving Republicans a platform from which to challenge a popular vote they do not agree with in 2024." Election denial is part of a larger Republican effort to delegitimize this and future elections, and states like Nevada and Arizona have already seen GOP efforts to intimidate voters and sabotage the election.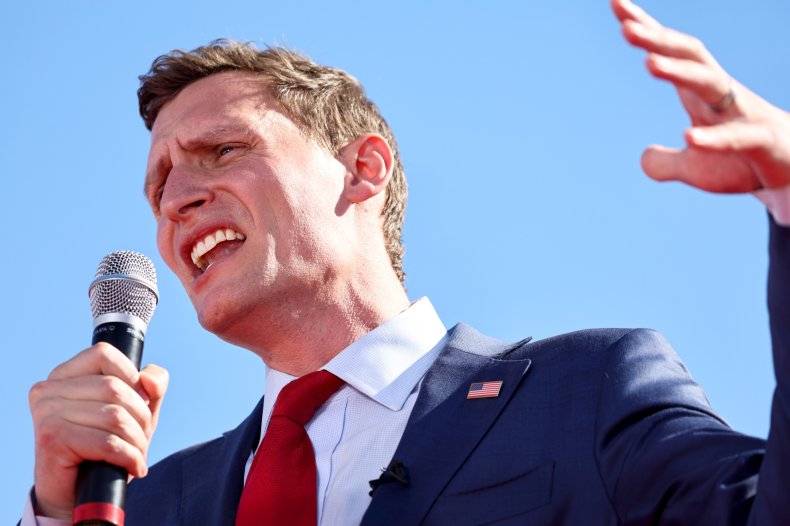 Just as they deny the outcome of the last election, the Republican extremists also want to deny reproductive rights to half the population. In Georgia, GOP Senate candidate Herschel Walker, whom CNN called a "serial promoter of false 2020 conspiracy theories," pledged to support an abortion ban with no exceptions for rape or incest (a position he later disingenuously denied). Walker supports an abortion ban despite reportedly encouraging his former partner to have at least two abortions, one of which he appears to have paid for himself. In Arizona, GOP Senate candidate Blake Masters, who pays lip-service to the Big Lie, already claimed—before a single vote was cast—that the 2022 election will be stolen from him. While Masters supports a 15-week abortion ban with no exceptions, he recently attempted to backtrack and hide his position from voters by scrubbing his website.
Blake Masters' extremism doesn't end with election denial and abortion. He expressed blatant racism by blaming gun violence on "Black people, frankly." He's repeated tenets of the antisemitic "great replacement theory" with bigoted claims that Democrats are trying to "change the demographics of our country" and "import a new electorate." Finally, despite lying about it, Masters has ties with Andrew Torba, CEO of Gab, the virulently antisemitic social media platform of choice for white supremacists. This is an extremist tie he shares with Pennsylvania's GOP gubernatorial candidate Doug Mastriano.
Mastriano is so tarnished by accusations of antisemitism that even the Republican Jewish Coalition, which supported Trump twice and never condemned any of his rhetoric, condemned and refused to endorse Mastriano. According to the New York Times, the Pennsylvania gubernatorial election has been "shaped by concerns over antisemitism perhaps more than any other race in the country." Mastriano, who promotes Christian power and opposes the separation of church and state, personally attacked Democratic candidate Josh Shapiro for sending his children to a Jewish day school, which he called "privileged, exclusive, and elite." In an antisemitic dog whistle, Mastriano accused the school of fomenting "disdain for people like us." Most recently, a Mastriano aide called Shapiro, who is observant, "at best, a secular Jew."
No one demonstrates MAGA extremism more than Donald Trump, who last week threatened American Jews to "get their act together... Before it's too late!" It may actually be too late—not for Jews but for Republicans, whose party has been overtaken by racism, antisemitism, and other forms of dangerous extremism. Jewish voters, whose top policy priorities in the midterms are the future of our democracy and abortion access, will overwhelmingly support Democrats because Republican policies pose a direct threat to Jewish American values and right-wing extremist candidates pose a direct threat to their security.
Two weeks before Election Day, one thing is clear—it may be too late for the GOP, but it's not too late for our country. The battle for the future of our democracy is, fittingly, going to be decided at the polls, and those who care about decency and truth should vote for Democrats. The fate of our country is on the line, and everyone should vote as if our future depends on it, because it does. In the midterms, we cannot afford to turn our back on what truly makes America great by supporting a craven Republican power-grab that will inflict lasting damage on our fragile republic.
Halie Soifer is CEO of the Jewish Democratic Council of America. She previously served as national security adviser to then-Sen. Kamala Harris, senior policy adviser to U.S. Ambassador to the U.N. Samantha Power and foreign policy adviser to Sen. Chris Coons.
The views expressed in this article are the writer's own.