CNBC Doc Explores the Rush of Extreme Sports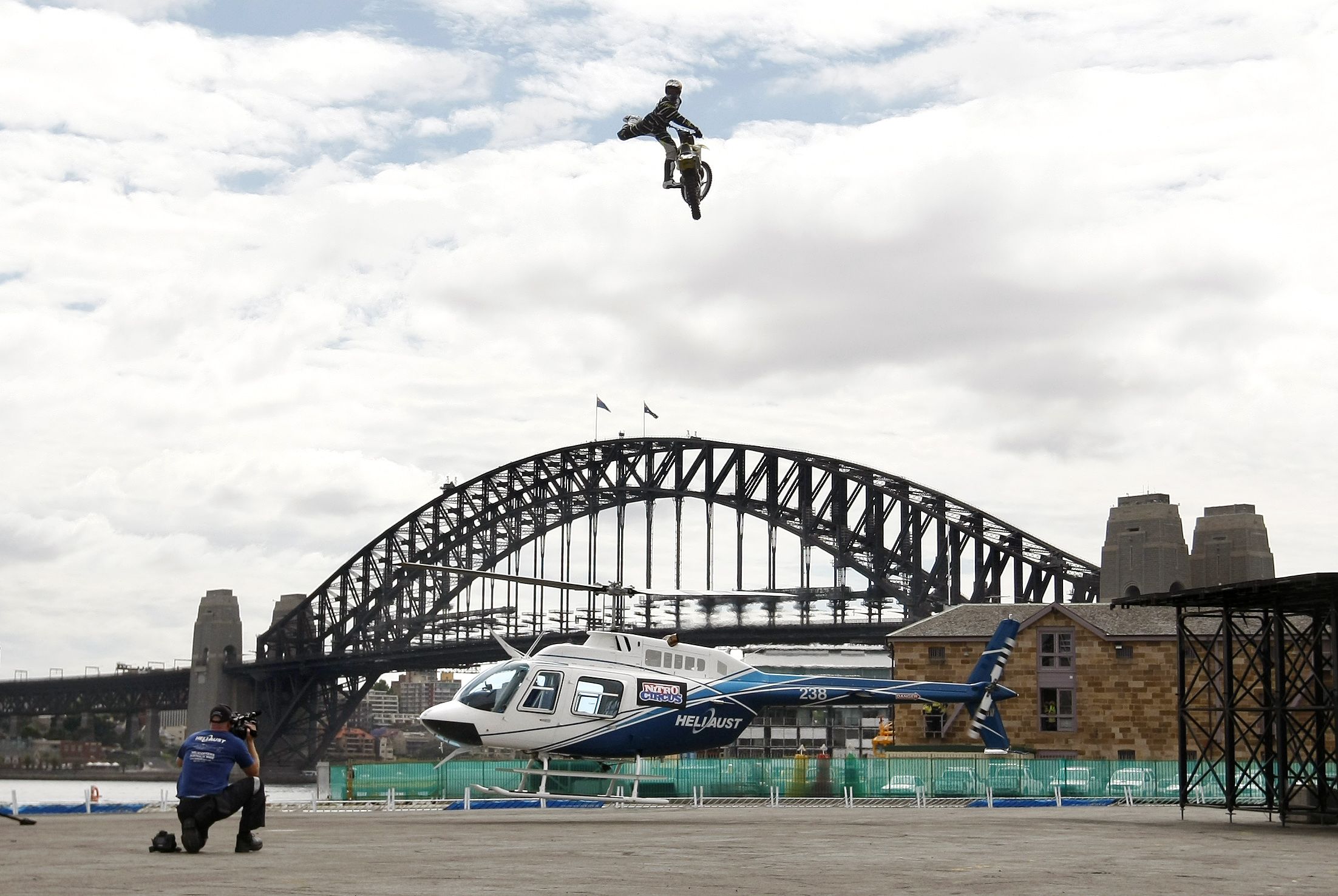 As the weekday morning host of CNBC's Squawk Alley, Carl Quintanilla apprises viewers on the latest tech gadgets and apps designed to make life easier. As the host of Thursday night's CNBC documentary, The New High: Extreme Sports (10 p.m.), Quintanilla explores a burgeoning demographic of humanity that is rebelling against a comfort-centric lifestyle.
"Today we have everything, certainly in America, that we need," Joe De Sana, the founder of the Spartan Race, tells Quintanilla early in the program. "Everything's at our fingertips. I don't think we find enjoyment with everything being so easy."
"Your point is that if you're struggling on a (Spartan) wall, the next time you have a headache like your coffee's too cold," says Quintanilla, "it's not going to matter as much."
"We call it 'obstacle immunity," De Sana says. "After you do a Spartan Race, you will stop complaining about the ridiculous things that we complain about."
"You make it sound like we are a nation full of wusses," says Quintanilla.
"I think we are," De Sana replies.
A few years ago, comedian Louis C.K. introduced a rant titled "Everything's Amazing, and Nobody's Happy," a bit that struck a philosophical chord with listeners. The counterintuitive truth is that as 21st century life in America becomes less and less cumbersome, 21st century Americans are less and less satisfied. CNBC's documentary introduces us to denizens of, as Quintanilla calls it, "purposeful suffering": people who have found that, for them, joy is steeped in something more primal than having Starbucks delivered to your office.
"I like to constantly test my limits, both mentally and physically," champion obstacle racer/corporate attorney Amelia Boone, whom we profiled in Newsweek back in 2013, tells Quintanilla. "That's really when I feel the most alive."
The one-hour documentary delves into high-risk, high-adrenalin pursuits such as obstacle-racing, wingsuiting, kite-surfing and motorcycle jumping. Extreme sports. And unlike, say, marathons and triathlons, the common thread is not fitness. It is, rather, personal risk.
"There's a growing demographic of people who have what we call 'boot camp envy,'" says Quintanilla. "They want to be smacked around and they're willing to pay for it."
It's not simply masochism. As the documentary shows, in a post-Darwinian society people still yearn for obstacles to overcome—even if those obstacles are artificially introduced and come branded with a Tough Mudder or Spartan Race logo. But while obstacle racers contend mostly with conditions that produce uncommon levels of discomfort (mud, cold, sleep deprivation, etc.), the CNBC doc also examines those who enthusiastically walk a tightrope with mortality.
"We're all scared the moment before we jump, there's an element of fear," a wingsuit jumper tells Quintanilla before leaping from the 9,000-foot Notch Peak in Utah. "But afterwards the feeling of joy is so much that you're willing to deal with that."
As Quintanilla notes, at least 250 wingsuit jumpers have died since 1981, but the endeavor is only growing in popularity.
X-Games legend Travis Pastrana, the first human ever to perform a double backward somersault aerial on a motorcycle, aka, a 720, in competition (few humans have ever attempted one), explains the conundrum. "You need to learn your limits," says Pastrana, 32, who as a teenager landed short on a jump and dislocated his spinal column from his pelvis, "and unfortunately, you're not going to learn your limits until you step over them."
Pastrana now oversees a Knievel-esque touring show called Nitro Circus that is replete with pyrotechnics and gravity-defying stunts. It grossed $35 million last year. Last spring, one of the riders in his circus performed the world's first triple backward somersault, or 1080. As Pastrana explains to Quintanilla, his 720— once his sport's example of breaking the sound barrier—is now passé.
"I guarantee you there's an eight year-old out there now dreaming of doing a quadruple somersault," Pastrana says.
"Do you really think that's possible?" Quintanilla asks.
"Everything's possible," Pastrana says. "It's just a matter of how much risk you're willing to take."
If you want to think of them as sensation junkies, feel free. But there are also limits to how primal some extreme sports denizens want to be. Quintanilla tagged along on a Spartan race in the Bahamas where racers, as part of the package, took a cruise ship over to the event from Fort Lauderdale.
"It was strange to see people preparing to put themselves through this," he says, "while going over on a ship that had an ice cream bar."