CNBC's Jim Cramer Urges Investors to Stay Calm During Stock Market's Wild Ride
Economic analyst Jim Cramer, who hosts CNBC's Mad Money, urged financial investors on Monday not to make any brash decisions despite significant volatility in the stock market.
While appearing on another CNBC show, Squawk on the Street, Cramer, 66, explained that the up-and-down of the market was likely due to people's fear regarding current events. This included worries that "the Fed is gonna tighten, that the Russians are going to invade, that a lot of the companies that have come public are not worth anything."
Cramer urged people to not jump into selling off their stocks just because of the current state of the market, and to enact some financial discipline.
"When stocks are down this much ... you shouldn't just say, 'holy cow, I'm getting killed,' because you should realize you've been getting killed," Cramer stated. "So now you have to decide what stocks are down, a certain percentage from their high, that still could be worth a great deal."
"Those are ones you have to do some buying [sic]."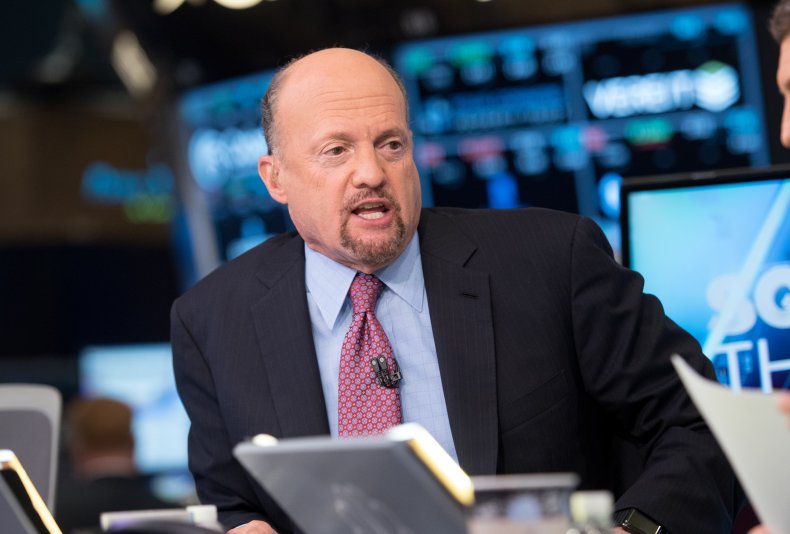 Cramer also questioned the confidence level of people choosing to sell off shares in the current market, given the bouncing of many stocks seen in the past few days.
"Should we just decide that [the market volatility] is over ... and then betting we can get back in?" he asked. "Who's that good? Are you that good?"
The television personality also echoed a similar sentiment on Twitter. He posted a message that similarly asked people how confident they were in their ability to re-enter the market.
"We must not panic," Cramer tweeted. "It will feel great to sell but can you get back in?"
On Tuesday, Cramer continued his analysis on Mad Money, stating that "it's the excess supply that's dragging down the rest of the market."
"A stock market is like any other market, if you get too much inventory, prices will plummet," he added. This remark was in reference to a number of large companies that saw initial public offerings on the stock market in 2021, causing an influx that Cramer stated "emptied the pockets of investors."
Cramer has become one of CNBC's most well-known media personalities due to his fiery personality and enthusiasm. He first got involved with the network as a guest commentator in the 1990s, before premiering Mad Money in 2005.
His evaluation of the current market is just one viewpoint taken by economic analysts who have attempted to make sense of the rises and dips seen in stocks recently.
On Monday, the Dow Jones saw a six-day falling streak, the longest in that index since the beginning of the COVID pandemic in February 2020. Additionally, the NASDAQ was down for a fourth straight day, reaching its lowest price since this past summer.
A number of large companies have also seen rises and falls, many of which have been typically stable in the past few years.
Netflix, which saw a significant boom in 2020 during the height of the pandemic, ended Tuesday down $20, a 5 percent dip. The streaming giant had previously plunged 20 percent after the company announced that it had missed its subscriber goal for 2021.
Tech conglomerate Tesla also ended trading on Tuesday down 11 percent, falling to $918 a share. However, in a show of the market's current volatility, the company had seen a bounce-back on Monday after a continuing fall, but still closed that day with a net drop of 1.5 percent.
Through a CNBC representative, Cramer told Newsweek that "in my 42 years of investing, the only time that it's been right not to stay the course was in 2007 to 2009. That's because there was 'systemic risk' in the market."
"We do not have that kind of situation. Sure, inflation is currently running too hot but Fed Chief Jay Powell sees that and is going to take action...I do not believe we are at a systemic risk moment where the financial universe borders on collapse."
Update 01/26/2022, 4:30 p.m. ET: This story has been updated with a statement from Jim Cramer.