CNBC's Shepard Smith Tells Viewers to 'Follow the Fauci' Amid Record Infections: 'We Will Get Through This'
CNBC host Shepard Smith tells viewers to "follow the Fauci" as U.S. coronavirus infections reach record highs, with more than 83,000 cases reported in a single day on Friday.
"Those of us in New York and the Northeast are worried about you, our friends, our loved ones and our viewers across the country, now more than ever really," Smith said on Friday night in the final segment of The News with Shepard Smith. "This new COVID surge is awful. So, follow the Fauci. Not for us, we are mostly good around here, we are worried for you."
Smith was referring to Dr. Anthony Fauci, the White House coronavirus advisor and director of the National Institute of Allergy and Infectious Disease, who has urged people across the U.S. to wear masks, wash hands, social distance, and avoid crowds for months.
The recent surge in COVID-19 cases can be felt in nearly every pocket of the country, with the most recent outbreak per capita severely impacting the Midwest and American West. The 83,757 reported cases on Friday topped the previous caseload record of 77,362 from July 16. Friday also saw nearly 1,000 deaths from COVID-19, increasing the death toll to 223,995, according to Johns Hopkins University.
While hospitals in areas like Idaho and Wisconsin are increasingly overwhelmed due to a high volume of patients, infectious disease experts warn that as the colder months approach, the infection rate will only increase, resulting in a staggering number of hospitalizations and possible deaths.
Fauci told CNN on Friday that a federal mask mandate may be necessary to slow this winter surge.
"Well, if people are not wearing masks, then maybe we should be mandating it," he said. "There's going to be a difficulty enforcing it, but if everyone agrees that this is something that's important and they mandate it and everybody pulls together... I think that would be a great idea to have everybody do it uniformly," he said.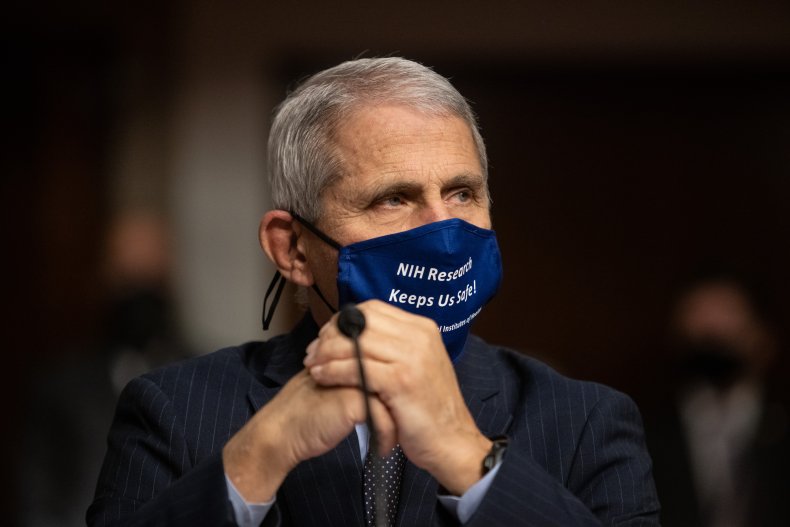 In a warning to surging states, Smith told viewers that the horror they're currently experiencing is one that New Yorkers know far too well.
"In the spring and early summer, we lived the horror of neighbors and friends sick and dying," Smith told viewers. "Doctors and nurses we know and admire were in the depths of depression inside hospitals with no more beds, with the freezer trucks outside full of victims whose families never got to say goodbye. We could bang our pots and pans from our windows to cheer for our heroes, but we couldn't help, except we went into lockdown."
Smith added that New York was able to get through the outbreak earlier in the pandemic because they followed lockdown rules, which he says is not being done in other affected parts of the state.
"We are scarred but better now — because we followed the rules and beat COVID back. We had to," he said. "Many of you are not doing that."
"Scientists tell us that next month will be historically bad unless you make a personal decision to follow the Fauci," he added. "Wear a mask, socially distance, save parties and weddings for another time. Holidays apart will be hard. Start this weekend, we will get through this."