CNN Anchor Accuses Republicans of Outsourcing 'Their Oversight' to Fox News Host Sean Hannity
CNN senior political analyst and anchor John Avlon called out Republican lawmakers, accusing them of taking their questions for former special counsel Robert Mueller during Wednesday hearings directly from Fox News host Sean Hannity.
"In a perfect example of the Fox-Trump feedback loop, it turns out that many of the GOP questions yesterday came straight from Sean Hannity," Avlon said Thursday on his Reality Check segment on CNN's New Day. He cited an article by The Daily Beast, where he formerly worked as the editor-in-chief, which outlined the similarities between the questions and Hannity's televised suggestions.
"It's kind of stunning to see congressmen outsource their oversight of the Republic to a right-wing opinion host," Avlon asserted. The anchor also pointed out the close relationship between Hannity and Trump, calling the president a "part-time publicist" for the Fox News personality.
The CNN anchor then played a series of clips showing lawmakers questioning Mueller using talking points very similar to those suggested by Hannity, which Avlon deemed "lies and conspiracy theories."
Hannity had said during his evening television program that Republicans should ask about Mueller's friendship with former FBI Director James Comey. GOP Representative Louie Gohmert of Texas obliged. The Fox News host suggested that Mueller should be asked about the fairness of having Andrew Weissmann, a Democrat who supported former presidential candidate and Trump's political opponent Hillary Clinton, work on the investigation. North Dakota Republican Representative Kelly Armstrong questioned Mueller about the attorney's involvement with the probe.
The opinion host also pointed to attorney Jeanie Rhee, who previously worked for the Clinton Foundation, and later worked as part of Mueller's team. Armstrong asked about her as well during the Thursday hearing. The right-wing host said Republicans should ask if the president has the legal right under the Constitution's Article II to fire a special counsel. A GOP congressman asked that question as well.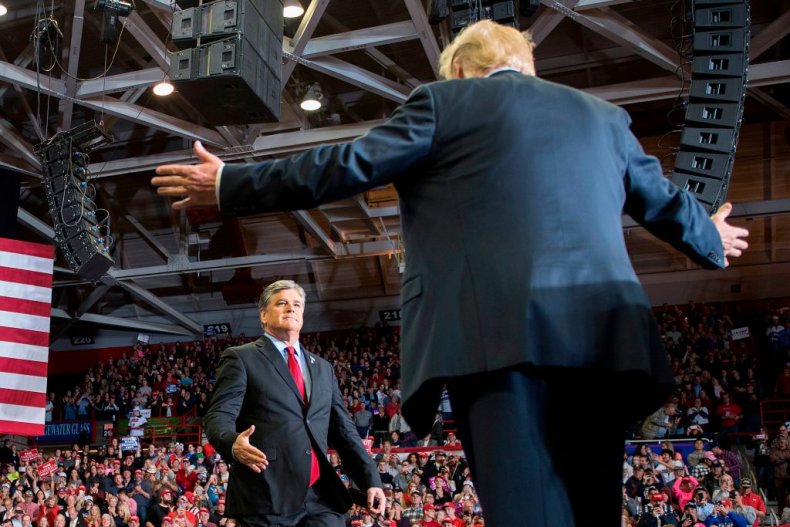 "There were virtually no Republican questions dealing with the serious verified Russian attempts to influence our election to benefit Donald Trump," Avlon said. "It's just the latest sign of how hyper-partisanship makes us unable to agree on basic facts."
Mueller testified before the House Judiciary and Intelligence Committees on Wednesday about his 22-month long investigation into Russian interference in the 2016 election, which he concluded in March. The special counsel confirmed in his report that there was "sweeping and systematic" Russian meddling in favor of Trump, but his probe did not establish that the president or members of his campaign conspired with Moscow in that effort.
Trump and the majority of Republican lawmakers have been dismissive of Mueller's findings, arguing inaccurately that it represented a "total exoneration" of the president. They have also repeatedly referred to the investigation as a "witch hunt." Mueller said plainly on Wednesday that both assertions were inaccurate. He also warned that he feared foreign influence in U.S. elections could become the "new normal."